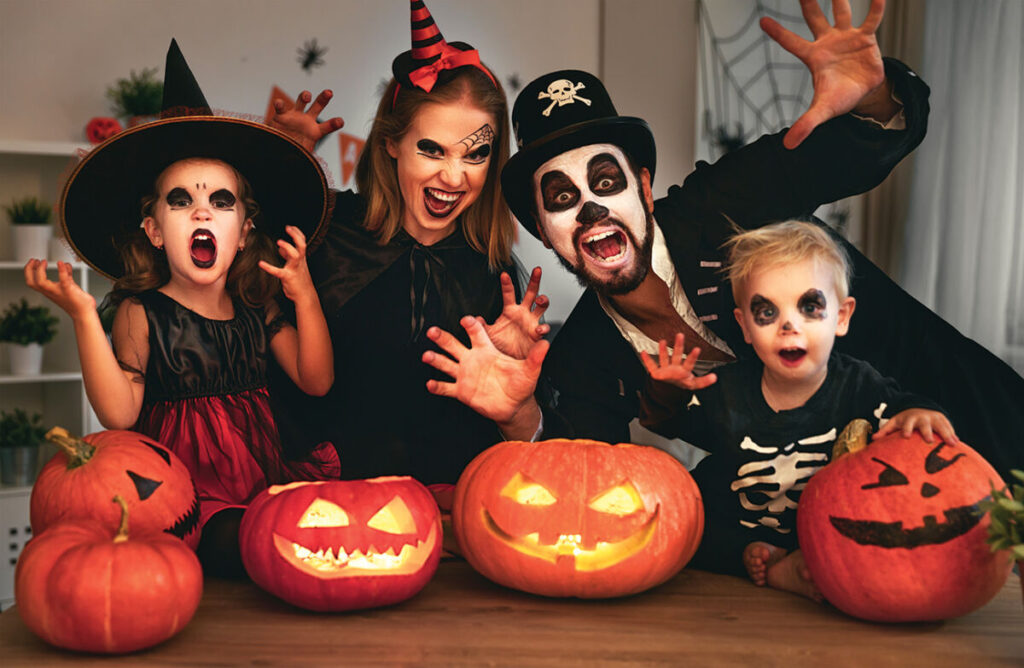 From spooky crafts to Halloween baking, this list of fun activities to do at home will ensure your little ones are entertained not just on Halloween, but all October long!
1 – Decorate the house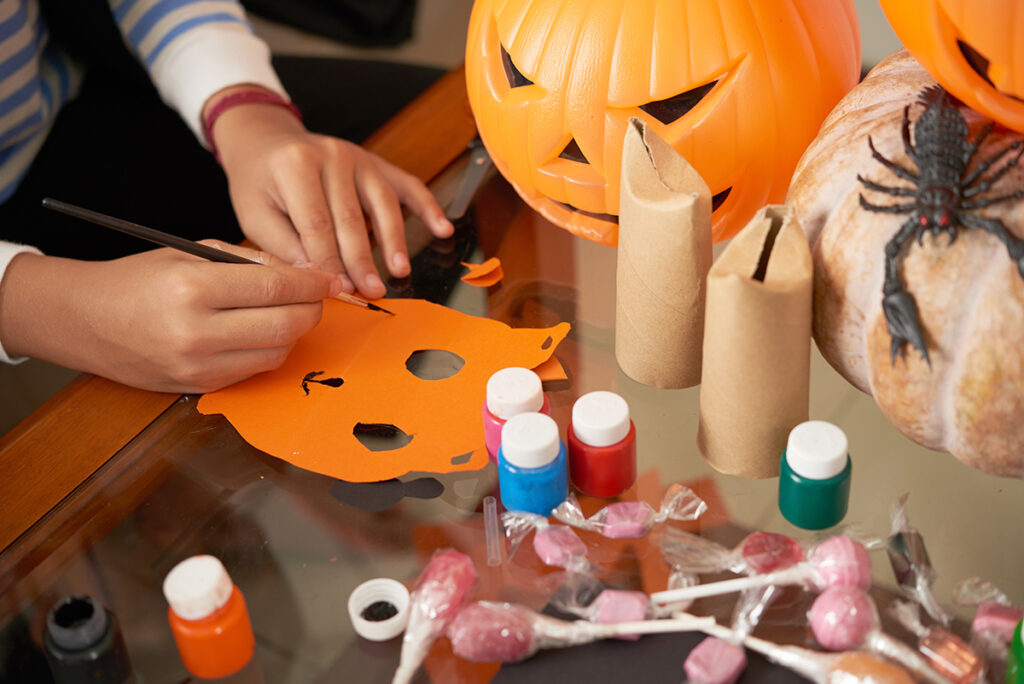 Halloween decorations help create the festive mood. Be as elaborate as you'd like, and remember that you are creating the experience! Pull out the construction paper in all your favourite colours, and have the children create window décor and more! Add in some spider webs and orange lights for an extra spooky feel. If you're heading out to decorate the yard, pick up some danger tape, and some leaf bags to double up your fall cleanup and your Halloween yard display. If you're not in the mood for a spooky feel, consider these 7 fall décor ideas to create the fall mood. 
2- Pumpkin Carving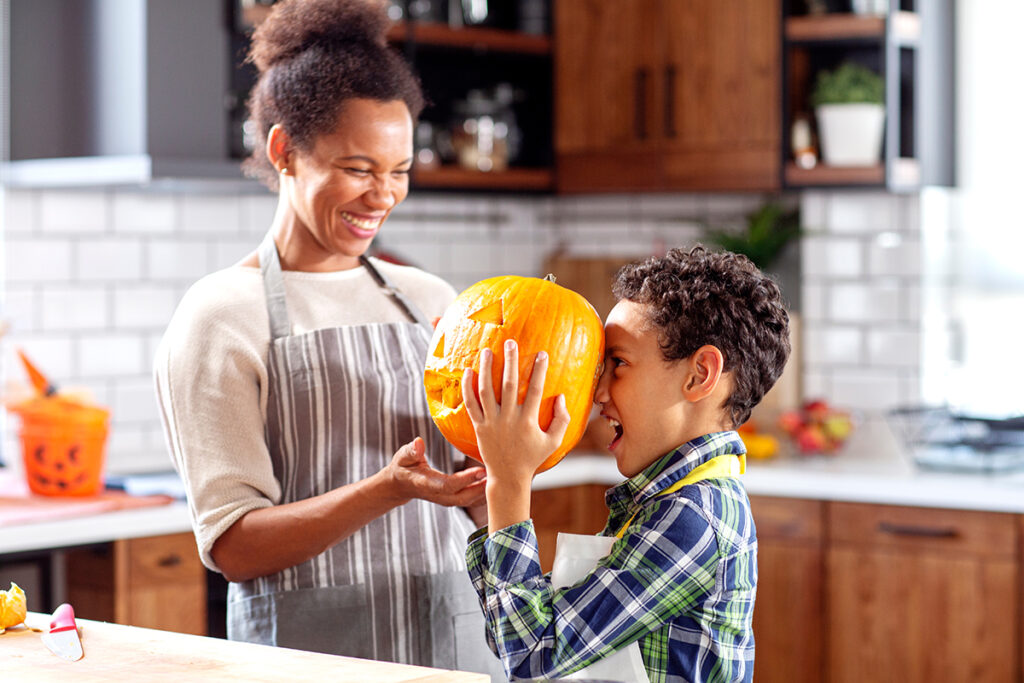 Children love to carve pumpkins. There is something special in the memories created together when crafting your own pumpkin design. Anything from a simple face, to an elaborate silhouette, the pumpkin is your blank canvas. All you need is a pumpkin carving kit, some space and old news paper to help capture the mess. If you're looking for some inspiration, check out these 23 jack-o-latern ideas!
3- Halloween Candy Hunt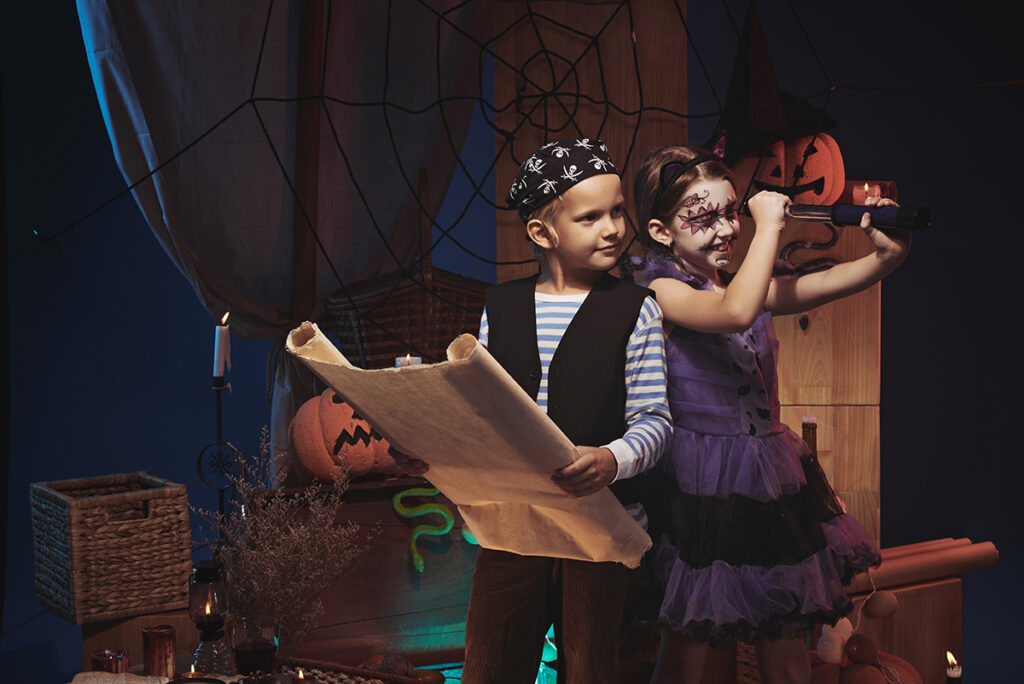 It's like Easter, but without the eggs. All you need are your favourite Halloween treats. Simply hide them around the house while the kids are distracted and then let them dress up and get hunting. Added bonus: you can create spooky traps to add to the experience! Imagine a skeleton drops down when the treat is collected. Turn on the black light, turn up the scary music, and let the kids run around searching for treasure! (Weather permitting, it can be an inside and outside activity, with treats hidden in the yard or garage too!)
4- Homemade Halloween Treats
Our friends over at Nestle have crafted some creative ways to enjoy the season. Try any or all of these recipes for some delicious home made treats everyone will enjoy.
KIT KAT Witch's Broomstick
Prep Time: 10 minutes
Total Time: 1 hour 30 minutes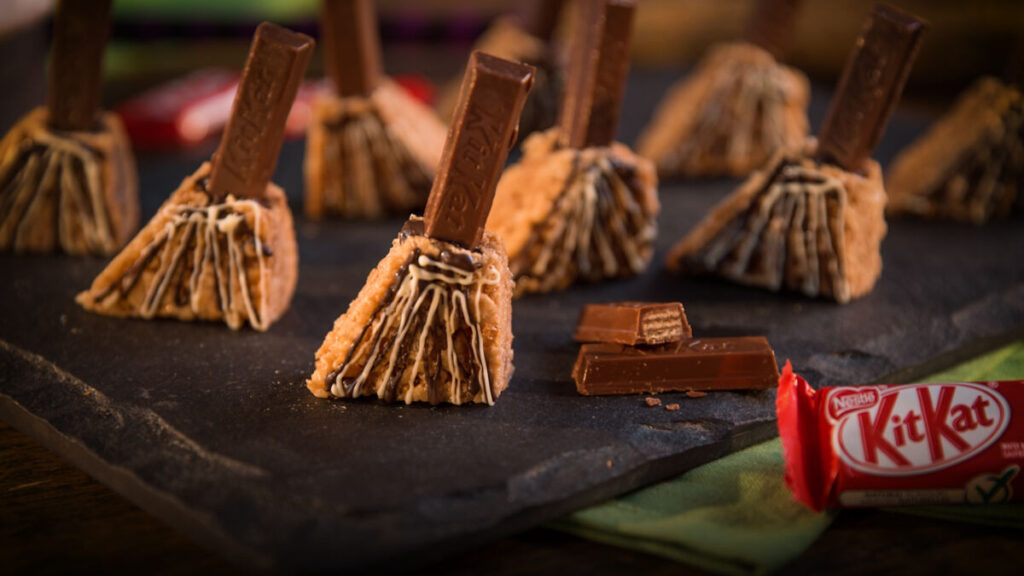 Ingredients:
24 (12 g each) Nestlé KIT KAT Treat Size Bars
1/4 cup (60 mL) butter
5 cups (1.25 L) mini marshmallows
2 tsp (10 mL) vanilla extract
6 cups (1.5 L) puffed rice cereal
1 cup (250 mL) milk chocolate chips, melted and cooled slightly
1/2 cup (125 mL) white chocolate chips, melted and cooled slightly
Directions:
Grease baking sheet; set aside. Chop 6 KIT KAT bars. Melt butter in large saucepan set over low heat; stir in marshmallows for about 6 minutes or until completely melted. Stir in vanilla. Remove from heat.
Immediately stir in cereal and chopped KIT KAT bars until coated. Scrape onto prepared baking sheet; using wet hands or buttered spatula, spread evenly. Let cool slightly; transfer to cutting board and trim edges. Cut into 3 long strips. Cut each strip into 12 triangles. Cut a small part from top of each triangle to create a flat edge; make an indent in the top with a chopstick or teaspoon handle.
Spoon milk chocolate into resealable bag; snip bottom corner. Break remaining Kit Kat bars in half along seam. Pipe some chocolate into indents of triangles and affix 1 Kit Kat bar into each, pressing down lightly into rice cereal treat.
Spoon white chocolate into resealable bag; snip bottom corner. Pipe or drizzle remaining milk chocolate and white chocolate over rice cereal treats to resemble bristles. Let stand for about 1 hour or until chocolate is set.
Makes 36 servings.
Nutrition Facts – Per 1 broomstick
Calories 140
Fat 6g
Cholesterol 5mg
Sodium 75mg
Carbohydrate 19g
Fibre 0g
Sugars 13g
Protein 2g
SMARTIES Cookie Cauldrons with Witch's Brew
Prep Time: 10 minutes
Total Time: 30 minutes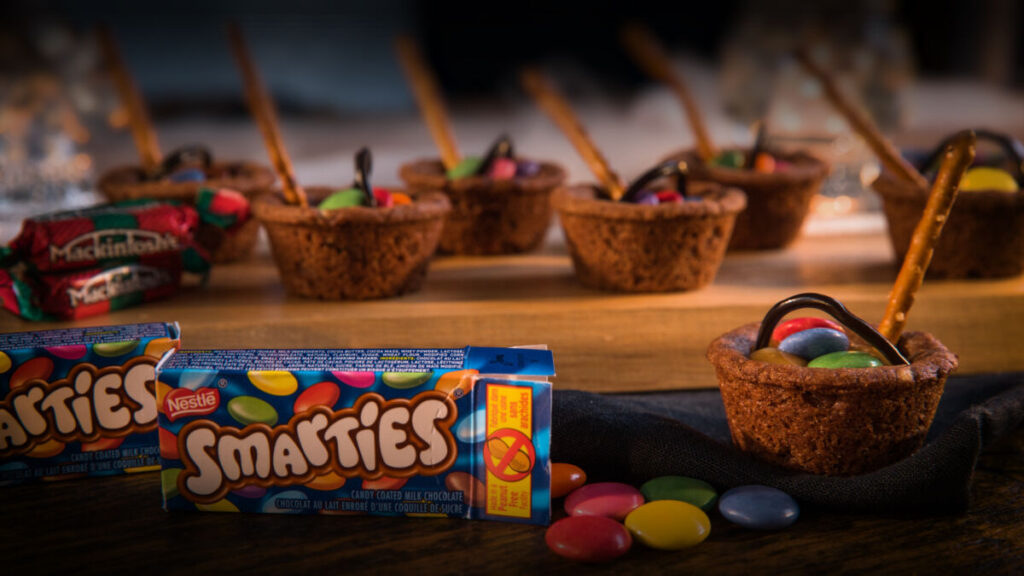 Ingredients:
12 (10 g each) Nestlé SMARTIES Treat Size Bars
1 pkg (496 g) Sugar Cookie mix
1/2 cup (125 mL) butter, softened
1/4 cup (60 mL) cocoa powder
1 tbsp (15 mL) milk
1 egg
16 (8 g each) MACKINTOSH Toffee Pieces, halved
2 tbsp (30 mL) corn syrup
2 black licorice whips, cut into 24 (2-inch/5 cm) pieces
24 pretzel sticks
Directions:
Preheat oven to 375˚F (190˚C). Stir together cookie mix, butter, cocoa powder, milk and egg until combined; shape dough into 24 balls and place into ungreased mini muffin pan.
Bake for 8 to 9 minutes or until edges are lightly golden and dough is cooked through. Immediately press indentation into each with end of wooden spoon, pressing gently against edges to create "cauldrons." Let cool completely in pan. Remove from pan and transfer to serving tray.
In microwave-safe bowl, combine toffee pieces and corn syrup; microwave on Medium for 1 or 2 minutes, stirring every 30 seconds, or until smooth and melted. Drizzle into cookie cauldrons. Fill each cauldron with 5 Smarties. Using round edge of skewer, poke hole on each side of cauldron; insert ends of licorice whip into holes to create rounded handle. Insert pretzel stick into each cauldron as a broom handle. Let cool completely.
Makes 24 servings.
Nutrition Facts – Per 1/24 recipe
Calories 220
Fat 9g
Cholesterol 20mg
Sodium 110mg
Carbohydrate 32g
Fibre 1g
Sugars 21g
Protein 2g
CRUNCH Frankenstein Brownie
Prep Time: 30 minutes
Total Time:  60 minutes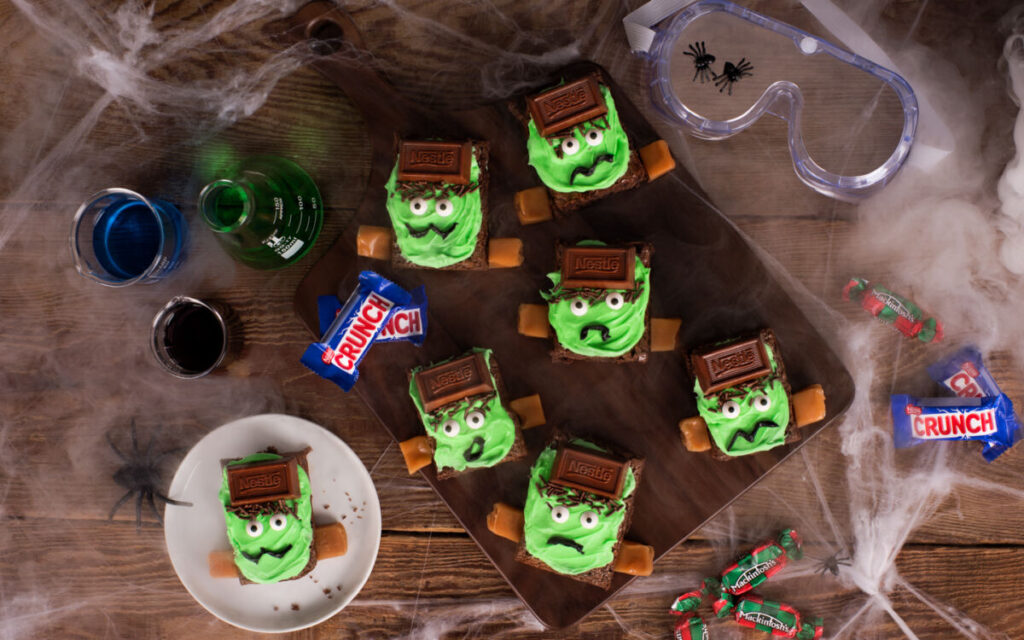 These brownies will delight the kids because they look exactly like mini Frankenstein heads.
Ingredients:
1 pkg (400 g) brownie mix
3/4 cup (175 mL) prepared vanilla icing
4 or 5 drops green food colouring
12 (10 g) Nestlé CRUNCH Treat Size Bars
2 tbsp (30 mL) chocolate sprinkles
24 small candy eyeballs
12 (8 g) Nestlé MACKINTOSH TOFFEE pieces, halved crosswise
2 oz (60 g) chocolate, melted
Directions:
Prepare and bake brownie mix according to package directions in 9-inch (23 cm) square pan lined with parchment paper. Let cool completely and lift brownies out of pan onto cutting board; remove parchment paper.
Cut brownies into 12 equal bars. Tint icing with food colouring; frost tops of bars. Insert a CRUNCH bar horizontally in top third of each brownie bar. Arrange a few chocolate sprinkles just under the CRUNCH bar to resemble Frankenstein's hair. Gently press two candy eyeballs onto brownie.
Using re-sealable plastic bag, create mouth with melted chocolate. Using back of teaspoon, create holes on each side of the brownie. Insert a TOFFEE half in each hole.
Makes 12 Frankenstein brownie bars.
Tip: Brownies will stay in the refrigerator for up to 5 days in an airtight container.
Nutrition Facts – Per 1 brownie bar
Calories 380
Fat 16g
Cholesterol 20mg
Sodium 140mg
Carbohydrate 56g
Fibre 2g
Sugars 41g
Protein 3g
Happy Halloween!