Smoothies are a great option for a healthy breakfast or snack that you can blend up in a flash, but we have it on good authority that your blender is really bored of bananas and frozen strawberries. Send your hardworking blender on a taste vacation with these healthy and delicious blender recipes for any meal of the day.
Breakfast
Sunshine French Toast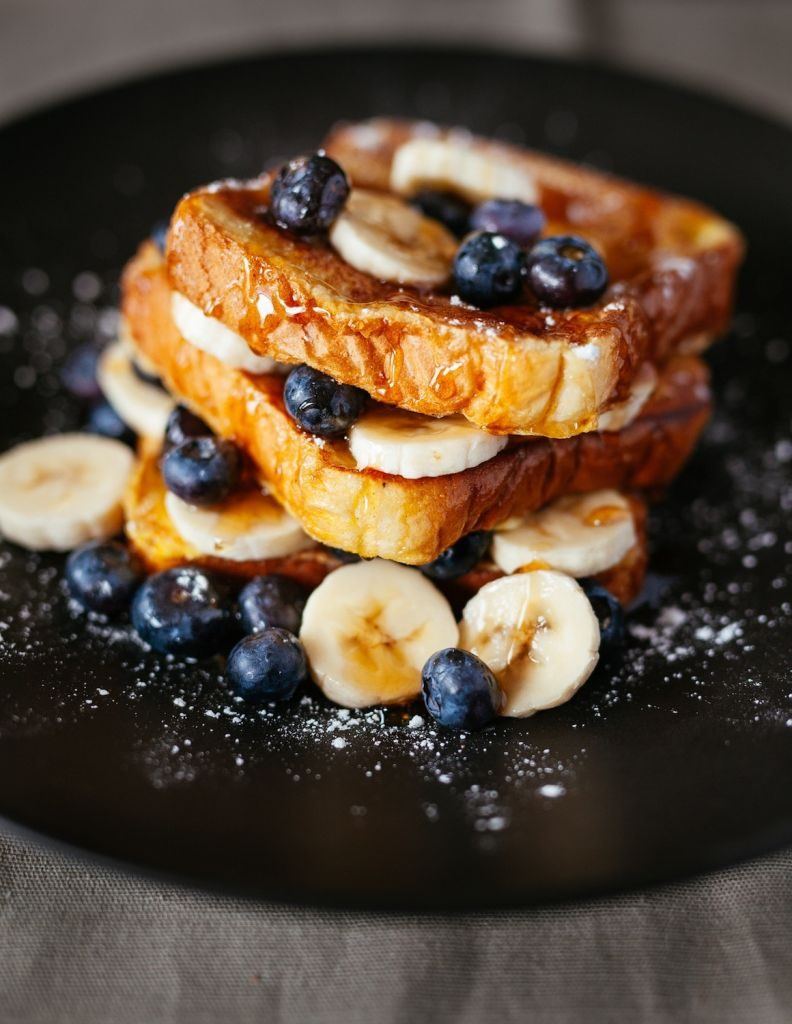 Ingredients:
2 eggs
2 tablespoons orange juice concentrate
1/2 teaspoon cinnamon
1 teaspoon sugar
1 teaspoon vanilla
1 cup milk
8 slices bread
Directions:
Combine all ingredients except bread slices in blender.
Process on Blend about 5 seconds. Pour mixture into shallow bowl.
Dip bread slices in mixture.
Melt a small pat of butter in skillet. Cook over medium heat about 2 minutes per side or until lightly brown.
Serve with butter, fresh fruit or maple syrup.
[Recipe courtesy of Hamilton Beach]
Egg Muffin Cups with Greens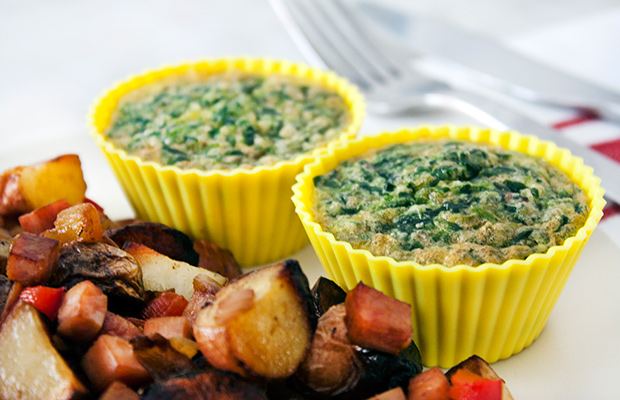 Serves 6
Ingredients:
Cooking spray
12 silicone muffin liners
Baking pan
10 ounces frozen spinach, thawed
6 large eggs
1 cup egg whites
8 ounces reduced-fat cheddar cheese, shredded
1/2 teaspoon baking powder
1/4 teaspoon freshly ground black pepper
Directions:
Preheat oven to 325° F. Boil 2 litres of water in a kettle. Grease the insides of the muffin liners with oil and arrange them on a rimmed baking pan.
Squeeze excess water out of the spinach and put it in a food processor or blender along with the eggs, egg whites, cheese, baking powder, salt, and pepper. Pulse until mixture is an even green colour with bits of spinach, about 30 seconds. Fill the muffin liners almost to the tops with the egg mixture. Place the baking pan on the middle oven rack and carefully pour the boiled water into the pan. Bake until firm in the centres, about 20-25 minutes.
Transfer muffin liners to a cooling rack to set for 5 minutes.
Pro Tip:
Egg muffins can be wrapped and stored in the refrigerator for a week. To reheat, stick them in the microwave at 50% power for 60-90 seconds.
[Recipe courtesy of The Daily Burn]
Lunch
Fresh Broccoli Soup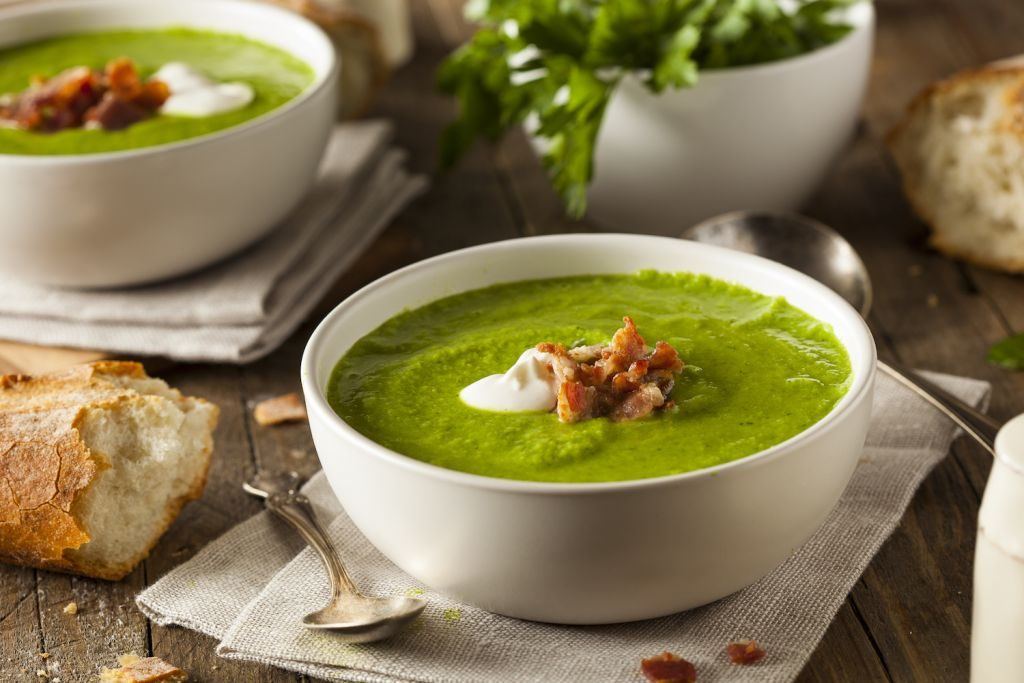 Ingredients:
2 tablespoons butter or margarine
1 small onion cut in quarters
2 cups broccoli, cut in big chunks
1½ cups chicken broth or bouillon
1 cup milk
¼ teaspoon salt
¼ teaspoon pepper
Directions:
In a medium saucepan over medium heat, sauté onion in butter until onion is limp.
Add chicken broth and broccoli. Bring to a boil, then reduce heat, cover and simmer 10 minutes.
Place broccoli, onion, and broth in blender jar. Add milk, salt, and pepper. Remove filler-cap from cover to allow steam to escape.
Blend on high speed for 5 seconds. Turn blender off.
Remove cover and check consistency. For a smoother texture, replace cover and blend on high speed for 5 to 10 seconds. If desired, pour soup back into saucepan to reheat.
[Recipe courtesy of Hamilton Beach]
Southwest Chicken Salad with Creamy Cilantro Dressing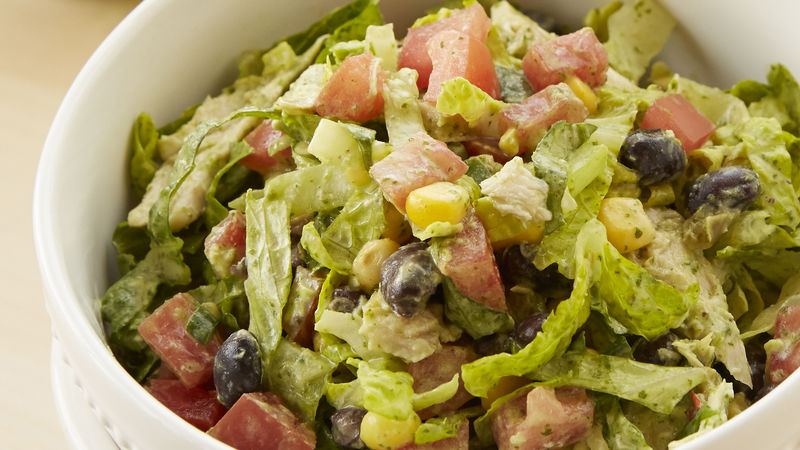 Ingredients: 
Salad
5 cups shredded romaine lettuce
2 cups shredded deli rotisserie chicken
1 can (15 oz) black beans, drained and rinsed
1 can (11 oz) whole kernel corn with red and green peppers, drained and rinsed
1 cup chopped tomato
1/2 cup sliced green onions
Dressing
1/3 cup olive oil or canola oil
1 1/2 cups finely chopped fresh cilantro leaves
1 clove garlic, finely chopped (1 teaspoon)
3 tablespoons lime juice
1/4 teaspoon salt
1/2 cup whole milk plain yogurt
Directions:
In large bowl, mix salad ingredients.
In blender, place olive oil, cilantro, garlic, lime juice, and salt. Cover and blend on high speed until smooth. If necessary, stop blender and scrape down mixture. Transfer to small bowl; beat in yogurt with whisk until smooth.
Before serving, add dressing to salad mixture; toss until mixed well. Serve immediately, or refrigerate up to 1 hour before serving.
Dinner
Easy Mediterranean Pasta Sauce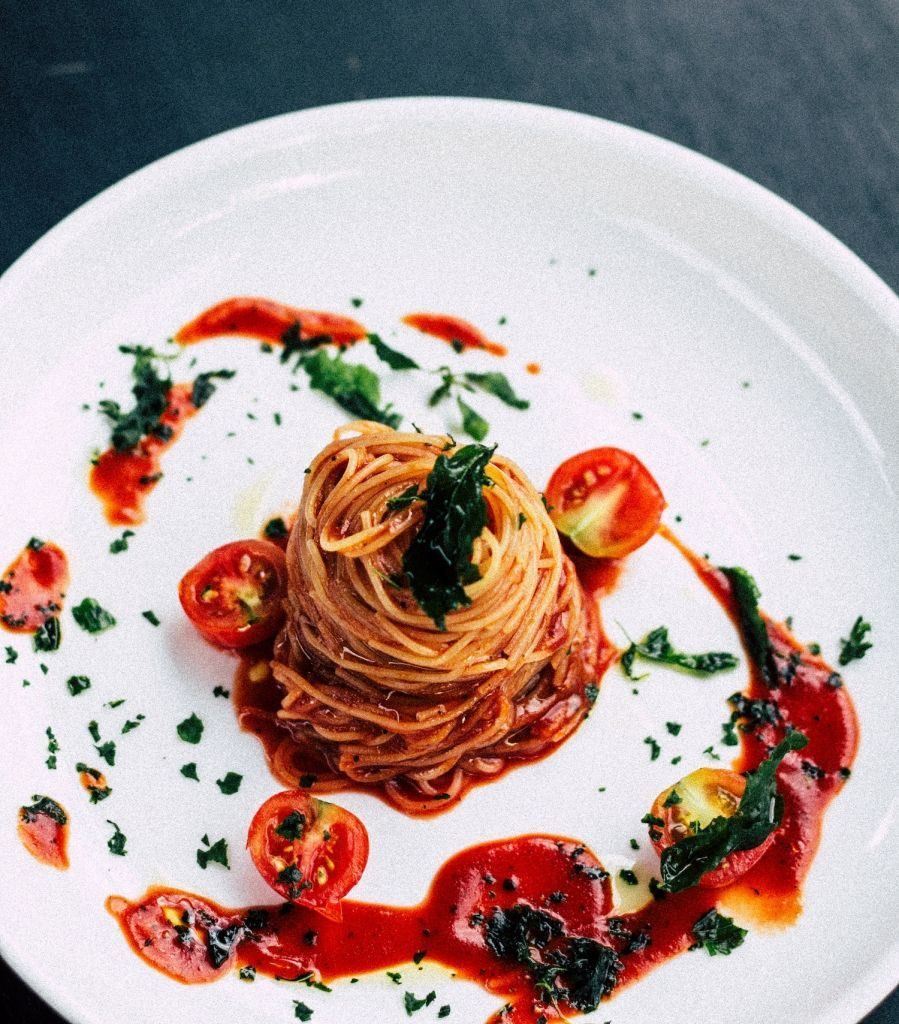 Ingredients:
1 can (15 oz.) whole tomatoes
1/3 cup roasted red pepper
1 jar (6 oz.) marinated artichoke hearts, drained
3 cloves garlic
1 teaspoon cinnamon
1 small onion, quartered
1 teaspoon dried oregano
1 teaspoon dried basil
Directions:
Blend tomatoes in blender on low speed until smooth.
Add other ingredients and pulse until coarsely chopped. Heat, if desired, and pour over pasta.
Tip: Make an extra batch and freeze for future use. Store in freezer containers or plastic freezer bags, label, and date. This sauce can be frozen for up to 4 months.
Substitutions: If fresh herbs are available, substitute 1 tablespoon chopped fresh oregano for the dried basil and oregano.
Jerk Chicken Wrap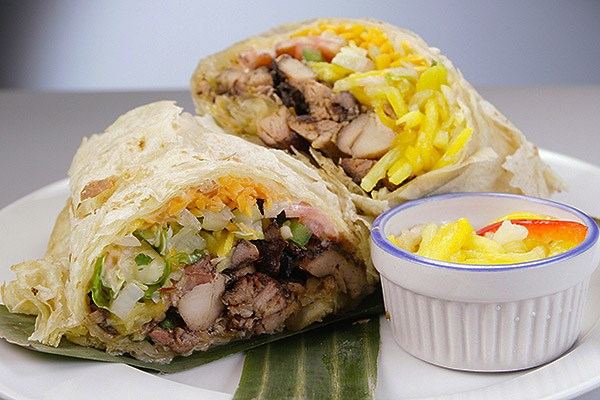 Serves 4 (Marinates overnight)
Chicken Ingredients:
6 scallions, chopped
1 onion, chopped
2 Scotch Bonnet peppers, minced
½ cup soy sauce
½ cup sugarcane vinegar
¼ cup vegetable oil
1 Tbsp brown sugar
2 Tbsp fresh thyme, chopped
2 Tbsp garlic, chopped
½ tsp ground cloves
½ tsp ground nutmeg
1 tsp ground pimento (allspice)
1 cup chicken stock
1 ½ lbs skinless, boneless chicken breast halves
Wrap Ingredients:
Paratha Roti
Cajun Mayonnaise
Romaine lettuce, shredded
Romatoes, sliced
Red onion, sliced
Pineapple and mango salsa
Cheddar cheese, grated
Directions:
In the blender, combine all ingredients except the chicken breasts and blend for about 30 seconds. Ensure all ingredients are well incorporated.
Place the chicken in a medium bowl, and coat with the marinade. Refrigerate for 4 to 6 hours, or overnight.
Preheat grill and lightly oil grate. Cook chicken on the prepared grill 6 to 8 minutes, until juices run clear.
Place grilled chicken into pan with hot chicken stock; place pan into oven to bake chicken for an additional 6 minutes.
Allow meat to rest for 5 minutes.
Wrap Assembly:
Char the Paratha Roti on an open grill grate, allowing both sides to toast lightly. Remove from heat.
Add the following ingredients in sequence: Cajun mayonnaise, shredded romaine lettuce, tomatoes, red onions, pineapple and mango salsa, grated cheddar cheese.
Lay jerk chicken on top and wrap up carefully folding and tucking the bottom flap in.
[Recipe courtesy of Food Network Canada]
Snacks
Restaurant Style Salsa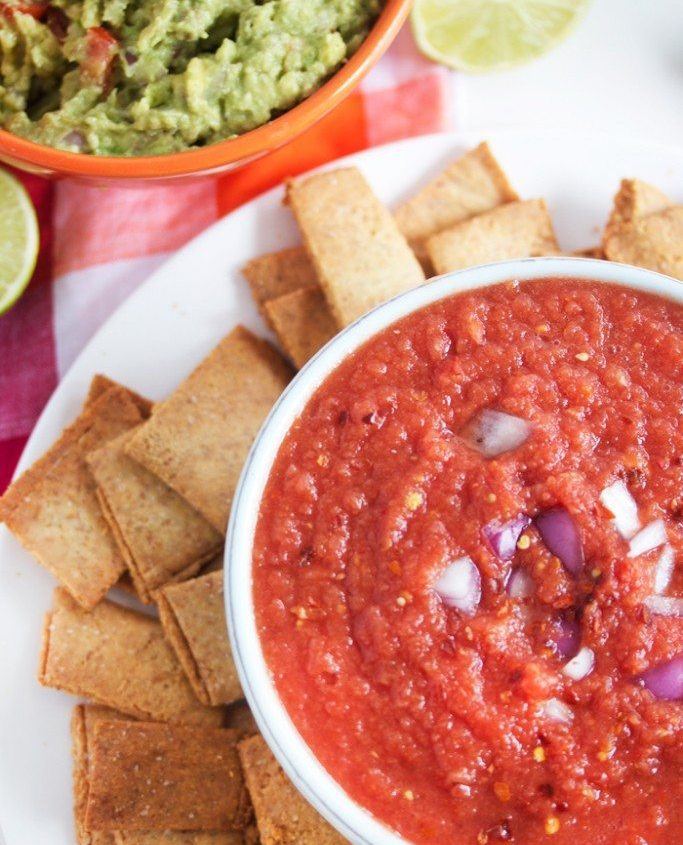 Ingredients:
1 23 oz. jar diced tomatoes
1 4 oz. can green chiles
1 garlic clove
1 tbsp vinegar
2 tbsp tomato paste
2 tbsp chopped white onion
1/2 cup grape tomatoes
Himalayan sea salt, to taste
Red pepper flakes, to taste
Diced red onion, for garnish
Directions:
Add all ingredients to blender.
Pulse until salsa has reached your desired consistency.
Add salt and himalayan sea salt to your taste.
Serve with homemade crackers, plantain chips, corn chips, or veggies.
[Recipe courtesy of Lexi's Clean Kitchen]
Dessert
Easy Chocolate Mousse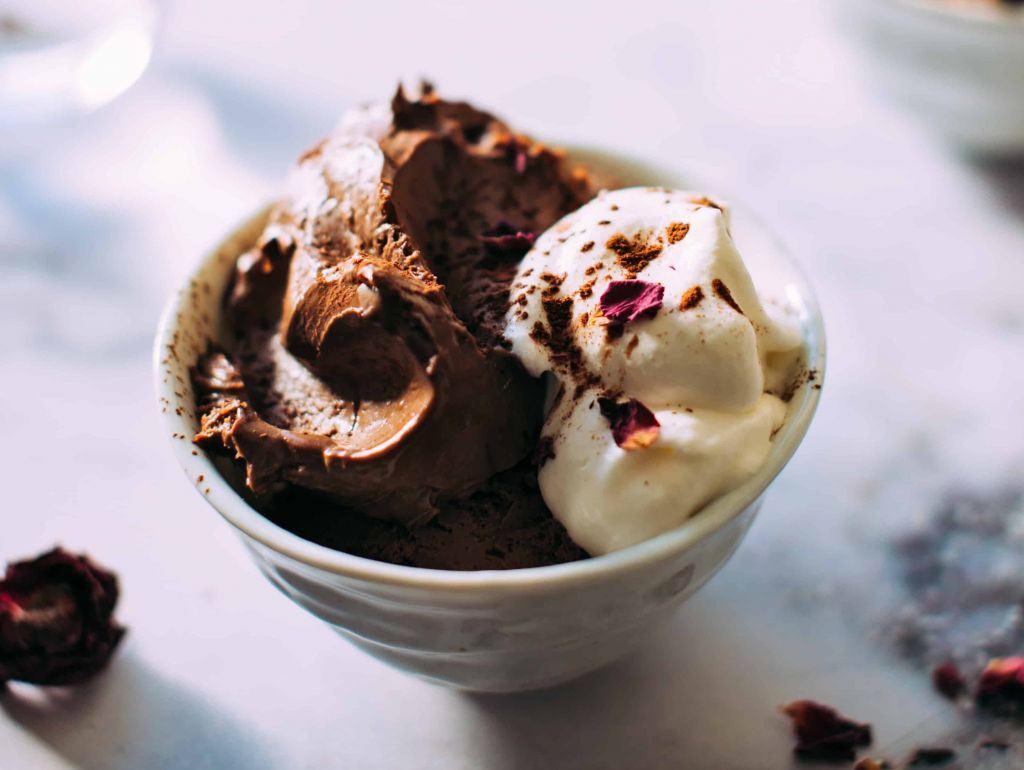 Serves 4
Ingredients:
1 cup whole milk
4 tbsp unsalted butter
2 large eggs
6 oz good quality dark chocolate coarsely chopped
1/2 cup heavy 35% or whipping cream
3 tbsp granulated sugar
1/2 tsp pure vanilla extract
pinch of salt
Whipped cream to serve
Directions:
Heat milk and butter in a saucepan until small bubbles appear at the edge.
Meanwhile, whisk the eggs in medium bowl.
Very slowly stream about half of the hot milk mixture into the eggs, whisking constantly, then slowly stream the egg mixture back into the saucepan with the rest of the milk. (This prevents the eggs from curdling.)
Cook, stirring constantly until the mixture reaches 165ºF, about 2 minutes.
Carefully transfer this custard base to the blender. Add the chopped chocolate and blend on high speed for about 30 seconds. Add the cream and blend for another 30 seconds. Then add the sugar, vanilla and salt and blend again for 30 seconds.
Pour the mousse into serving glasses and chill for about 2 hours, until set. Serve with whipped cream.
[Recipe courtesy of Foodess.com]
---
If you're worried your blender isn't up to the task of taking on all of these delicious new blender recipes, it could be time for an upgrade. London Drugs carries some of the best blender brands on the market, including Hamilton Beach, which has a blender for every kind of kitchen and every budget.
Until December 24, purchase any qualifying Hamilton Beach product with your #LDExtras member ID and be automatically entered to win a Toyota Prius C!