This Father's Day, head to the kitchen and treat Dad to a homemade brunch! Sweet or savoury, here are two delicious recipes you can make together as a family.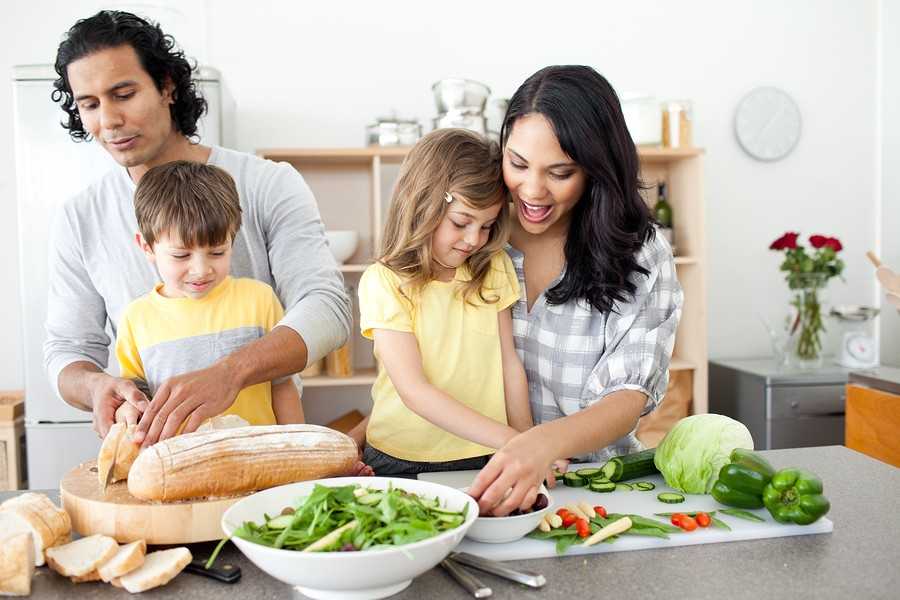 On May 30th, join London Drugs and Chef Miki Arambulo as they prepare the ultimate family friendly Father's Day brunch! During the event we'll prepare two delicious recipes for Dad using Cuisinart's Precision Master Stand Mixer, Vertical Waffle Maker, and Air Fryer Oven.
Join the conversation and learn tips and tricks for the ultimate Father's Day brunch! Have a questions about one of the appliances or recipes? Visit the Facebook event and comment with your questions—we will do our best to answer all questions during the event!
Chocolate Waffles with Whipped Cream
Kids will love having chocolate for breakfast, but these waffles also make a delicious dessert when topped with whipped cream or ice cream and berries.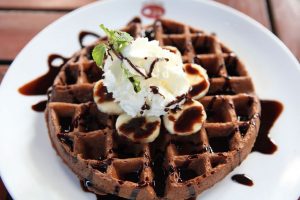 Makes 6 waffles
2 cups (500 ml) unbleached, all-purpose flour
½ cup (125 ml) granulated sugar
2/3 cup (150 ml) unsweetened cocoa powder, sifted
2 teaspoons (10 ml) baking powder
½ teaspoon (2.5 ml) baking soda
½ teaspoon (2.5 ml) kosher salt
½ teaspoon (2.5 ml) ground cinnamon
2 ½ cups (625 ml) buttermilk
2 large eggs
1 teaspoon (5 ml) pure vanilla extract
1/3 cup (75 ml) vegetable oil
½ cup (125 ml) semisweet mini chocolate morsels
Combine the flour, sugar, cocoa powder, baking powder, baking soda, salt and cinnamon in a large mixing bowl; whisk to blend. In either a large measuring cup or separate mixing bowl, combine the liquid ingredients and whisk to combine. Add to the dry ingredients and whisk until smooth. Fold in the morsels.
Preheat the waffle maker to desired setting (a tone will sound when preheated).
Pour a scant cup of batter through the top of the spout. When tone sounds, the waffle is ready. Carefully open the waffle maker and remove baked waffle. Close waffle maker and repeat with remaining batter. For best results, serve immediately.
Sweet Potato Fries with Chipotle Mayonnaise
A more nutritious alternative to regular French fries.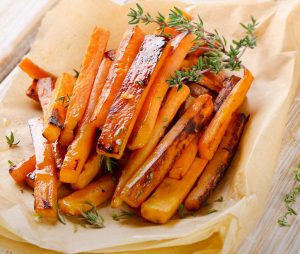 Makes 2 to 3 servings
Chipotle Mayonnaise:
½ cup (125 ml) mayonnaise
1 chipotle chile in adobo, finely chopped
¼ teaspoon (1 ml) fresh lemon juice
Sweet Potato Fries:
1 pound (454 g) sweet potatoes (about 2 medium), cut into
¼-inch (0.6 cm) thick pieces, about 4 inches (10 cm) long
Olive oil, for spraying
½ teaspoon (2.5 ml) kosher salt
Prepare Chipotle Mayonnaise: Put mayonnaise, chipotle and lemon juice in the work bowl of a mini food processor. Process on High until completely puréed and homogenous. Transfer to a serving bowl, cover, and refrigerate until ready to serve.
Make Sweet Potato Fries: Place the AirFryer Basket onto the Baking Pan. Put the cut sweet potatoes into the basket. Spray liberally with oil. Sprinkle with salt and toss. Spread into a single layer.
Put the assembled pan into the oven in rack Position 2. Set to AirFry at 400˚F (200˚C) for 15 minutes. Cook until golden brown and crispy.
When sweet potatoes are ready, transfer to a serving bowl. Serve immediately with reserved Chipotle Mayonnaise on the side.
---
Don't forget to join our Facebook Live event on Wednesday, May 30th at 12pm PST!