The new year is just around the corner, so why not ring in 2019 with a delicious brunch get-together? We've got some of the best New Year's Day brunch recipes to help you and your friends or family celebrate in the best way we know how – surrounded by delicious food.
Cranberry-Apple Cider Punch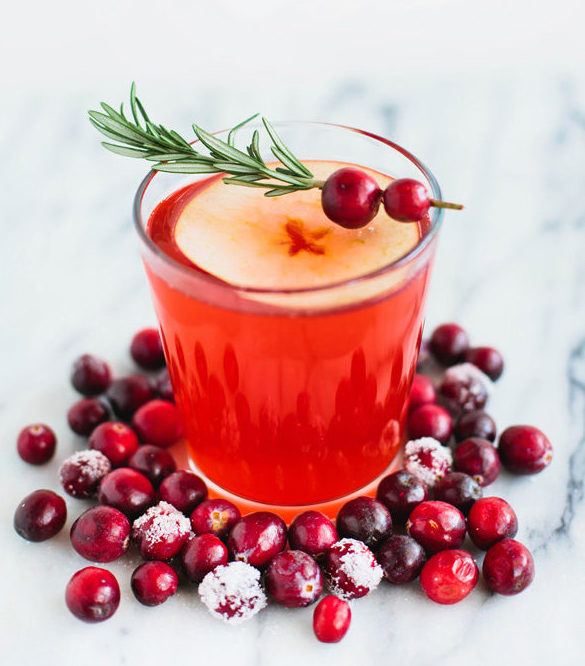 Coffee and tea are musts for brunch, but this fresh spritzer will quench some holiday thirsts, too.
Ingredients:
4 cups apple cider, chilled
2 cups cranberry juice cocktail, chilled
2 cups ginger ale, chilled
1 can (12oz.) frozen orange juice concentrate
apple slices and orange slices for garnish
frozen cranberries, optional for garnish
or rosemary cranberry sprig for individual garnish, as shown in image
Directions:
In a large jug combine cider, juice, and orange juice concentrate. Refrigerate until serving time. Just before serving add chilled ginger ale. Garnish with frozen cranberries, apples, and orange slices.
Get more non-alcoholic drink recipes at Say Yes.
Eggnog Scones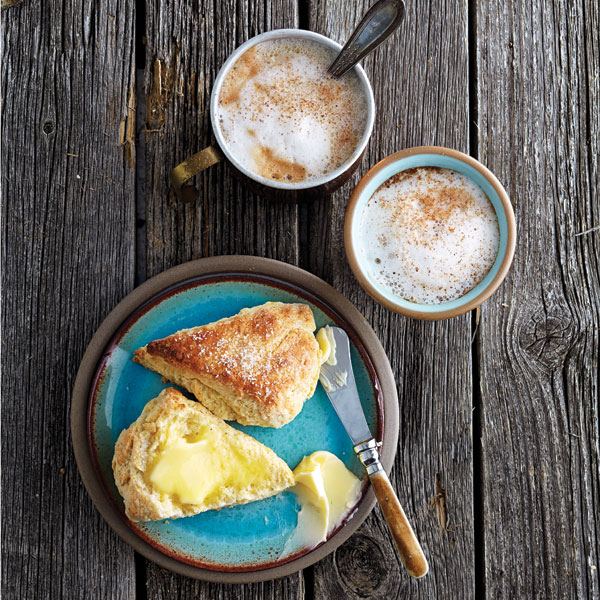 You know you've got some leftover eggnog in your fridge. Put it to good use with these warm, sweet pastries that are sure to be a hit.
Ingredients:
2 cups all-purpose flour
2 tbsp granulated sugar
1 tbsp baking powder
1/2 tsp salt
1/4 tsp nutmeg
1/2 cup cold unsalted butter, cut into cubes
3/4 cup eggnog
Directions:
Stir flour with sugar, baking powder, salt, and nutmeg in a large bowl. Work in butter until crumbly. Pour in eggnog and stir until just mixed. Pat dough into a 2cm-thick circle. Cut into 8 triangle-shaped scones. Arrange 2cm apart on a baking sheet. Bake at 425°F until golden, about 15 min.
Broccoli-Rabe and Ricotta Frittata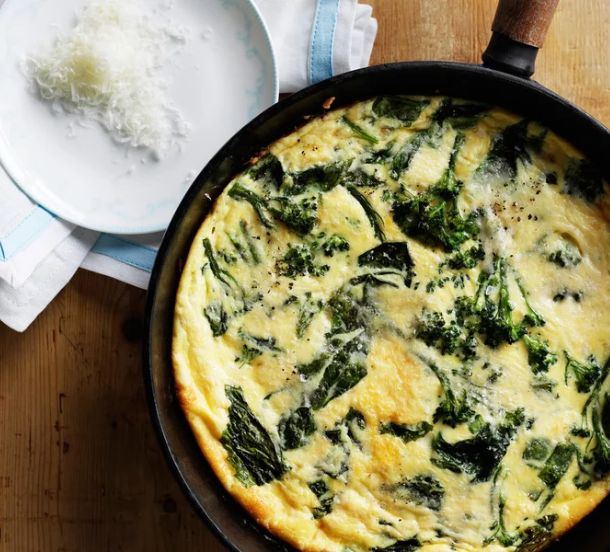 This one is as fun to eat as it is to say.
Serves 4
Ingredients:
3/4 pound broccoli rabe, tough stems removed
9 eggs
3/4 cup ricotta (about 1/3 pound)
3/4 teaspoon salt
1/2 teaspoon fresh-ground black pepper
2 tablespoons olive oil
1 clove garlic, minced
2 tablespoons grated Parmesan
Directions:
Heat the oven to 325°F. In a large pot of boiling salted water, cook the broccoli rabe until almost tender, about 3 minutes. Drain. Rinse the broccoli rabe with cold water and drain thoroughly. Cut the broccoli rabe into 2-inch lengths and set aside.
In a large bowl, beat the eggs with the ricotta and 1/4 teaspoon each of the salt and the pepper.
In a medium cast-iron or ovenproof nonstick frying pan (we recommend the Berghoff Neo Enamel Cast Iron Fry Pan), heat the oil over moderate heat. Add the garlic and cook, stirring, until fragrant, about 30 seconds. Add the blanched broccoli rabe and the remaining 1/2 teaspoon salt and 1/4teaspoon pepper and cook, stirring, for 2 minutes.
Evenly distribute the broccoli rabe in the pan and then add the egg mixture. Cook the frittata, without stirring, until the edges start to set, about 2 minutes. Sprinkle the parmesan over the top and bake until firm, about 25 minutes.
Tip: Broccoli rabe can be bitter, but blanching the vegetable in boiling salted water for a few minutes before proceeding with the recipe tempers its strength. The trick, used here, can be applied to almost any dish.
Red Velvet Pancakes with Cream Cheese Glaze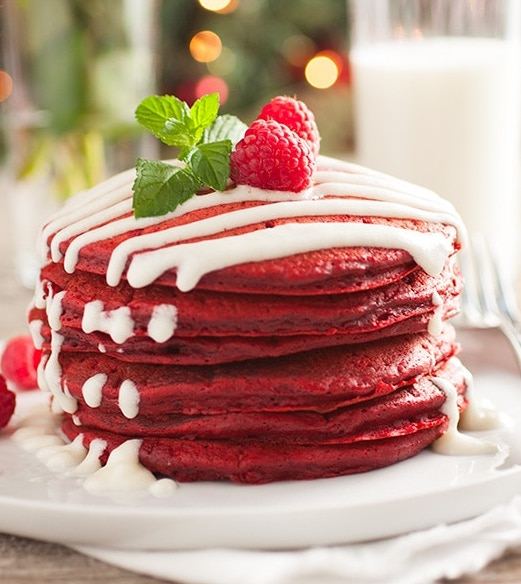 Yes you read that right. These decadent treats will wow your guests and have them talking for the rest of the year.
Yield: 16 pancakes
Ingredients:
2 cups all-purpose flour
3 Tbsp cocoa powder
2 tsp baking powder
1/2 tsp baking soda
1/2 tsp salt
2 cups milk
2 Tbsp white vinegar
1/2 cup granulated sugar
2 large eggs
1 1/2 Tbsp red food colouring
2 tsp vanilla extract
1/3 cup salted butter, melted
1 recipe Cream Cheese Glaze, recipe follows
fresh raspberries and mint leaves, for garnish (optional)
Cream Cheese Glaze
6 oz cream cheese, softened
6 Tbsp butter, softened
2 cups powdered sugar
1/2 cup milk, plus more if desired
1/2 tsp vanilla extract
Directions:
Preheat an electric non-stick griddle (like this affordable Black & Decker griddle) to 350°F. In a mixing bowl, whisk together flour, cocoa powder, baking powder, baking soda, and salt, set aside. Measure out milk into a liquid measuring cup and whisk in vinegar, allow mixture to rest for 2 minutes. Pour milk mixture into a separate large mixing bowl and add in sugar, eggs, red food colouring, vanilla, and melted butter. Whisk mixture until well combined. While whisking, slowly add in dry ingredients and mix just until combined.
Butter griddle if necessary and pour about a 1/4 – 1/3 cup batter (depending on how large you want your pancakes) at a time onto hot griddle (you can also use the back of measuring cup or spoon to lightly spread batter from centre out to the edge a bit so they aren't thicker in the centre than they are on the edges). Cook until bubbles begin to appear on the top surface of the pancakes then flip and cook opposite side until pancake is cooked through (I didn't want the tops of the pancakes to be brownish red so I flipped them a little earlier than I normally do with pancakes, I didn't wait for many bubbles). Serve warm with Cream Cheese Glaze and garnish with fresh raspberries and mint leaves if desired.
Cream Cheese Glaze
In a mixing bowl, using an electric hand mixer set on medium speed, blend together cream cheese and butter until well combine and fluffy, about 2 minutes. Add in remaining ingredients and mix about 1 minute until well combined, adding additional milk to thin if desired. Store in an airtight container in refrigerator.
Bacon in the Oven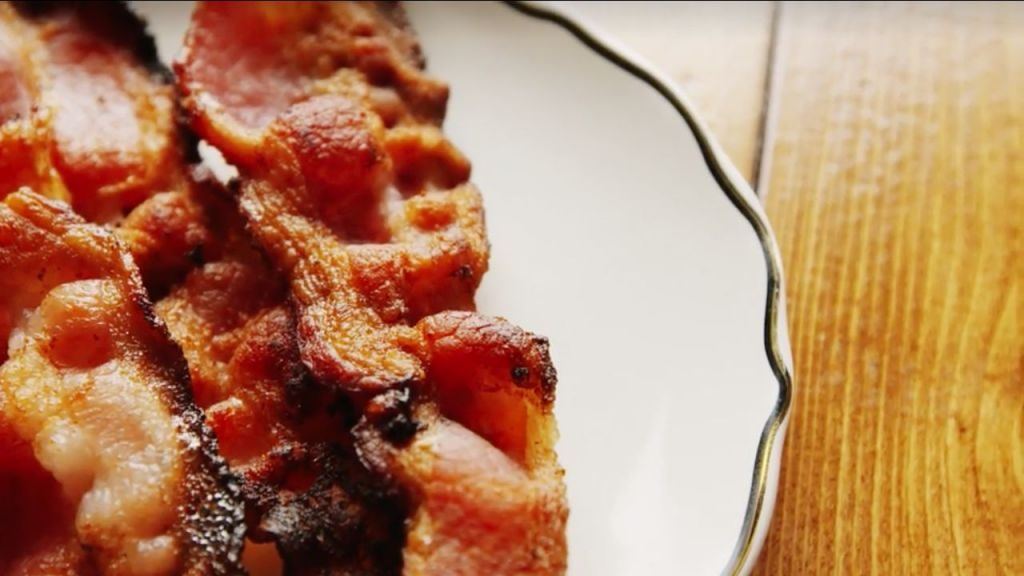 You can't have pancakes without bacon, but cooking bacon for a big group can be a hassle. In the oven it's much less work, less mess, and it will be just as crispy as the stovetop method.
Directions:
1. Preheat to 400°F and line a large baking sheet with foil. (You'll be thankful once it's time to do dishes.)
2. If you like your bacon extra crispy, put a metal cooling rack inside the baking sheet. Elevating the bacon allows the strips to cook from all sides. If you like your bacon with a little chew, or you don't have a cooling rack, skip this step. Your bacon will still be amazing.
3. Lay bacon strips in a SINGLE layer on the baking sheet. Do not let them overlap or the strips will stick together. Bake until the bacon is crispy, about 20 minutes, depending on its thickness. Our advice: Start checking after 15 minutes because some ovens are finicky and burnt bacon is sad.
4. Per usual, drain the (very greasy) bacon slices on a paper towel-lined plate, then serve immediately.
5. Pour grease into a mason jar (or other glass container) and store in the fridge. Seriously though — saving the fat will be the best decision you make all week. You can use it to cook eggs, roast vegetables, and pop popcorn!
Healthy Breakfast Bake with Spaghetti Squash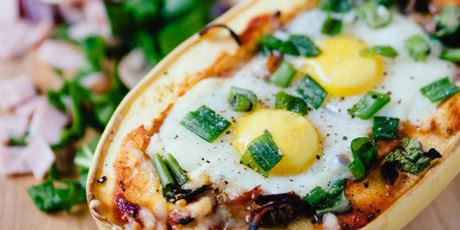 If you or your guests are looking to take a break from the holiday treats, this healthy selection will still satisfy your craving for a special breakfast.
Ingredients:
Note: This recipe is for one serving, increase quantities as needed.
½ spaghetti squash
salt and pepper
2 – 3 Tbsp tomato sauce
1 – 2 handfuls spinach, chopped
1 handful mushrooms, diced
2 slices ham, chopped
1 – 2 thin slices red onion, chopped in half
1 handful Cheddar cheese, shredded
1 handful green onions, chopped
2 eggs
Directions:
Preheat oven to 400ºF (205ºC). Slice squash in half and clean out seeds. Sprinkle squash with salt and pepper to taste. Spread tomato sauce in squash. Place spinach, followed by mushrooms, ham, red onion and cheese, followed by another sprinkle of salt and pepper.
Once oven is preheated, bake squash for 15 to 20 minutes. After 15 to 20 minutes crack two eggs into the spaghetti squash and continue to bake until egg reaches your desired doneness (about 15 to 20 minutes). Finish with salt and pepper and serve.
Cranberry Bliss Muffins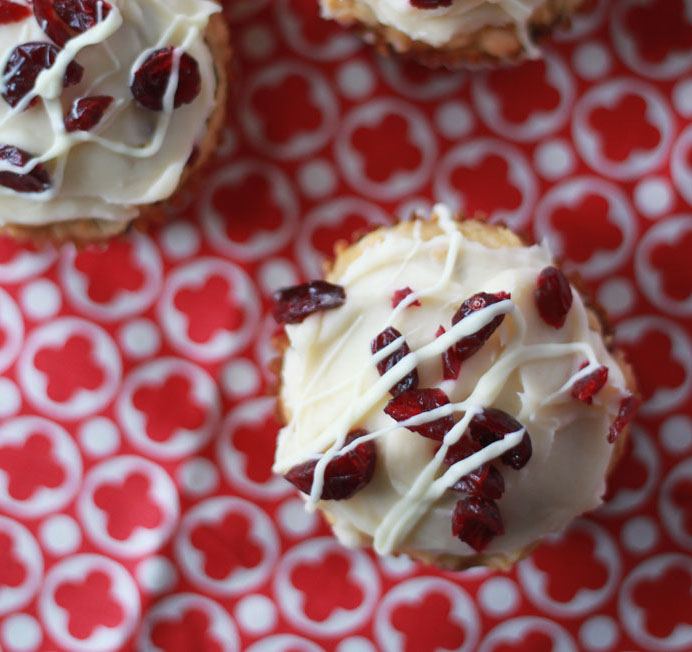 Craving your favourite treat from a certain coffee shop chain? Satisfy your craving with these delectable knock-offs.
Ingredients:
2 cups (10 ounces) all-purpose flour*
1 tablespoon baking powder
1/2 teaspoon salt
1 large egg
1 cup dark brown sugar, packed
4 tablespoons unsalted butter, melted
2 teaspoons pure vanilla extract
2 teaspoons orange zest (optional)
1 1/4 cups sour cream
1 1/2 cups dried cranberries, lightly chopped, divided
1 1/2 cups white chocolate chips, divided
Cream Cheese Frosting:
4 ounces cream cheese, room temperature
1/4 cup unsalted butter, room temperature
1 1/2 cups powdered sugar (aka confectioners' sugar)
1 teaspoon pure vanilla extract
Pinch salt
Directions:
1. Preheat oven to 350°F. Prepare a standard-size muffin pan with 12 cups by either greasing or adding cupcake liners.
2. In a large bowl, whisk together the flour, baking powder, and salt.
3. Crack the egg into a medium bowl and whisk until pale, about 30 seconds. Add the sugar and whisk vigorously until thick and well-combined for another 30 seconds. Add the melted butter and whisk vigorously to combine. Stir in the vanilla and orange zest. Lastly, add the sour cream in two additions, whisking just until combined.
4. Chop the cranberries (if you haven't already). Reserve 2 tablespoons and set aside. Add the remainder to the flour mixture along with 1 1/4 cups white chocolate chips. Toss the cranberries and white chocolate chips with the flour mixture just until distributed.
5. Add the sour cream mixture to the flour and fold very gently with a rubber spatula, continuing to fold and stir gently just until combined. The batter will be very thick and there may still be bits of flour here and there; that's okay. Better to have spots of flour than to overmix.
6. Scoop into muffin cups in approx. 1/3 cup increments, dividing evenly between the 12 cups. Bake until the muffins are golden brown and a toothpick inserted into the centre comes out clean, about 25 minutes. Allow to cool in the pan for 5 minutes, then transfer to a wire rack to cool completely.
7. For the frosting, using a stand mixer (like this classic KitchenAid model) or hand mixer, beat the cream cheese and butter on medium speed until well combined, about 30 seconds. Add the powdered sugar, vanilla extract, and salt. Mix on medium speed until well combined and smooth, about 60 seconds.
8. Frost cooled muffins with a knife – each takes about a tablespoon of frosting. Sprinkle on remaining chopped cranberries. Lastly, place 1/4 cup white chocolate chips in a microwave-safe bowl and heat at 50% power in 15-second increments until they melt when stirred. If the white chocolate siezes up, try adding a 1/4 teaspoon or so of vegetable oil to help get it to a drizzle-able consistency. Using a spoon, drizzle the white chocolate over the tops of each muffin in long, thin streams. Let sit until white chocolate hardens, about 30 minutes, and serve.
Perfect French Toast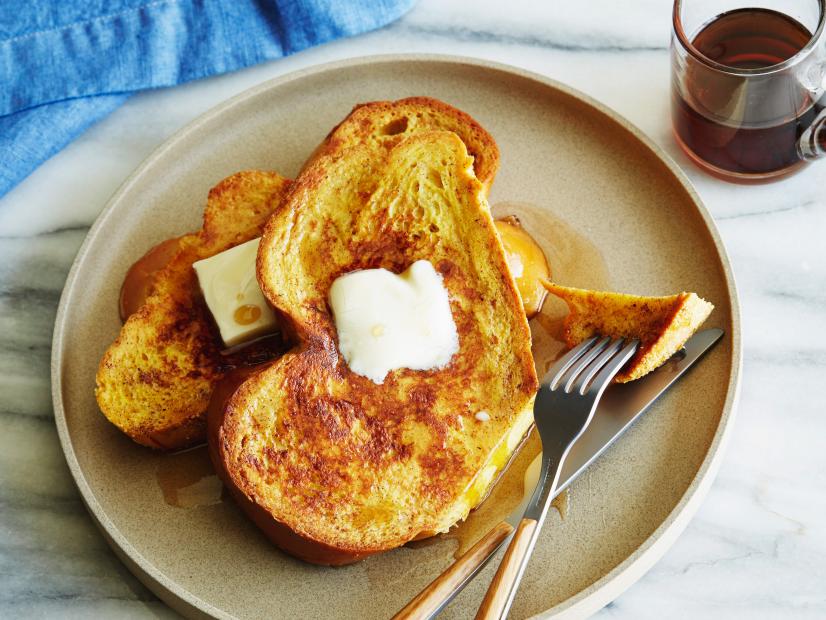 Nothing says brunch like this classic. Bonus – it's also super easy!
Ingredients:
1 cup half-and-half
3 large eggs
2 tablespoons honey, warmed in microwave for 20 seconds
1/4 teaspoon salt
8 (1/2-inch) slices day-old or stale country loaf, brioche or challah bread
4 tablespoons butter
Directions:
In medium-sized mixing bowl, whisk together the half-and-half, eggs, honey, and salt. You may do this the night before. When ready to cook, pour custard mixture into a pie pan and set aside.
Preheat oven to 375°F. Dip bread into mixture, allow to soak for 30 seconds on each side, and then remove to a cooling rack that is sitting in a sheet pan, and allow to sit for 1 to 2 minutes.
Over medium-low heat, melt 1 tablespoon of butter in a 10-inch nonstick saute pan. Place 2 slices of bread at a time into the pan and cook until golden brown, approximately 2 to 3 minutes per side. Remove from pan and place on rack in oven for 5 minutes. Repeat with all 8 slices. Serve immediately with maple syrup, whipped cream or fruit
Baked Oatmeal with Orange and Almonds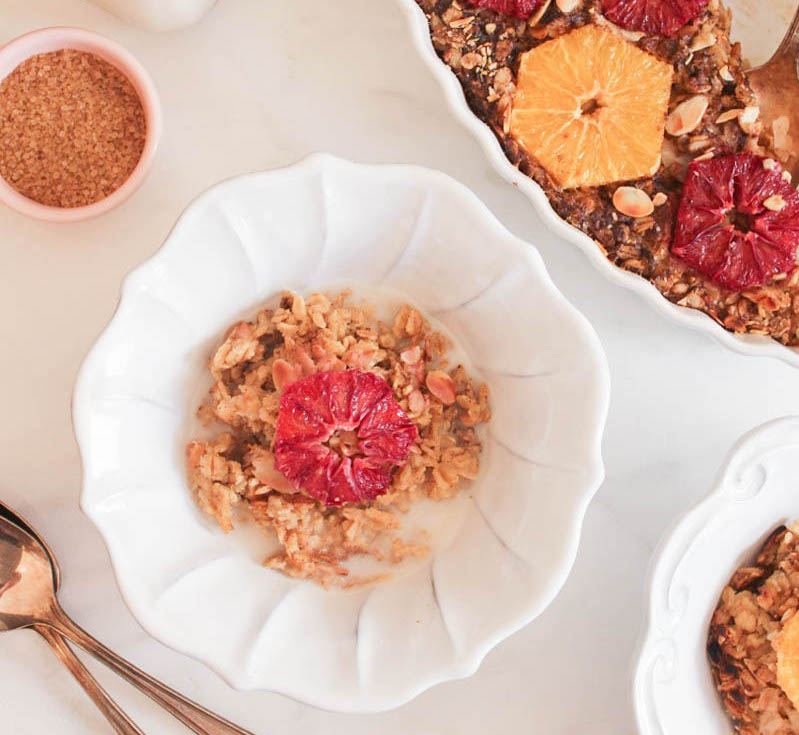 Even the pickiest eaters will love this healthy update on a comforting breakfast staple.
Serves 4-6
Ingredients:
2 cups rolled oats (not quick cooking!)
½ cup sliced almonds
1½ teaspoons ground cinnamon
1 teaspoon baking powder
½ teaspoon fine-grain sea salt
2 cups unsweetened almond milk
1 large egg
1/3 cup pure maple syrup
1½ tablespoons liquid virgin coconut oil
2 teaspoons pure vanilla extract
1 teaspoon orange zest
4 oranges of your choice, skin and pith removed and sliced into roughly ¼" rounds
1 tablespoon turbinado sugar (optional)
For serving: (optional)
Almond milk
Maple syrup
Directions:
Pre-heat your oven to 375°F with a rack in the top third of the oven. Grease a medium baking dish with coconut oil and set aside.
In a mixing bowl, combine the oats, half of the almonds, cinnamon, baking powder and salt. In a separate bowl, whisk the almond milk, egg, maple syrup, coconut oil, vanilla extract and orange zest. Arrange half of the sliced oranges in the bottom of the baking dish. Top with the oat mixture. Then pour the milk mixture over the oats. Lightly tap the baking dish on the counter a few times to help distribute the liquid through the oats. Bake for 20 minutes until the oat mixture is just beginning to set. Top with the remaining almonds and orange slices. Return to the oven and bake for another 20-25 minutes until the oatmeal is set and the top is very lightly browned. (Optional: sprinkle the orange segments with turbinado sugar and pop the oatmeal under the broiler for a minute or two to caramelize the citrus.)
Note: If you're not into citrus, feel free to mix up the fruit. You could also use a mix of bananas and blueberries, but almost any fruit will do. Think thinly sliced (or finely chopped) apples and pears in fall/winter, peaches and cherries in summer, etc.
Happy brunching! We hope the new year brings you you warmth, peace and time with family and friends.