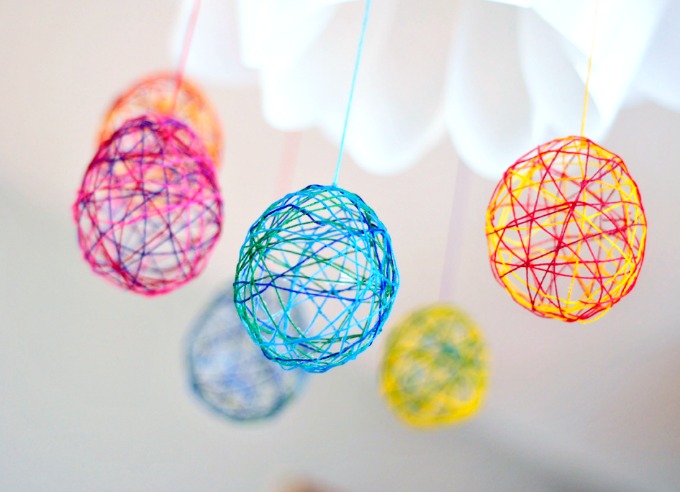 Easter is here, so it's time to gather the family for some quality time together this holiday weekend. But beyond an Easter egg hunt and a big delicious dinner, what are some good activities to keep little hands occupied and entertained? Don't worry, we've got some ideas for engaging DIY Easter projects.
1. Marbled Easter eggs
When it comes to decorating eggs this year, get fancy! You can make beautiful marbled eggs with just nail polish and water
 (and rubber gloves to keep the mess down). Check out the tutorial here and try all kinds of colours!
2. Sidewalk chalk eggs
Spring has sprung, and soon the weather will catch up. Your kids will want to spend all their time outside in the sun. Get them prepared for outdoor fun by making some egg shaped sidewalk chalk! Mix tempera paint and Plaster of Paris, place the mixture inside plastic Easter eggs, wait for it to dry, and voila!
3. Pin the tail on the bunny
It's not Easter without the Easter Bunny! Update the classic "Pin the Tail on the Donkey" game from your youth to "Pin the Tail on the Bunny". Print the bunny out on poster-sized paper, cut out some fluffy tails, and you're good to go. No need to use actual pins, little pieces of tape will do the trick for bunny-to-tail adherence (and save your walls). This is a fun and safe way for kids to interact with rabbits! Rather than getting them a real bunny for a pet, which is a surprising amount of work, play with pretend bunnies instead.
Photo via Sugar and Charm
4. Bunny hand puppets
If your kids are really bunny-crazy, make some felt bunny hand puppets for them to play with year round. The bright colours and soft fabric make these just as fun to put together as they are to play with. They've got such great little faces!
5. Easter egg scavenger hunt
If you want to perhaps reduce the amount of chocolate your kids eat, as well as make the traditional Easter egg hunt a bit more exciting, try an Easter egg scavenger hunt! Fill plastic Easter eggs with clues that will lead to the next egg, and the next, until the adventurers eventually find the final egg and a special prize.
6. String Easter eggs
This one is a bit messy, but that's why your kids will love it. Put those sticky fingers to good use! Blow up some small balloons and wrap them in coloured string or embroidery floss soaked in a liquid glue solution. After they dry, pop the balloons and you're left with these cool string eggs!
7. Toilet roll bunnies
These little bunnies turn out so cute, you'll hardly believe they were made from repurposed toilet paper rolls! Cover them in fabric or paint, add some ears, whiskers, and a tail — you've got a bunny! This project is really easy for kids for put their own spin on.
8. Envelope bunnies
Say "Hoppy Easter" with these adorable envelope bunnies. With markers, construction paper, and pompoms kids can create rabbits out of envelopes, and then fill those envelope bunnies with a card and treats!
9. Mini wooden Easter baskets
This one is a bit more fiddly and time consuming, but it'll keep your kids engaged and they'll end up with a fantastic Easter basket to hold some chocolate eggs. All you need is paper cups, popsicle sticks, glue, and paint. If you treat them carefully, these baskets can be kept for future years and your kids can remember how much fun they were to make!
Remember, all of these suggestions should be family activities. Do the crafts with them, and don't expect picture perfect results. The fun is in trying new things and learning together! Happy Easter!