Originally from Italy, photographer Paolo Rubini has travelled the world capturing a wide array of cultures and the hidden beauty of everyday life. He now calls Vancouver home, and his project 'Hands On: A Handcrafted Human Mosaic', which features images from 15 different countries, was recently selected by Capture Photography Festival for exhibition during the 2019 season.
"Hands On came to me as a project idea while travelling in India. It struck me as an original and potential-full opportunity to try and analyze our human condition across different countries and latitudes, by using an aspect of our body we all have in common as a common ground," explains Paolo.
As a supporter of Capture Photography Festival since its inception 6 years ago, the London Drugs Photolab has provided gallery quality prints for selected photographers like Paolo to showcase their lens-based art during  the annual photography exhibition. Our Photolab Technicians work one-on-one with the selected photographers to choose the right print surface for their images, adjust the colours and other elements to the photographer's specifications, and ensure the final product meets the high standards of gallery quality prints.
Building a trusting relationship between photographer and Photolab Technician is an incredibly important part of the printing process. When Paolo first met with LDPhotolab Manager Adonia, he was looking to have his black and white images printed on a metallic surface. After looking over Paolo's images however, Adonia suggested Paolo might like to try a more matte and textured print surface, such as linen paper. Surfaces like linen or bamboo paper look particularly excellent with black and white images, and Adonia recognized the linen paper would also work well with the fact that the prints would be backlit with natural light in the exhibit space. After testing both metallic and matte surfaces, Paolo made the final call to print on linen paper!
"Black and white convey a certain poetry and timeless feeling, furthermore it helps the viewer focusing more on the composition of the image, its narrative and the texture of the elements on focus. Color sometimes can be distracting and misleading, especially in a concept series like this one," says Paolo. "I usually go for a glossy reflecting surface, mostly in colour but also black and white. My go to paper would be the photo-metallic paper because it gives more depth to the colours. This time, considering the texture I wanted to enhance and the light coming from the back of the picture I opted for a thicker and more textured paper: the LDPhotolab's Linen White. It proved to be the right choice for this show."
Once the final decision on print surface was made, Paolo was able to provide feedback on tweaking the colouring of the images (in this case, the warmness or coolness of the black and white, the darkness of the blacks and the brightness of the whites).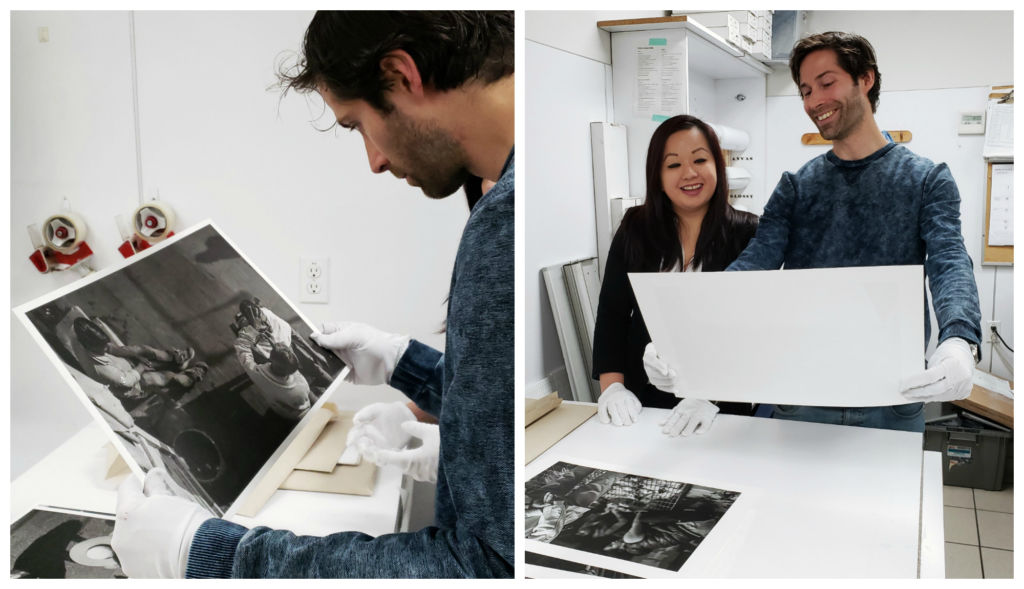 "Working with Adonia and her Granville location photolab team was particularly inspiring because of their expertise and wealth of knowledge in understanding and accommodating my vision and their outstanding customer service. They went above and beyond with me, making my show almost like it was their own," says Paolo.
After the collaborative process of tweaking the images was complete, our photolab printed all of Paolo's images for the exhibit using the state-of-the art Epson 9000 large format printer. Photolab Manager Adonia then met with Paolo one last time for a final inspection of the fine art prints. Paolo looked over each image individually to confirm they were ready for display, even asking for some final feedback from our Photolab Manager Adonia on what part of each image drew her eye, to ensure it was achieving the desired effect.
"It has been such a pleasure working with amazing photographers like Paolo, and so rewarding bringing their artwork to life," says Adonia. "The journey from initially meeting and viewing photos, to producing the physical prints in such an impactful way is one of the best parts of being a photolab technician."
Of course, seeing the fine art prints on display is always a thrilling part of the process for Paolo. "After the set up and the opening, I was very happy to take a step back and look at all their picture displayed together. Each of them was carrying its little story, informing and inspiring others. It is a collection of humanity that I'm very proud to share because it talks about us and what makes us all similar and yet each unique," he says.
If you want to check out Paolo Rubini's prints in person, you can see them at VIFF Vancity Theatre in Vancouver from April 14th to May 5th, Monday to Sunday, 6pm onwards (and when films are being shown).