This post marks the first in a series of product profiles that we plan to publish on the London Drugs blog, exploring the talented people producing some of the exciting Canadian products on our shelves. 
22-year-old founder Tara Bosch launched the confectionary company Smart Sweets in 2016, and in doing so, shook up the candy world. If you picked up a bag of her treats at your local London Drugs, you may have wondered in fact whether you were getting candy or a health product.
You're getting both.
Bosch set out to create a treat that wasn't loaded with the usual amount of sugar. Where a 56-gram bag of Skittles contains 43 grams of sugar, Smart Sweets contains just 2 grams of sugar per 50-gram pouch (not to mention 24 grams of fibre and 5 grams of protein). It's a sweet snack that you can feel a little better about enjoying.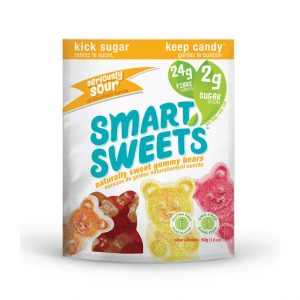 An up-and-comer in the business world, Bosch has already been on the popular TV program Dragons' Den (earning praise from all the judges) and has been honoured in the Pitch for the Purse contest as well as in the most recent BCBusiness 30 under 30 issue.
"It was amazing to see and hear the stories of how people's lives have been impacted by sugar. There is no better time to be part of the wellness​ industry in Canada as more and more people are realizing the impact that food, specifically sugar, has on our body and are eagerly waiting for options to be innovated so they can make smaller, smarter choices in their daily lives," says Bosch.
"It was so cool to see people who watched our episode reach out and share their stories about how they are kicking sugar, too. Smart Sweets has the opportunity to make a massive impact in people's lives. At the end of the day, it's about being able to feel good about enjoying the foods we love, and life's too short not to be able to eat candy everyday."
When asked where Bosch sees Smart Sweets going from here, the entrepreneur doesn't balk. "Smart Sweets is revolutionizing candy consumption. Tackling one of the largest and most concerning problems hidden in our everyday foods, we are driving innovation through creation of the first candy products that kick sugar naturally … We want to empower people to live their best lives by giving them the choice to kick sugar."
Bosch's dream of seeing Smart Sweets take up space on shelves across the world–including shelves at London Drugs, of course–just may become reality. We wish her the best.
Smart Sweets is currently available in stores across Canada, including London Drugs. The product will be launching in the U.S. in the first quarter of 2018.