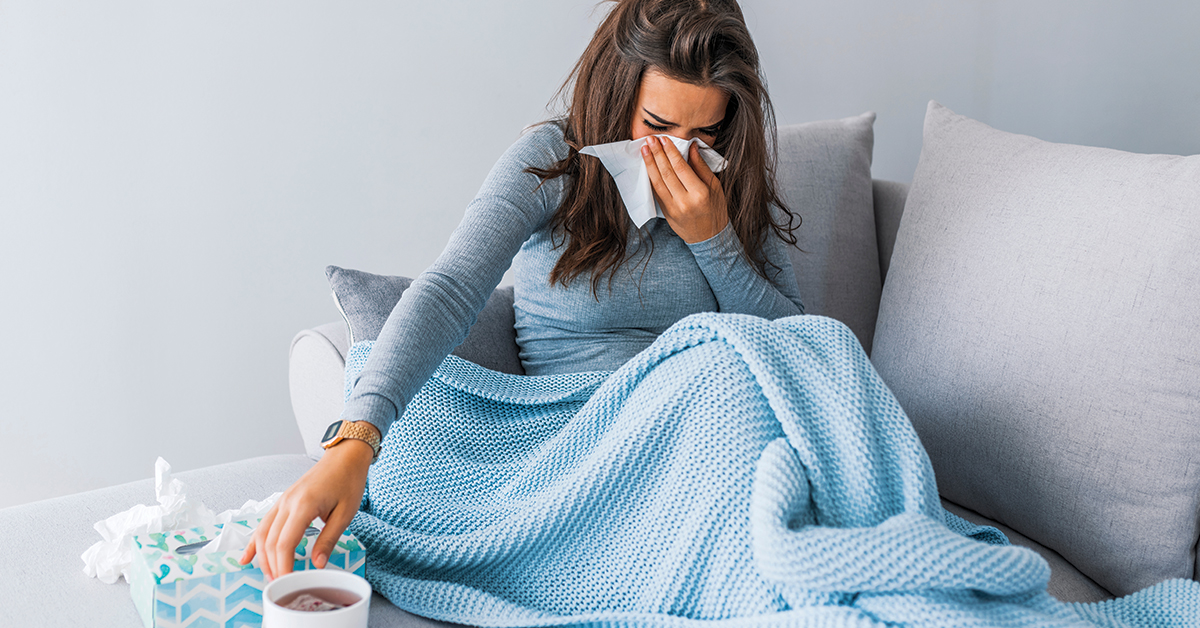 Colds and the flu are both respiratory diseases caused by viruses and can spread through respiratory droplets released when a person breaths, coughs, sneezes, talks, or sings. You can catch the virus when it lands on your mouth or by breathing it in through the nose. Touching an object the virus has landed on and then touching your mouth, nose, or eyes can also introduce the virus into your body.
Cold & flu: what's the difference?
While a cold and the flu share many of the same symptoms, there are differences, and it is important to know what they are. Currently, flu season is being complicated by COVID-19, a respiratory infection that produces similar symptoms to the seasonal flu. The following table will help you determine if your symptoms are due to the common cold, seasonal flu, or COVID-19.
Cold symptoms:
Usually appear one to three days following exposure to a cold-causing virus.
Flu symptoms:
Usually appear one to four days after exposure to an influenza virus.
COVID-19 symptoms:
Usually appear between two days and two weeks after exposure to the SARS-CoV-2 virus.
Relieving symptoms
There are no medicines that can cure a cold or the flu. If you think antibiotics can help, you're mistaken. Antibiotics kill bacteria, but they have no effect on viruses. There are some prescription antiviral medicines that can help make symptoms milder and help you feel better faster, but they don't actually cure the disease. There are also a variety of over-the-counter medicines that can help relieve symptoms:
• Analgesics can help relieve aches and pains.
• Antihistamines can help dry out a runny nose.
• Decongestants can help unclog a stuffy nose.
• Expectorants can help loosen mucus, making it easier to remove it through blowing your nose or coughing.
• Antitussives can help suppress a cough.
• Lozenges and analgesics can help relieve a sore throat.
• OTC cold medicines can also help provide relief.
Not every product is right for every person. It is important to read the product labels carefully and follow the directions exactly. If you aren't sure which products might be right for you, our pharmacists will be happy to answer your questions and advise you on appropriate medications.
Prevention is the best option
It's always better to prevent a problem than to try to fix it after it happens. Fortunately, there are steps you can take that will help you avoid getting a cold, the flu, or COVID-19. While there is no vaccine that can prevent the common cold, there are vaccines that can drastically reduce your chances of getting the flu or COVID-19. If there are no medical reasons prohibiting you from getting vaccinated, you should seriously consider vaccination. Your healthcare provider can advise you on whether this is the right decision for you.
There are also other steps that you can take to protect yourself against contracting a respiratory disease:
• Stay at least two metres (six feet) away from anyone who isn't a member of your household.
• Wear a mask or other face covering in indoor public spaces and outdoors if you are in a crowd.
• Avoid close contact with anyone who appears to be sick with a cold or the flu.
• Wash your hands frequently with soap and water for at least 20 seconds or use an alcohol-based hand sanitizer that contains at least 60% alcohol.
• Clean and disinfect high-touch surfaces such as light switches, doorknobs, countertops, telephones, and other electronic devices daily.
• Wash children's toys periodically.
• Don't share drinking glasses or eating utensils with anyone, not even family members.
Because the flu and COVID-19 cause such similar symptoms – or in some cases, cause no symptoms at all – it can be difficult to diagnose which condition a person has based solely on symptoms. There are tests that can determine which disease a person has. It is important to contact a health professional for an assessment if you are experiencing any of these symptoms. They may suggest testing for COVID-19 or self-isolation. Stay home from school or work if you are feeling unwell to prevent the spread of infections.
If you have any questions about treating coughs, colds, or the flu, or if you have any questions about COVID-19, your London Drugs pharmacists are always happy to help you.
Read other articles in our Fall-Winter 2021 volume of our Bettercare magazine here.