The days are shorter, the kids are restless, and you're starting to organize the return to your "regular" schedule. Yep. It's back-to-school time again.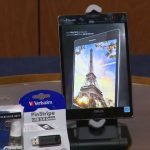 But back to school doesn't mean just back to the books. For many, it's back to business–and busy-ness–too.
LD Expert Julian Sanders was recently invited to appear on Edmonton's CTV Morning Live with host Phil Darlington to discuss back-to-school gadgets, including compact wireless earphones, Microsoft Office subscriptions, tablet stands, Bluetooth keyboards, and more.
London Drugs also has you covered for school supplies for kids, kitchen appliances to make school meal planning a breeze, containers and snacks for school lunches, and the latest tech for students of all ages.
Here's Our Best Back-to-School Advice for 2016:
LD Experts:
General Tips:
For Parents: