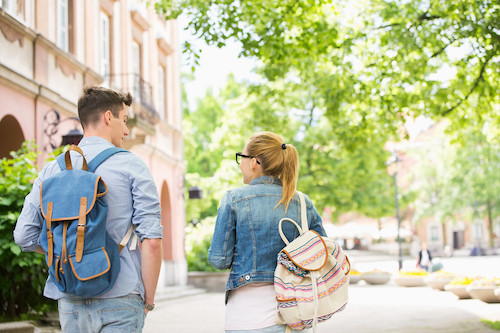 For university-bound students, back to school shopping can be the most appealing part of the new semester. Of course, there are the usual suspects – backpacks, pens, notebooks, and if they're lucky, new electronics. But what about back to dorm shopping? They may not have a full apartment to deck out, but there are still some essentials for late-night study sessions – namely, in the kitchen department. We've gathered eight kitchen essentials for every post-secondary student. While blenders and slow-cookers are a great idea, sometimes they just need the basics.
We know this seems a little depressing, but a quality can-opener is a dorm essential! Sometimes there's only enough time for a quick bowl of microwaved soup between classes. Students can count on the cafeteria or weekend visits home for the hearty, home-cooked meals.
An absolute essential is an insulated travel mug for taking coffee to class – because they probably won't have the budget for a daily caramel macchiato. This Thermos is great because it's leak-proof and double-walled – their chosen caffeine fix will last even longer than their study time.
Your student can't make coffee or tea (or instant ramen) without boiling water. This KitchenAid kettle is great because it's compact and super cute! Plus, with a 1.25 litre capacity, there's enough water to share with the neighbours down the hall.
If your student is lucky enough to have a mini-fridge, then these Rubbermaid containers are a must-have. They stack easily and click together for easy and compact storage when not in use.
Multi-functional pieces are crucial when your kitchen storage is limited (or non-existent). This CorningWare mug doubles as a bowl and is microwave, oven, and dishwasher-safe – though it's unlikely that the dorm will provide much more than a sink for kitchen clean-up!
Having the right kitchen tools will help your student make healthy food choices. Prep them with a knife and cutting board so they can chop up fruit, veggies, and cheese for quick study snacks. The cutting board will also double as a serving platter for hangouts in their dorm!
If you aren't willing to donate some old silverware to your student's dorm, then consider these corn-based compostable utensils. They're lightweight and handy – your student can keep a few in their backpack for (food) emergencies.
Your student won't be lugging bottled water into their dorm, so it's essential that they have a re-usable water bottle to carry to class. This Nalgene one has a wide mouth so they can easily add ice, fruit, or herbs to their water for extra flavour.
We know it's hard to resist all the fun kitchen knick-knacks, but try to stick to the basics for your back-to-dorm shopping. In small living quarters, the simpler the kitchen supplies, the better. Got a suggestion for another kitchen essential? Mention @londondrugs on social media to let us know!