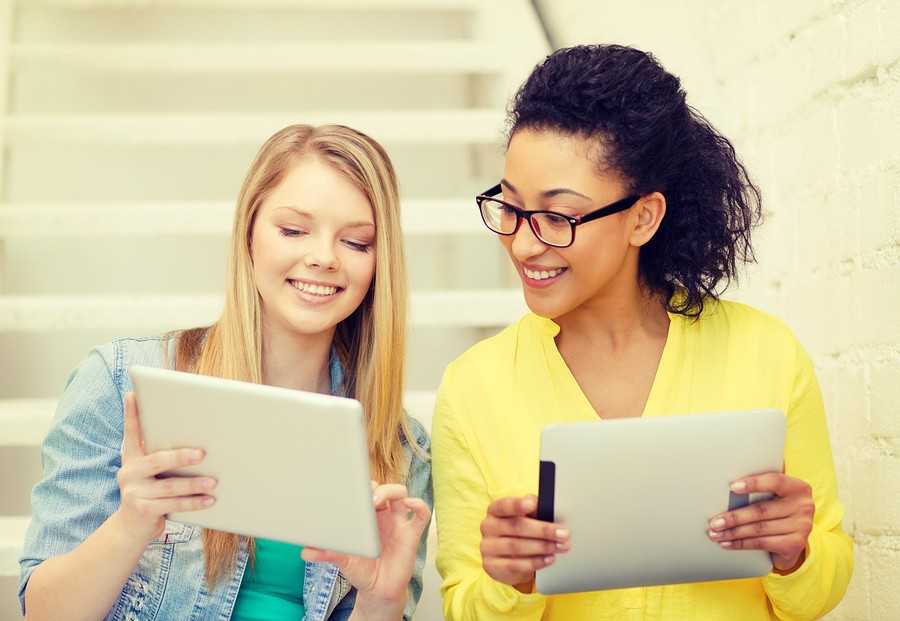 Last week, our LD Experts covered the best school laptops of 2016. But what if you want a device that's more practical for schoolwork than a smartphone, but lighter and generally cheaper than a laptop?
Of course, you'll be interested in tablets. These days, that also includes convertibles or hybrids – with hideable or detachable keyboards. That way, they function as either a laptop or a tablet, as needed.
But which are your best options? As always, that depends on your needs and also your budget. Here are some of the best tablet options for 2016.
iPad: The "Original"
In April 2010, Steve Jobs released his last great creation: the iPad. Technically, it wasn't the original tablet. In fact, Apple first introduced a tablet way back in 1993. But iPad touched off the modern era of tablet computing and has remained the market leader ever since.
Like everything Apple makes, the iPad exudes user-friendliness and understated style, while providing top-notch visuals and premier performance. They're relatively costly, but for many, it's completely worth the experience. The latest iPad, released in March 2016, is the iPad Pro, but students may prefer the lighter, lower-priced iPad Air 2.
Galaxy Tab: A Super Android
Of course, not every modern tablet is an iPad. Though Apple is the brand leader, its operating system, iOS, is not the most common among tablets. That leader is Google's Android. And few companies utilize it better than Samsung. Their Galaxy Tab A is a great all-around performer.
A feature students will love is the S-Pen, which makes note-taking by hand, sketching, and even general file management feel easy and natural. And multitaskers will love the side-by-side function that allows two apps to share the screen. So you'll either get twice as much done, or you'll be half as distracted. A win, either way.
Surface: The Key Convertible
Arriving in October 2012, the Microsoft Surface is widely credited with popularizing the concept of laptop/tablet hybrids, which are now available from several brands. The Surface also gained attention partly because it heralded the long-awaited entry of Microsoft as a hardware manufacturer.
The Surface Pro 4, the latest generation, is more affordable than MacBook laptops and arguably more utilitarian – since they can also be used as tablets. For students, it's great that, since it comes direct from Microsoft, Surface runs Windows. So it can seamlessly integrate the popular Office software for writing term reports.
The Handytab: Certified Amazing
Exclusive to London Drugs, Certified Data Handytab convertible tablets offer incredible value. They're great for those who want to use their tablet as a true working notebook because the detachable keyboards are built solid and rigid, just like a traditional laptop. In fact, at a glance, Handytabs look so much like a notebook, you'll truly wow your friends by seamlessly detaching the screen.
Just like laptops, the Handytab features a full compliment of input ports, including USB and HDMI. On the spacious 11.6-inch model, there is even a 500 GB hard drive built into the keyboard. Now that will hold a lot of school projects.
The Budget Savers
We understand some students feel a tablet would help manage their schedules and be great for note taking, but don't need all the bells and whistles. For them, there are affordable, fully capable tablets from Proscan. These come in a range of screen sizes, but the prices start at astonishingly low and end at incredibly so.
Of course, there are other great budget options available like Samsung's Galaxy Tab E Lite and the Asus ZenPad C.
These are only a small fraction of the tablet options available at London Drugs for back-to-school. If you have any questions, our stores are always fully stocked with laptops and LD Experts standing by to help you make the best choice.
Ready to buy for school right now? Join us online!
And finally, all of us at London Drugs wish you the best of luck with your studies!
**This article was originally published on the London Drugs Urban Lifestyle Blog**