We all know that one family that kills it at the holiday greeting cards every year. The card is always beautiful, the message inside is so thoughtful, and most importantly, their family portrait looks flawless. What's their secret? They're probably following these 8 tips for taking the perfect holiday card photo:
1. Decide on a style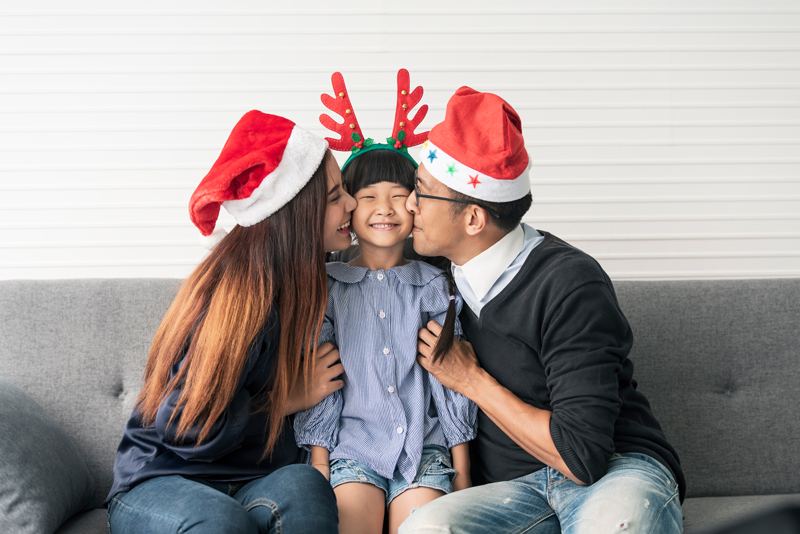 You want your family portrait to properly reflect your family. If no one in your family would ever wear a suit and tie, then a dress code that formal won't be a good fit. The opposite is also true – if everyone is excited to get all gussied up, go with it! Just make sure everyone is on the same page – you don't want one kid in jeans and the other in a fancy holiday dress.
If you want to go with a cute and quirky photo, you could also add some props to the mix! Hand out some funny antler headbands, or some Santa hats.
2. Pick a colour scheme
The key to a great looking family photo doesn't lie with matchy-matchy outfits. It does, however, lie in finding a good combination of colours, textures and patterns that work together. So skip the 'everyone wear red' mentality, and instead have your family work within a broader colour scheme.
3. Choose a location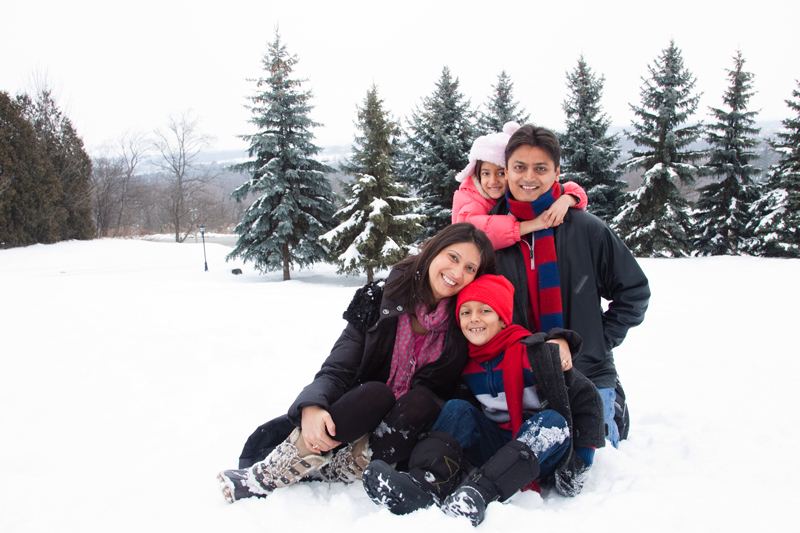 Your location may depend on who plans to take your photos. If you're planning to take the photos yourself (with a self-timer), your best bet is outdoors or somewhere in the home where you have lots of natural light. Otherwise, lighting your photo properly might be a struggle if you're not an expert. If it's snowed recently, there's your chance for some great 'winter wonderland' shots, as well as some possible snowball fight candids!
Also keep in mind the style and colour scheme for your family portraits when deciding on a location as well, so that they all fit the look you are creating.
4. Keep your subjects happy
Not everyone loves taking photos, we get it. Sometimes, preparing a little reward is an easy enough way to keep your subjects happy during the shoot. Plan ahead and order in some pizza or have some other yummy snacks on-hand. Or if you're shooting outside in the snow, consider having some hot chocolate on-hand to keep everyone cozy and warm in between snapshots. It'll go a long way to avoiding the usual groans when you ask to take 'just one more' photo!
5. Go pro or DIY-it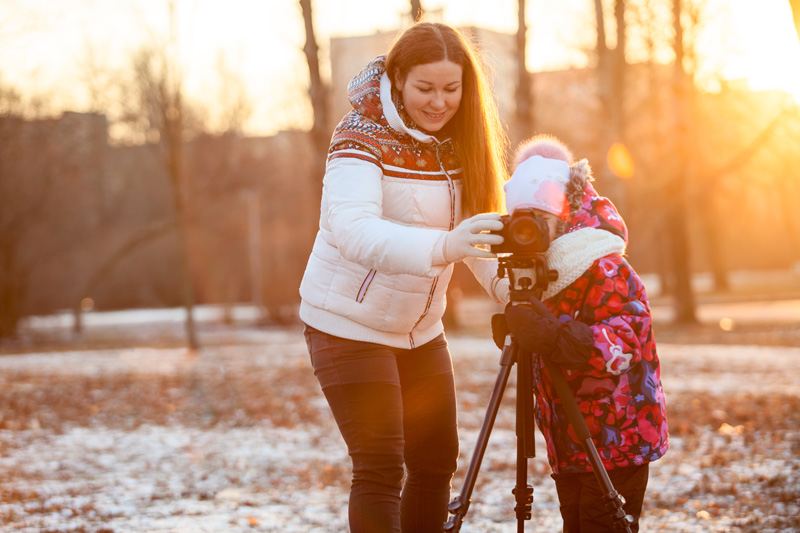 You have the option of hiring a professional photographer, or taking the photos yourself. If you have smaller children, you may prefer to hire a photographer, so you can simply focus on making sure the kids are all under control and happy, instead of also having to focus on lighting, framing, and everything else that comes along with shooting.
If you've got a little (or a lot) of photography know-how though, then you may decide to shoot the photos yourself. The biggest advice our LDExperts can give you is to take lots of photos. That way, you'll have plenty of options to work with later on – so you can find that one perfect shot where everyone's eyes are open. Have a tripod and self-timer remote with you, so you can easily set up the shot, join your family and then hit the shutter release.
6. Schedule a time
The last thing you want is to feel rushed during your family photo shoot. Especially with the shorter winter days, you'll want to make sure you schedule enough time so you're not running out of sunlight (if you're shooting with natural light). Ideally, the weekend will give you the most time. If you can schedule your shoot on an overcast day, that will be your best bet!
7. Get everyone in focus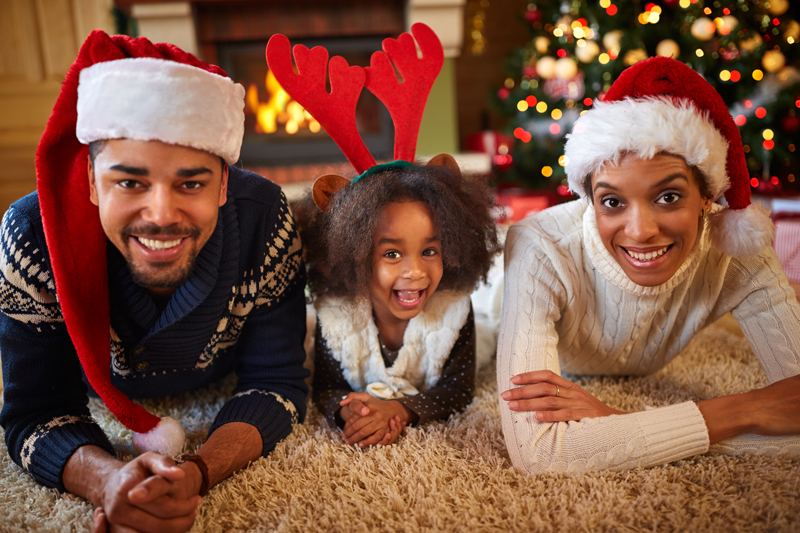 The size of your family is going to help you decide what aperture you want to use with your photos. A nice wide aperture (ex. f/2.8) will give your family portraits that beautiful blurry background, but you have a lot of people in your frame, you might find that some of your family members end up out of focus. If this is the case, you'll want to go with a narrower aperture, to ensure everyone stays in focus!
8. Keep it simple
While you might be tempted to get very creative with your photo-taking, don't forget the true purpose of the photo: to show your family and friends how your family has grown and/or changed over the last year! So while some art direction isn't bad, just remember that you want to have a good photo that features all your family members' beautiful faces – not the backs of their heads, or their silhouettes.
Sharing your holiday portraits
Once you've got your picture-perfect family portrait, it's time to start creating your holiday greeting cards! We've got lots of tips for designing your own greeting cards to give out over the holidays – check them out in this post.
Another way to preserve that beautiful family photo is by having it printed as a fine art print, like an ultimate enlargement, aluminum metal panel, or canvas gallery wrap.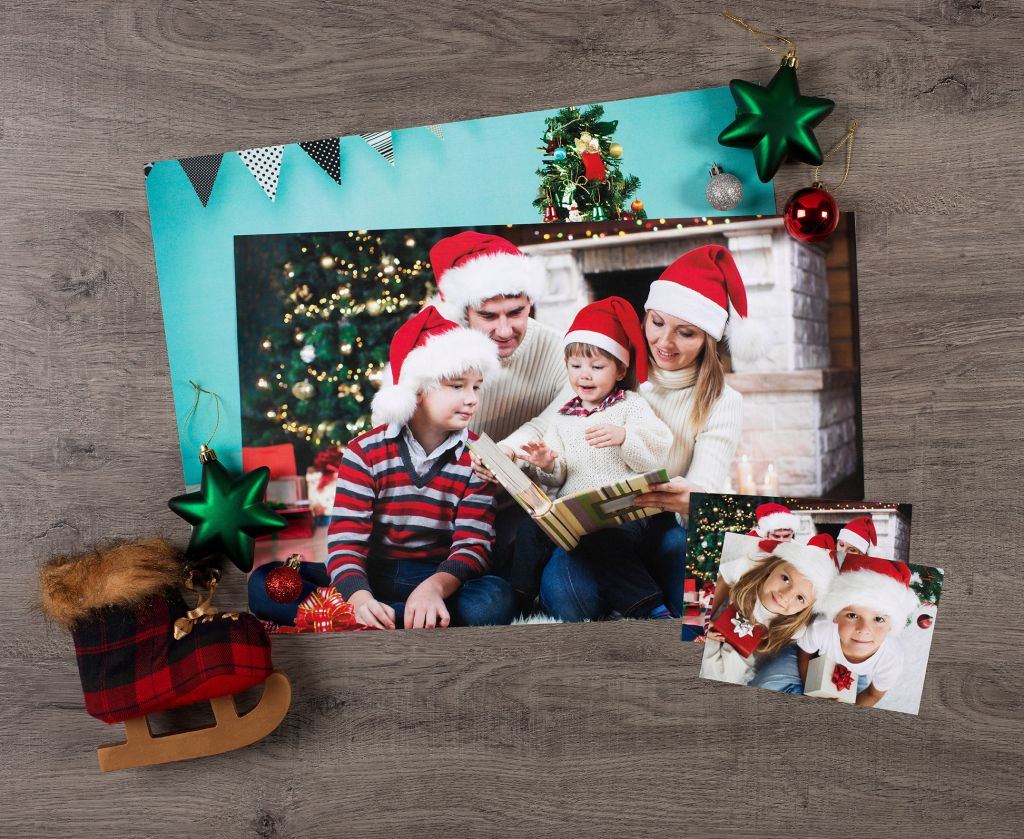 And if you snapped some other great gems during your family photo shoot, you can also create some beautiful gifts and decor with them. We can put your chosen photo on a mug, a Christmas tree ornament, or even a Christmas stocking!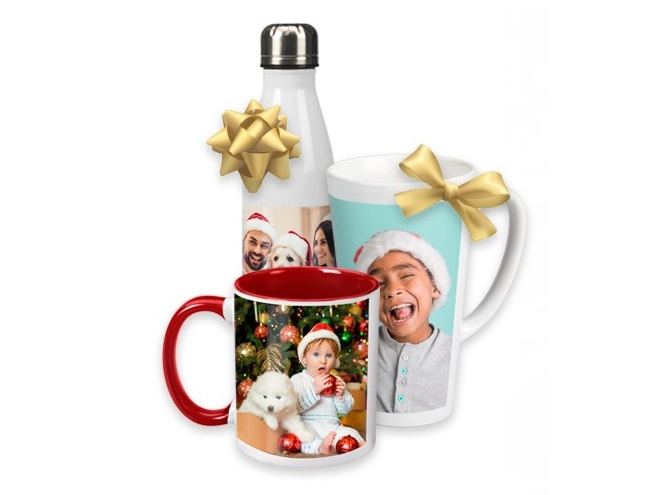 You can find our entire selection of customizable greeting cards, fine art prints and personalized gifts on our London Drugs Photolab website, or you can always visit us in-store or simply download our London Drugs Photolab App for iOS and Android to order on-the-go!