With the cold weather upon us, we know that extended indoor time can be a challenge. So here's 15 ideas for entertaining the little ones within your four walls.We offer these ideas for entertaining the little ones within your four walls.
Giant Box Art
Have a big cardboard box taking up space in the house? Before you toss it into the recycling bin, take a handful of crayons or markers and drop them inside, add one toddler (or two if you have another on hand) and watch it come to life. We all know toddlers love to write on walls, and these walls are fair game. Older kids can join in the fun too with more elaborate creations on the outside–pirate ship, princess castle, space shuttle, airplane–the possibilities are endless! Speaking of endless, there are loads of fun and simple activities to do with cardboard boxes.
Escape the Volcano
This fantastic game is inspired by The Floor Is Lava, but it's a little more involved. The planning is worth it, though, because it gets your kids moving and thinking with colour matching, exercise, riddles, and more.
Sponge Finger Painting
If your kids love finger painting but you hate the mess, keep it under control with sponges. Makeup sponges work great for keeping the paint in one place, and clean up is easy if you keep them on a plate or plastic tray.
Baking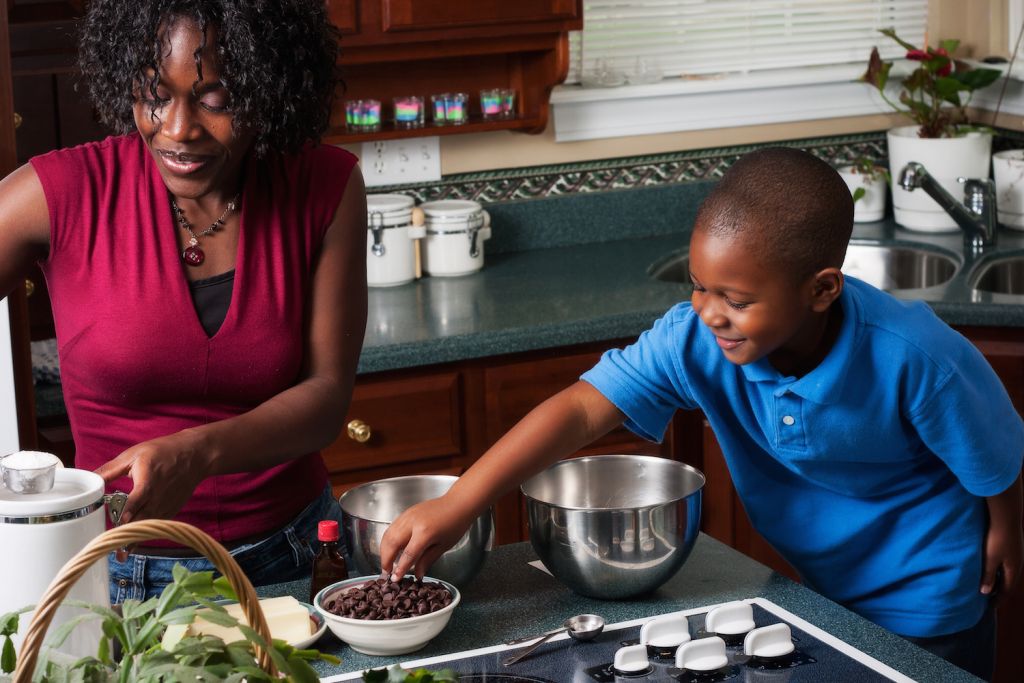 Baking is a great rainy-day activity for kids of any age. Not only do they get yummy treats at the end, but they learn a little about chemistry and where their food actually comes from. No worries if you're not an expert baker yourself – try these super-simple recipes from Delish.com that anyone can master. Don't forget to stock up on baking tools and supplies!
Yoga
Yes, your little ones can do yoga! There are lots of great DVDs to help your toddlers and kids get started with yoga, but our favourite videos are from Cosmic Kids. In each free YouTube video, likeable host Jamie walks little yogis through a new adventure, including favourites like Moana, Star Wars, Frozen, and other fun stories, while learning the basics of flexibility, balance, strength, and mindfulness. Move the coffee table, grab your mat, and get ready for some fun. Bonus–you can sneak in your own workout right next to the kids!
Indoor Picnic
If grilled cheese and baby carrots are getting a bit boring, inject some fun into lunch and have an indoor picnic! Pack portable containers into a basket, clear some space, put down a blanket or tablecloth, and voilà! For extra fun, add some "outdoor" details like homemade grass, flowers, trees (aka tall potted plants), etc. Don't forget to invite the stuffed animals! You can also continue the fun into the night with an indoor campout. Especially fun for a sleep over!
Spy Laser Obstacle Course
A ball of yarn or string is all you need for this secret mission. Find a narrow passageway like a hallway or stair case, and wrap the string at different angles back and forth at kid-height (painter's tape works well too, if you've only got walls to deal with). Little kids will have a blast trying to climb through the configuration, and you can take the challenge up a notch for older kids with spy backstories, timed races, secret maps, special treasure missions, or a spy movie shoot. More ideas and instructions at mykidsadventures.com.
Make Your Own Book
If you've read the 478th book to your kids, why not get them to make their own books? There are many tutorials online about homemade book projects, but we found a great place to start with this simple one, which is good for beginner crafters, or for a sweet gift for someone. All you'll need is a few sheets of paper, scissors, and crayons or markers. You could also add magazine cut-outs to practice pre-schooler scissor skills.
Cotton Swab Blow Darts
Don't be alarmed by the name! This game is as safe as it gets. For this one, you'll only need some cotton swabs, bowls or small bins (even old yogurt containers would work!), number stickers or tape, and some drinking straws. You'll foster some healthy competition with everyone in the family with this lively game. Full instructions at thatswhatchesaid.net.
Sticky Spider Web 
Painter's tape, light, throw-able objects, and a doorway is all you need for this active game. Have fun looking for things around the house that will stick in the web, like balled up newspaper, balloons, small toys, etc, or make it a competition by adding points or a timer.
Masking Tape Race Track
A no-brainer if you've got a tub full of toy cars or trains. Make it colourful and fancy with washi tape like the one above, but regular old painter's tape works well too (and is just as fun on carpet and furniture!). You can keep it contained in the kids' room, or take it all over the house for an epic race. You can even add a souped-up garage or train station, like this one: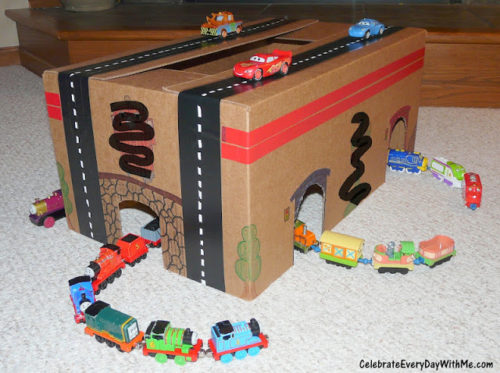 Want more ideas for fun and learning with just a roll of tape? Check out more ideas at Hands On As We Grow.
Minute to Win It
If you've got a house full of kids, Minute to Win It games are a surefire hit. Bring the popular game show into your living room with rip-roaring races like "Junk in the Trunk," "Cookie Face," or "Pong Tac Toe." The entire family, neighbours, cousins and the mail carrier are all going to want to join in this one. More ideas for MTWI games at happinessishomemade.net.
Sewing Station
This indoor activity is perfect for 4-6 year olds to practice fine motor skills. You will need to pick up a few supplies, but it's a creative and colourful project that your pre-schooler can be proud of. Full instructions at kleas.typepad.com.
I'm Bored Jar 
If you've reached your creativity limit, an I'm Bored Jar will be your best friend. Simply put, it's a container filled with things for kids to do. Some people fill it with fun stuff, others mix in chores kids can help with around the house. You can get creative with the design using tokens, popsicle sticks or laminated cards, if that's your cup of tea, or you can just write the activities on slips of paper and put them in a jar. Every time you hear a small person in your house utter the phrase "Mooooooom/Daaaaaad, I'm BOOOORED!", you can bring them the jar and let it do its work. More ideas for jar design and activities at wellnessmama.com.
What's your favourite activity for beating kids' cabin fever? Let us know in the comments!