If you have a home office, you're probably familiar with the challenge of keeping it organized. As a room that typically isn't the focal point in most homes, it's often the recipient of piles of disorganized items that get tucked away there "for later." Except that later never really comes. Next thing you know, your office is cluttered with papers, boxes, and power cords, and is the last place in which you want to spend time. Sound familiar?
Does your home office inspire you to be productive? Or does it evoke feelings of stress and overwhelm?
Whether you're working from home full-time or using your office space to keep the family organized, these five helpful tips to organize your home office will make it more efficient and visually appealing, leaving you more time for yourself and family, as well as enhancing the overall beauty of your home.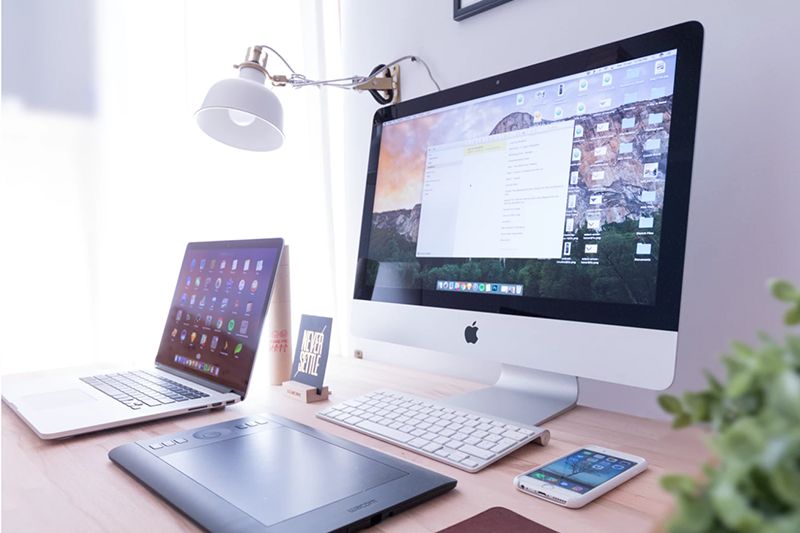 ---
1. Create stations
Just as trying to do too many things at once creates overwhelm (one step at a time!), so does trying to accomplish everything you need to do in one space. Your mind needs space to shift from task to task, and you can help facilitate that by creating different spaces for each one.
Different task, different station.
These workstations will vary based on what you want to use your home office for, but some common ones might include:
Printing station
Mail station
Writing station
Crafting station
Supplies station
Even with a small space, you can make multiple stations by separating them using the tools in the next step.
---
2. Vertically organize
Whether you're creating stations or organizing established ones, you can save space by vertically organizing them. We usually think about setting up the rooms in our homes horizontally, and rarely do we make good use of them vertically.
Using wire baskets, wall-mounted filing bins, stacking drawers, or even a good trusty filing cabinet, you can create space that otherwise would have gone underused.
Take this a step further and colour code each station and bin for maximum efficiency. Use colour coding labels and sticky notes to make it super clear what each station is for and keep your system tidy.
Here are a few ideas to get you started:
Red – bills and finances
Orange – appointments
Yellow – family and pet items
Green – business tasks
Blue – auto and home
Purple – manuals, warranties
In addition to colour-coded stations, don't forget your recycling bin! You can easily set a beautiful recycling or supply station set up using these Neatfreak bins.
Whichever stations you decide on, be sure to label them so everyone in the family knows which area is for what. This will help keep things tidy well into the future.
---
3. Only keep essential items that provide real value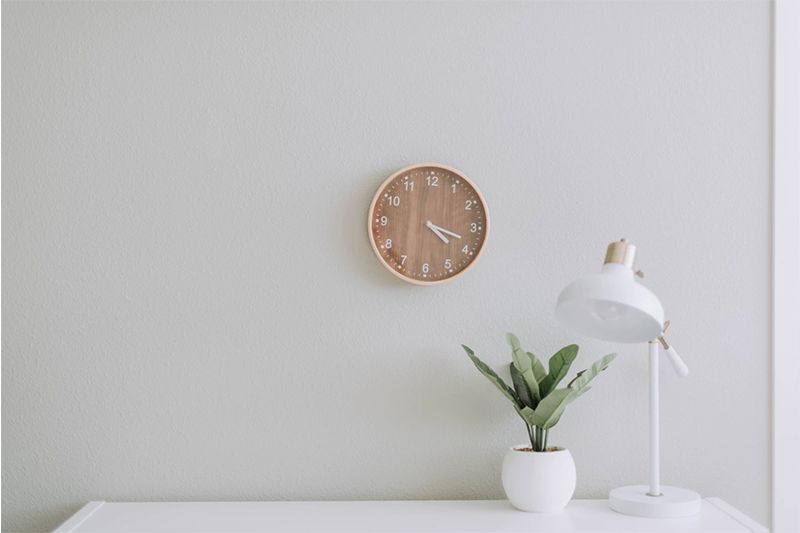 For many, decluttering is the hard part. And for most, the hardest part is starting. So, just start somewhere. We suggest grabbing two boxes — one for items to keep, and one for recyclables. You'll be surprised to discover how many things you can recycle, rather than just throw away.
Then, set aside half a day to sort items into the boxes. If you haven't used it in six months, recycle it!
For the items you do keep, you can then organize them further and by placing them in the categorized bins or drawers you created in step two.
Categories might include:
Stickies – post-its, labels, stickers, label tape,
"Attachment" tools – paper clips, staples, binder clips, thumbtacks, magnets
Writing tools – pens, pencils, markers, highlighters
Mail – stamps, envelopes, address labels
Office tools – hole punch, ruler, calculator, label maker
Again, make sure you label them so everyone in the family knows which container is for what. This will help keep things tidy and efficient well into the future.
---
4. Create a command centre or system for organizing notes, bills, business cards, or other small papers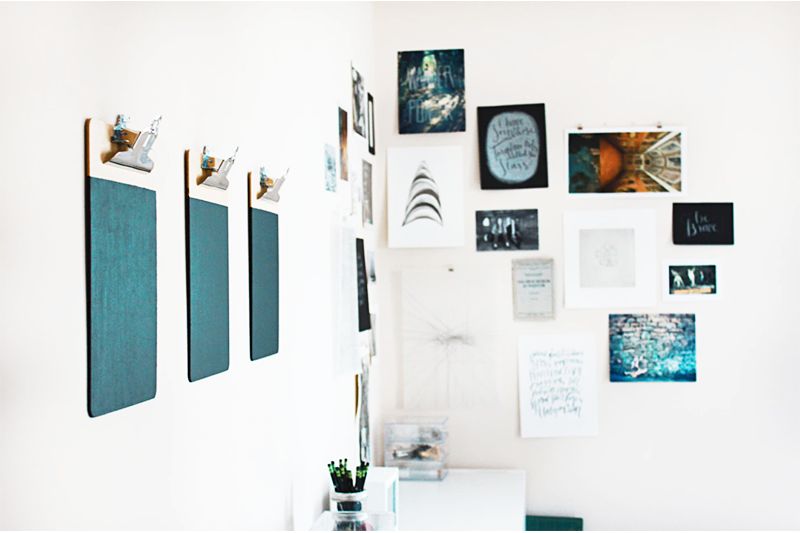 Some of the trickiest things to keep organized in your home office are all the notes, bills, business cards, or other small papers. This can easily be transformed from piles of random papers to successful filing system with the use of a cork board, magnetic dry-erase white board, or clipboards.
Using your colour coding system from before, section the board into quarters or thirds, and tack items together based on their assigned colours. Not only will they be grouped together, but you'll easily be able to review what needs attention at just a glance. Easy peasy!
To take this a step further and keep the whole family organized — especially if everyone has their own busy schedules and obligations — use individual boards for each family member! Remember to use your trusty label maker to label each one.
---
5. Make it pretty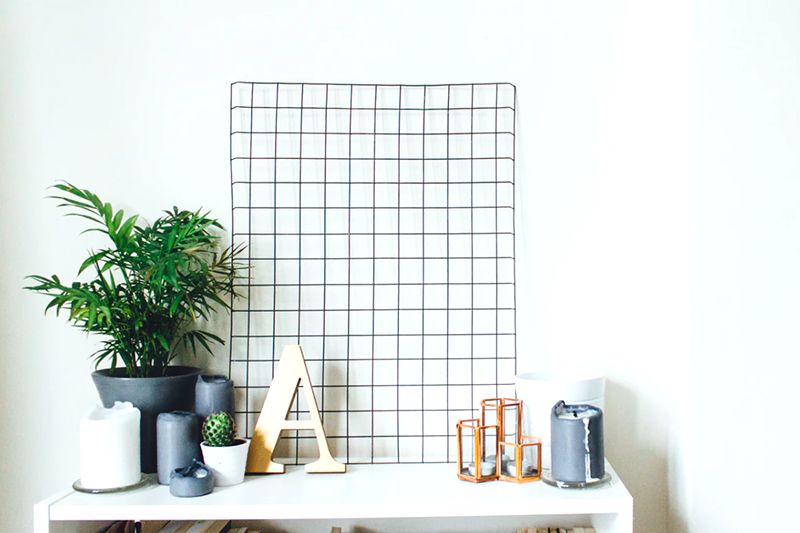 Even if your home office is basically a glorified storage closet without windows, you can still make it into a space you want to be in.
Here are a few ideas:
Add a plant. Even a fake one. NASA has proven houseplants provide many benefits, including purifying the air, improving mental health, concentration, memory, and productivity.
Place a couple of inspiring books on a shelf where you can see them. During a long day you may hit a rut in productivity. To keep the motivation momentum going, grab one and read a few lines. You never know what inspiration may be discovered.
Hang your favourite artwork. Just like with organization, you can beautify vertically by using wall space to hang a photo or painting of something you really love.
Hide cords or bind them with zapstraps or elastic bands.
Paint one of the walls! Blue is often thought to relax the mind, while yellow invigorates it, and pink makes us happy. Either way, pick one wall, a colour you love, and have fun with it!
Efficiency is important for success, but so is loving the space you're in.  If you find your home office feels too cold or is uncomfortable to be in, you won't use it. So make sure whatever you do to get it organized, be sure to give it your own style.
If you need help or supplies to organize your home office for success, we can help! Stop by your local London Drugs and pick up your essentials — we'd love to see you!