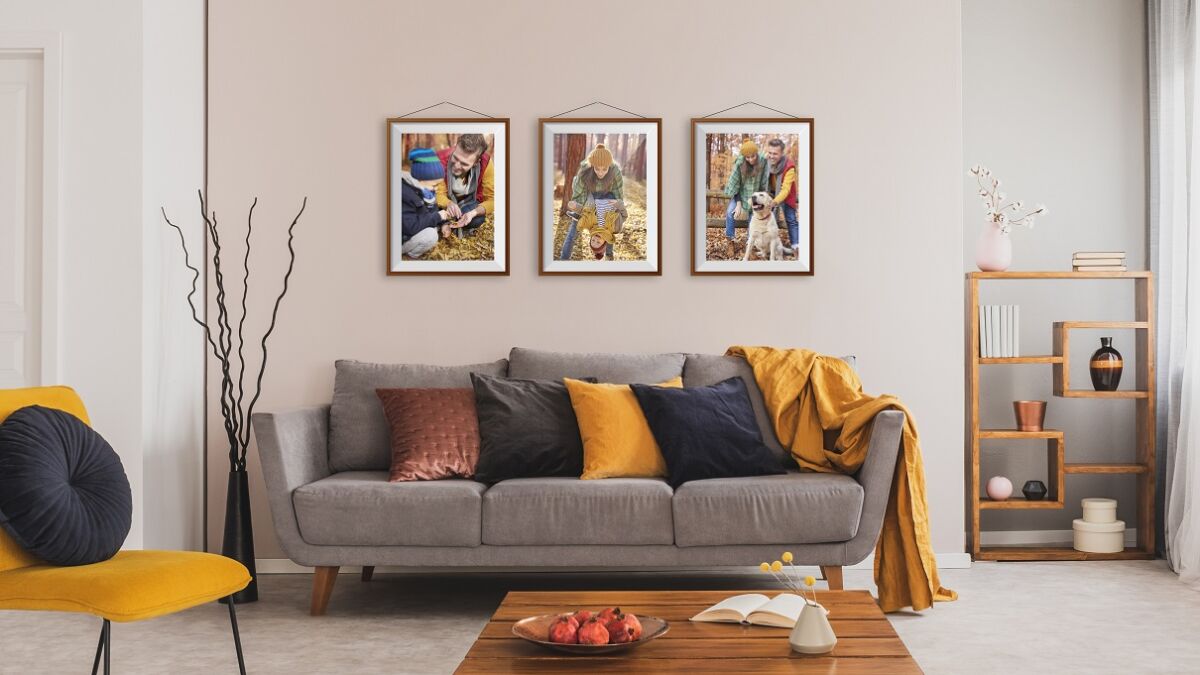 The days are growing shorter, the air is becoming crisper, and that can only mean one thing: fall is upon us! As we begin to transition to boots and cozy sweaters, it's also an excellent time to look at updating our space for the fall season too. Especially with the number of Zoom calls and meetings happening from our homes these days, many of us have become acutely aware of how bare our walls are (or how much they could use an update!).
A quick and easy way to breathe new life into your space while also adding some seasonal flair is with some of your own fall photos. Our Photolab has all kinds of options to help you decorate, from beautiful glossy and pearl enlargements to fine art prints like canvas, metallic paper, Kauai and Baryta, which will give your walls an impressive gallery-quality look. Keep reading below to see how some local photographers are updating their space for fall, and find out how you can enter for a chance to win a stunning print from photographer Sonika Arora!
Saskatoon-based adventurer/photographer Ashlyn George of The Lost Girl's Guide updated her office space for fall with some beautiful landscape images she's taken. If you're spending more time in your home office this fall, framing some photos is an easy way to make your space feel cozier and welcoming (so you won't mind spending more time there!).
"It was perfect timing with the change of season to update the photos in my home office. When not outside adventuring, I like to surround myself with as many reminders of the outdoors as possible. Each image I chose to print from London Drugs Photolab is very personal. I photographed one of my family's wheat fields during harvest and paired it with a series of photos from an autumn road trip I took to Alaska a few years ago. Images were shot on with my Sony A7II and DJI Mavic 2 and printed with a matte Pearl finish." – Ashlyn George, The Lost Girl's Guide
If you're planning to display your fall photos in a frame, then our pearl prints are a great choice (you'll want to avoid overly glossy print surfaces when framing). They have a slight satin feel and will give your images a smooth, professional look. Order pearl prints of your own fall photos here.
Calgary-based photographer Lisa Bourgeault is giving her walls a seasonal touch with a vibrant photo of the changing leaves with the city of Calgary as her backdrop. Her photo was printed on our fine art canvas, and like all of our prints, our Photolab Technicians hand-inspected the image after printing on our state-of-the-art Epson 9000 large format printer.
"This is one of my favourite fall pictures. It was taken early September in Calgary, just at the beginning of fall, but the fall colours had already started to appear and having taken it at sunrise, it just feels magical with all the vibrant colours. I chose to print this picture on canvas because I like the look and feel of it, and I just like the way it looks while hanging up on my wall. It's really nice to have my picture printed and hung up and being able to see it every day." – Lisa Bourgeault
If you want to give your wall décor a truly fine art look, we highly recommend trying our canvas prints. Matte canvas prints are water-resistant and composed of 35% cotton with a 65% polyester blend, giving them a uniform finish. They're professional grade canvas for any giclee print that needs the very best substrate. We print your image on the canvas using a special pigment, right to the edges, so you can frame it flat or stretch it yourself. Order a canvas print of one of your own fall photos here.
Vancouver-based photographer Sonika Arora has a brand new print to give her space a refresh! Her image of the fall leaves in Stanley Park was printed by our Photolab as a glossy enlargement.
"This photograph was captured in Stanley Park on an early fall morning at sunrise. What drew me to composing this particular frame was how the seawall was blanketed in beautiful fall foliage. I wanted to capture both the leaves and the iconic city view, so I decided to frame the shot from a low perspective. I feel this composition not only showcases the leaves, but it simultaneously draws the viewer's eyes in towards the city skyline further creating a great balance for a classic fall scene in Vancity." – Sonika Arora
Glossy prints tend to enhance the contrast in images, making the colours in your photos even more vibrant: perfect for your most colourful fall images! Order a glossy enlargement of one of your own fall photos here. Our HD Pro Glossy prints are also an excellent option – learn more about what sets them apart here.
Start updating your space with photos
Feeling inspired and ready to add some fall festiveness to your bare walls? To get started, upload your fall photos to our Photolab website, or download our London Drugs Photolab App (available for iOS and Android) on your tablet or smartphone to quickly and easily order prints for your space. Need some help with your order? Our LDExperts are always ready to help in-store in the Photolab.
If you're looking to capture some new fall photos this season, make sure you check out our blog post here with photography tips to help you capture the beauty of fall.
Enter for a chance to win a special fall print
Photographer Sonika Arora will be giving away a print of one of her beautiful fall photos, printed by our Photolab, to one lucky follower on Instagram! The winner will be able to choose either a glossy or pearl enlargement greater than 12×18 in size, up to a value of $99. The print will feature Sonika's image of fall foliage in Stanley Park that you see above – what a great way to freshen up your space for the fall season!
The giveaway will kick off on the first day of fall, September 22. Make sure you're following @LDPhotolab and @SonikaArora604 on Instagram, so you'll know as soon as the giveaway goes live!