Christmas is right around the corner! With all the toy options out there, you may be wondering what in the world to get the kids on your list. We've compiled some of the hottest toys and games to help make your life easier! From STEM toys that sneak in a bit of educational learning, game room essentials like tabletop air hockey for the competitive kids, and wacky multi-player games that bring on a lot of laughs, these toy options are sure to entertain for hours of fun!
The Upside Down Challenge Game (for ages 8+)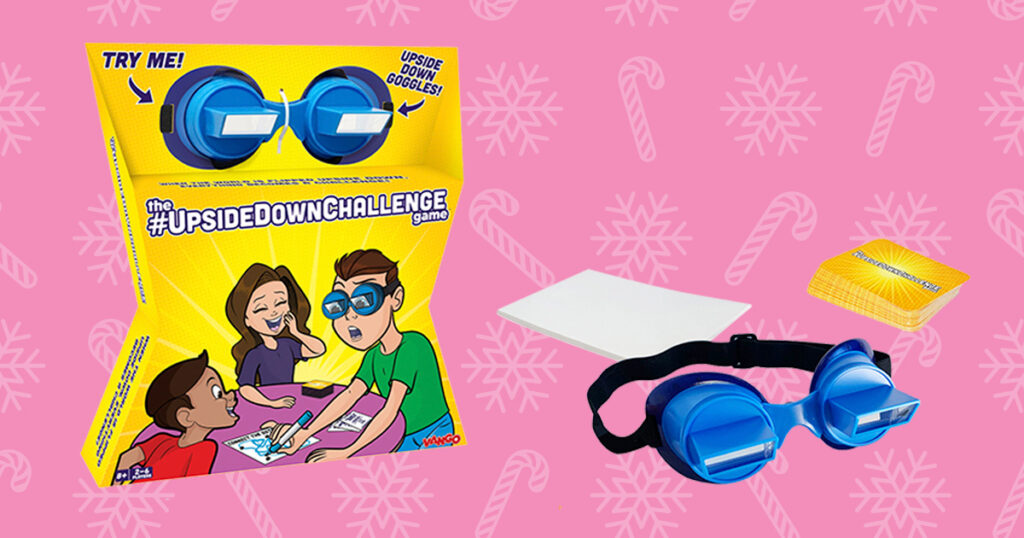 In the Upside Down Challenge Game, players compete to do challenges like giving high-fives, writing their name, and catching a crumpled up ball of paper, all while their vision is flipped upside down, while wearing the upside down goggles. Even the simplest tasks become difficult when the world is flipped upside down! The game contains 1 pair of upside down goggles, 25 challenge cards, 5 create your own challenge cards, instruction sheet, and 1 pad of paper to draw on. You can even play friends on Zoom, provided that each person has their own Upside Down Challenge Game!
Chow Crown (for ages 8+)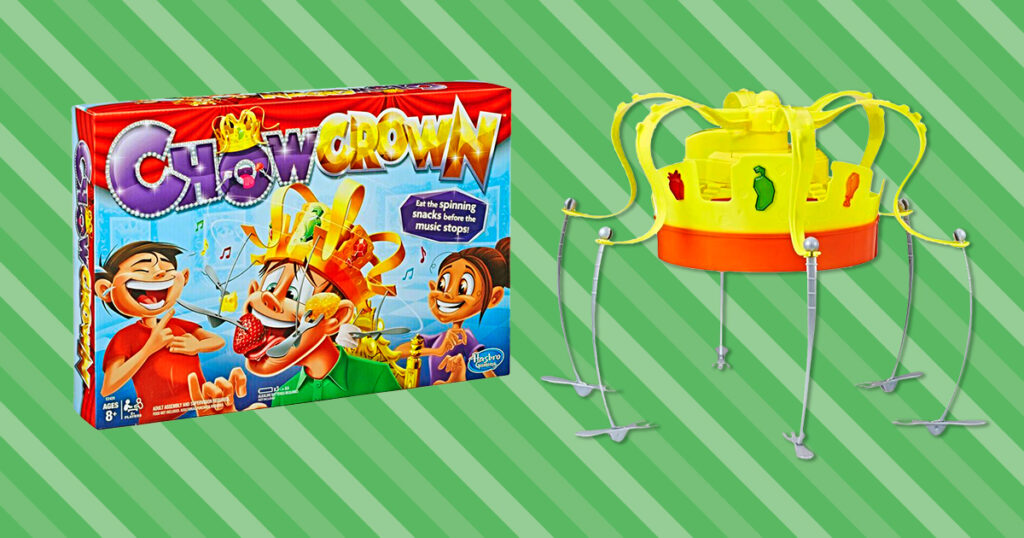 Get the family laughing together with the Hasbro Chow Crown Game. The musical electronic crown in this game is fitted with six forks, and once it's on the player's head, the participant has to grab as many bits of food as possible without using their hands. Once the music stops and the crown stops spinning, it's the next person's turn. This Hasbro Chow Crown game is also an ideal way to introduce unfamiliar healthy foods to kids who are reluctant eaters.
Throw Throw Burrito (for ages 7+)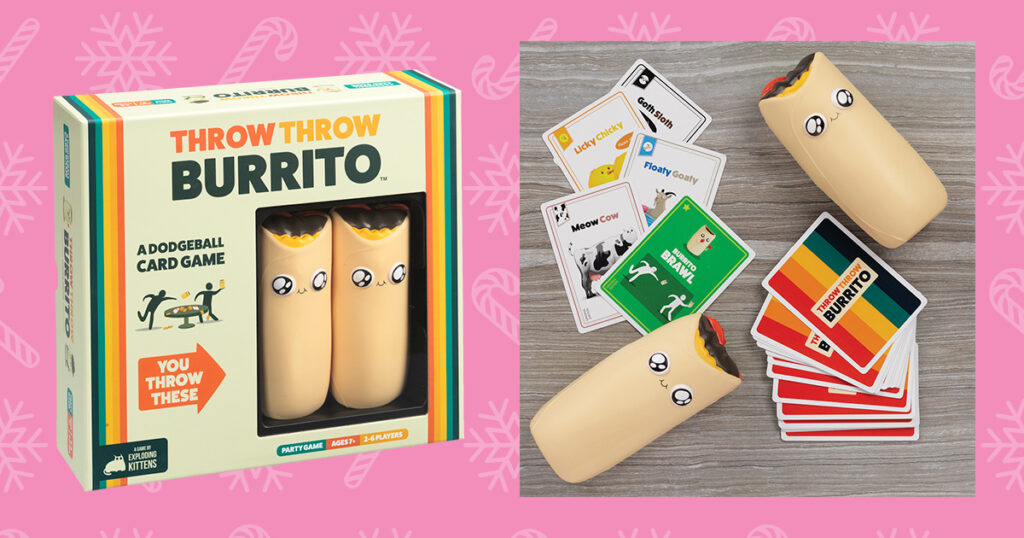 Throw Throw Burrito is what you get when you cross a card game with dodgeball. Try to collect matching sets of cards faster than your opponents while simultaneously ducking, dodging, and throwing squishy airborne burritos at one another! The cards you collect earn points, but getting hit by flying burritos loses them. Make sure you clear some space at home to play (and put away any breakable ornaments and antiques!)
National Geographic STEM (for ages 4+)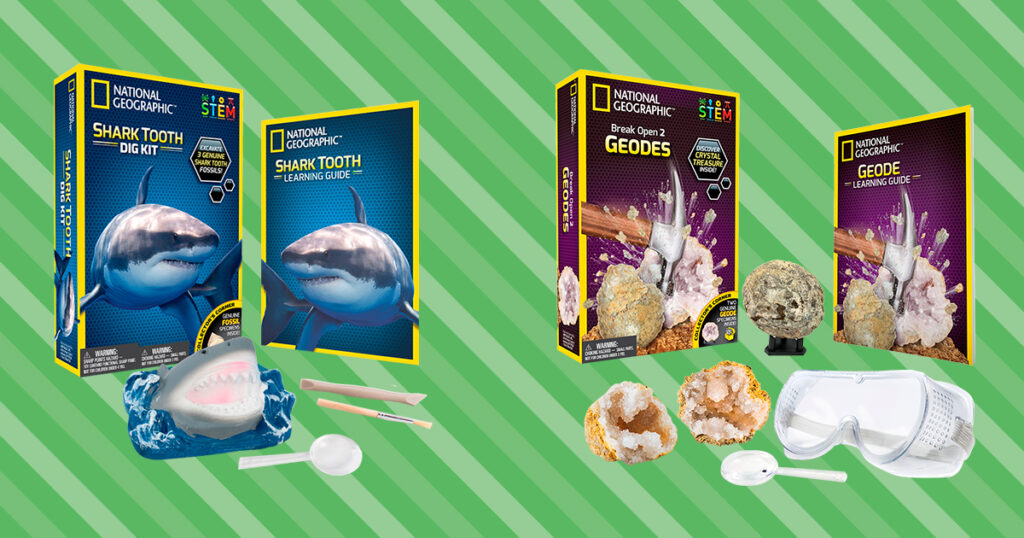 Your kids can become a shark scientist with the National Geographic Shark Tooth Dig Kit STEM Toy! Using the kit, they can identify teeth from the Sand tiger, Otodus, and Crow sharks and learn awesome shark facts with the included learning guide. Plus, they can dig and discover 3 real shark tooth fossils, each from a different shark species. This kit also makes a great homeschool lesson!
If your child is not into sharks, there is also the Break Open 2 Geodes STEM Kit. Geodes are naturally forming volcanic rocks that contain amazing crystal formations inside. The kit includes geodes that can be cracked open to discover beautiful minerals. Kids love these treasure-filled rocks, as it encourages an appreciation of nature and geology in your child with this extraordinary science kit. Plus, they can learn all about geodes and minerals with the full-color educational learning guide included.
Find our full selection of STEM and STEAM toys here.
Electronic Arcade Basketball (for ages 6+)
Race against the shot clock with Ambassador Electronic Arcade Basketball. Two baskets let you challenge friends to one-on-one competitions, and the electronic scoreboard keeps track of your points. The spring-powered basketball launcher makes it easy to take multiple shots in seconds. A loud buzzer lets you know when each round is over so you can bask in each victory. This Ambassador Electronic Basketball Arcade Game boasts a compact size for convenient tabletop placement. The game also features a large LED scoreboard display with countdown timer and buzzer, spring-loaded shooters, automatic point counter and cool sound effects!
Ambassador Tabletop Air Hockey and Football (for ages 6+)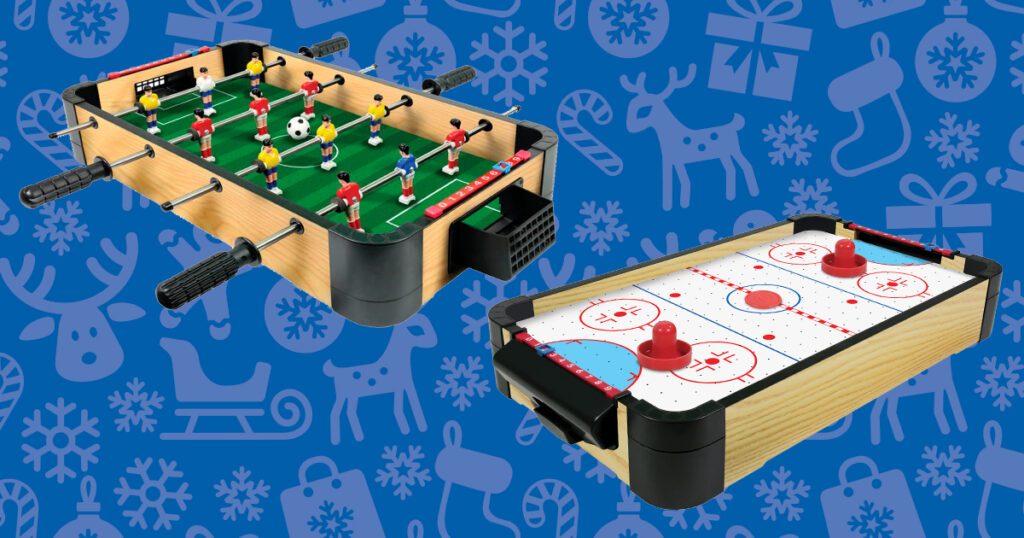 Bring the fun of the arcade home with Ambassador Tabletop Air Hockey. The compact size fits neatly on a dining room table or coffee table, and the simple setup snaps into place for effortless assembly. Scoreboards on both sides let you keep track of goals throughout each match. This Ambassador wood tabletop air hockey game uses AA batteries to power the airflow, so there's no need for power cords or a nearby wall outlet.
There is also Ambassador Tabletop Football. Traditional hand grips let you control the action for perfect goals, and the manual scoreboard makes it easy to declare a victor. A snap-together design makes assembly a quick, simple task. Colourful players and a bright green field add extra fun to each match. Both of these games make excellent addition to your family room, game room or basement!
Hauck Speedster Go Cart (for ages 4-8)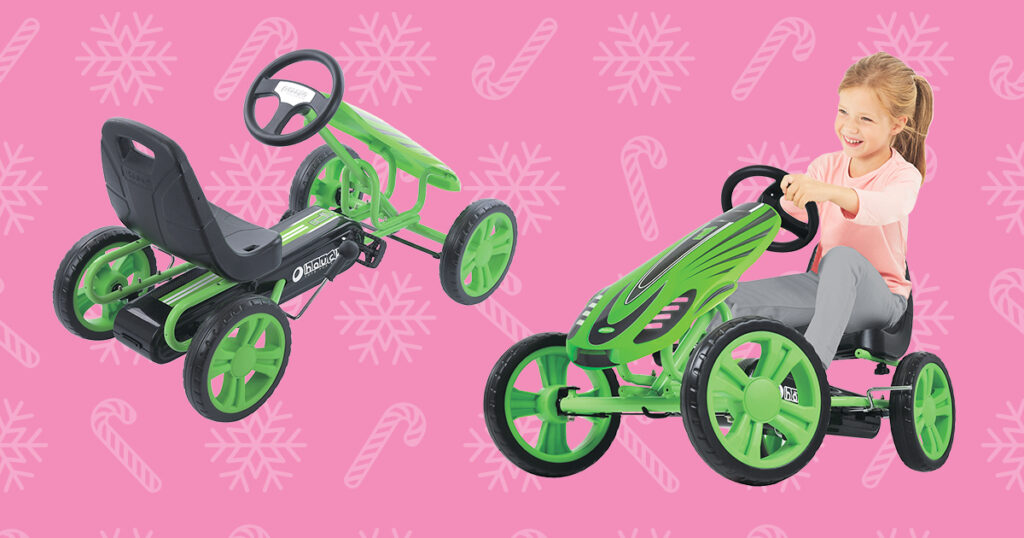 The Speedster Pedal Go Cart is the ultimate gift for the energetic kid on your list, as it encourages physical activity, builds strength, endurance and co-ordination. Along with the durable features and sporty design, the Hauck Speedster Pedal Go Cart gives an authentic driving experience and lets the driver control the pedal speed. The Speedster's quick response and sharp handling will excite young racers. Features include sporty graphics on the front fairing, an adjustable bucket seat, four spoke rims with 10″ EVA wheels, a 3-point steering wheel, double touch Handbrake and a steel tube powder coated frame.
Craftsman Deluxe Game House (for ages 6+)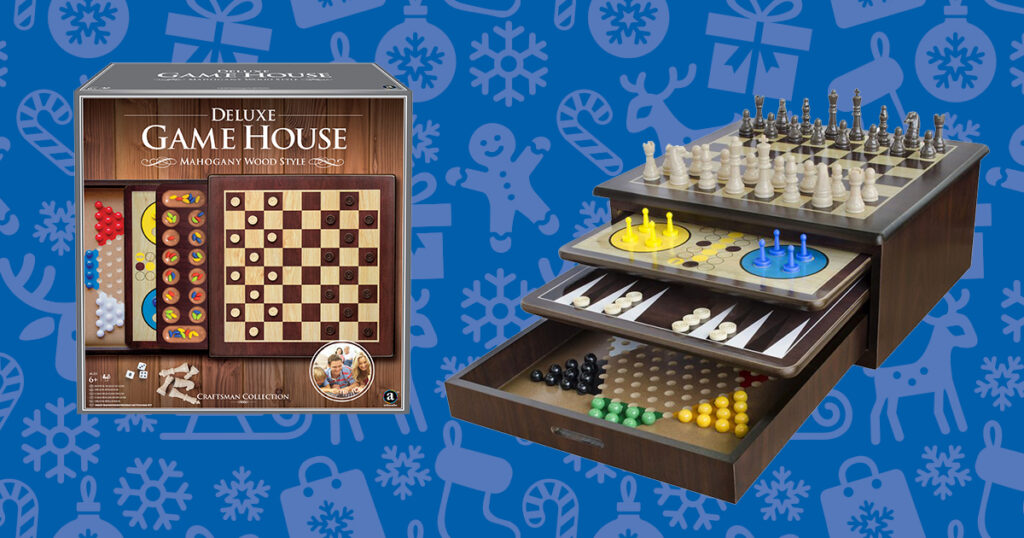 Have a board game lover in the family? They will love the Merchant Ambassador Craftsman Deluxe Game House! The convertible design lets you test your skills at chess, checkers, backgammon, mancala and six other iconic board games. Dice, ball markers and other playing pieces provide everything you need to set up each game, and the mahogany wood finish gives this set traditional beauty. Packaged with instructions, this Merchant Ambassador Craftsman Deluxe Game House makes it easy to master each board.
MD Sports Table Tennis & Air Hockey Table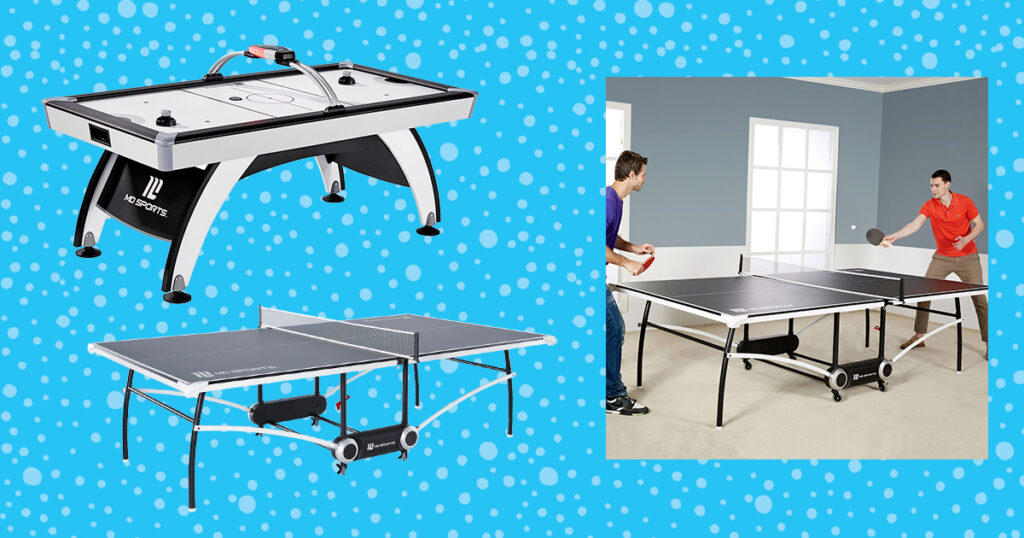 For the older kids and teens on your Christmas list, the MD Sports Table Tennis is an awesome choice. It is an official tournament size table, measuring at 9 x 5ft, has durable 15mm thick playfield for consistent ball bounce, a sturdy 35mm diameter arch style legs with stability panel and lockable casters, and 35mm oversized apron with protective corner caps for additional support. Plus, it conveniently folds for single play mode and compact storage.
You also can't go wrong with the MD Sports Air Hockey Table. This table contains a sleek overhead scoreboard with arcade sound effects, a reinforced frame construction for improved durability and stability, 120V AC Motor for strong and consistent air flow and has adjustable leg levelers for perfectly balanced play surface. It also includes two pushers and two pucks.
Squishmallows (great for all ages!)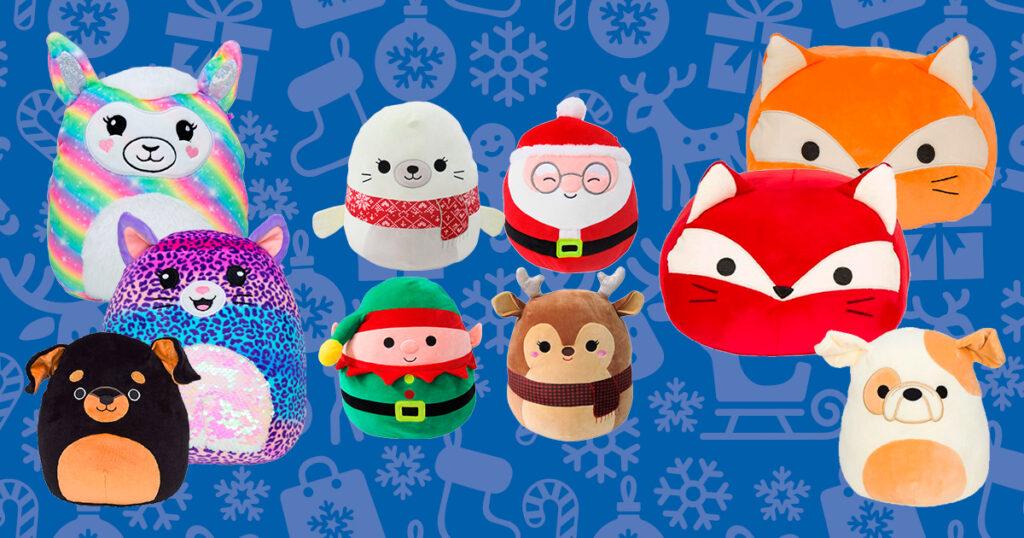 Squishmallows are the softest, cutest, cuddliest plush around! They have a super soft, marshmallow-like texture and make great couch companions, and bedtime buddies. With a variety of characters, youngsters (and even adults!) can collect them, as each Squishmallow has its own unique name and storyline to add to the fun.
We hope this guide of toys and games was helpful in in giving you ideas for a holiday gift for the kids (or kids-at-heart-) on your list! Be sure to also check out our Christmas Toy Event, on until Dec 24, 2020.
Don't forget you can order online and pick-up in store, or choose curbside or front door pickup at select locations.