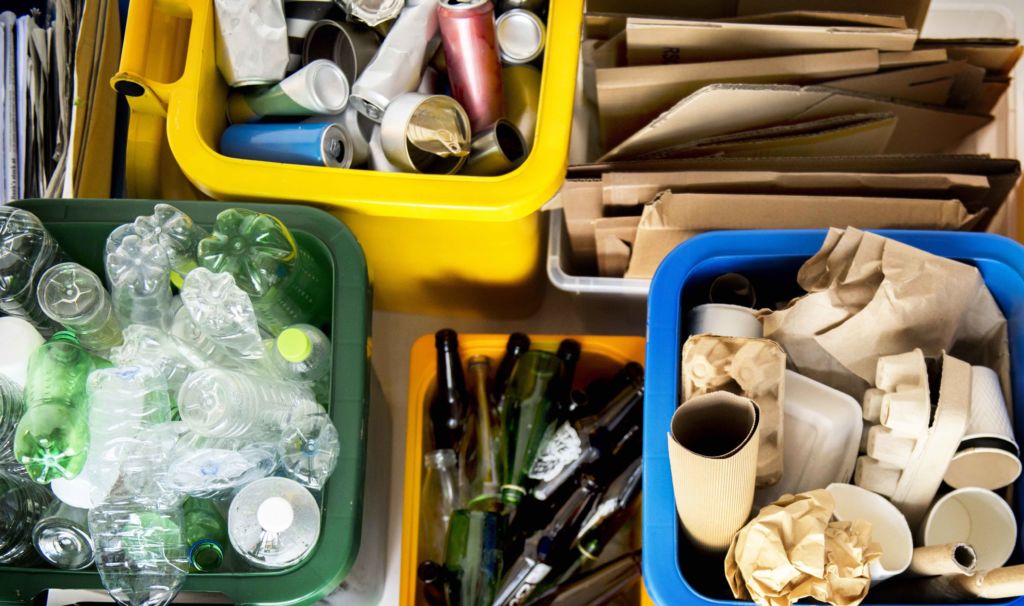 Canadians generate an astonishing amount of waste. According to Statistics Canada, Canadians generated 10.2 million tonnes of disposable waste in 2016, roughly 3.5 tonnes per person, which is about the weight of an elephant. Greenpeace Canada reports that 3.25 million tonnes of that is plastic waste.
We can make a vital ecological contribution by reducing waste, recycling as much as possible, and supporting sustainable brands.
Here are five simple steps for reducing waste at home that will help you shrink your carbon footprint.
1. Level up Your Recycling
We're all pretty used to recycling old standards like paper and bottles, but did you know there are so many other items you can recycle — everything from electronics to printer cartridges, headphones, cellphones, water filters, styrofoam, and the list goes on!
Our Bring Back the Pack recycling program makes it easy to recycle many types of product packaging, too. In fact, when you shop at London Drugs, you can leave all of your product packaging with us and we'll ensure as much of it as possible gets recycled. Check out our website greendeal.ca for the complete list of what's accepted.
Pro tip: A beautiful recycling area in your home will make recycling that much more enjoyable!
2. Reduce Your Energy Usage
Doing an energy audit of your home might sound intimidating, but it can help you to identify areas where easy improvements can be made. 
Look for things like air leaks around windows and door frames, old appliances that aren't energy efficient or that can be unplugged when not in use, and light bulbs that can be switched with more energy-efficient LED bulbs.
You can also replace old thermostats with programmable thermostats and set timers to warm up the main rooms for a few hours in the morning and bedrooms for a few hours in the evening. This will soften your impact on the grid and also on your wallet!
3. Compost, Compost, Compost
Composting is now widely supported through many municipalities, which makes it easy to participate. But it's also beneficial to set up a raw compost for your own garden. Put any cooked food, bones, or leftovers in the city bins, as they tend to attract unwanted visitors.
Small countertop bins are great for vegetable peelings, egg shells, and coffee grounds that your veggie garden will love! 
4. Reduce Your Single-use Plastics Consumption
Single-use plastics are one of the biggest contributors to ocean pollution today — think plastic bags, straws, coffee cup lids, zip-style bags, etc. Take a day to observe your daily habits and notice where you might be able to swap out a reusable container for single-use packaging.
For example, head off to school/work with drinks and snacks in a stylish reusable travel mug and handy washable fabric snack bags.
Reusables can also contribute to better health. For example, the SodaStream soda maker with recyclable carbonation cartridges not only saves plastic bottles but also gives you an endless supply of refreshing sugar-free drinks. Pair your healthy drinks with these washable silicone straws.
5. Support Sustainable Brands
There is no shortage of inspiring companies creating great products while taking care of the environment. The circular economy model supports designs that are optimized to be disassembled and reused, essentially designing out waste. From toilet tissue made from recycled paper, to printer paper made from sugar cane byproducts, these companies are doing their utmost to reduce their impact on the biosphere.
Many of these products are also lovely to use: natural makeup, whole grain cereals, healing teas, and healthy granola bars are easy ways to do good not only for the planet but also for your body.
Modern life inevitably produces waste, but with a bit of effort and some conscious choices, we can make steps toward reducing our waste at home. Shifting our habits a little bit every day adds up to greater peace of mind and a cleaner, brighter future.