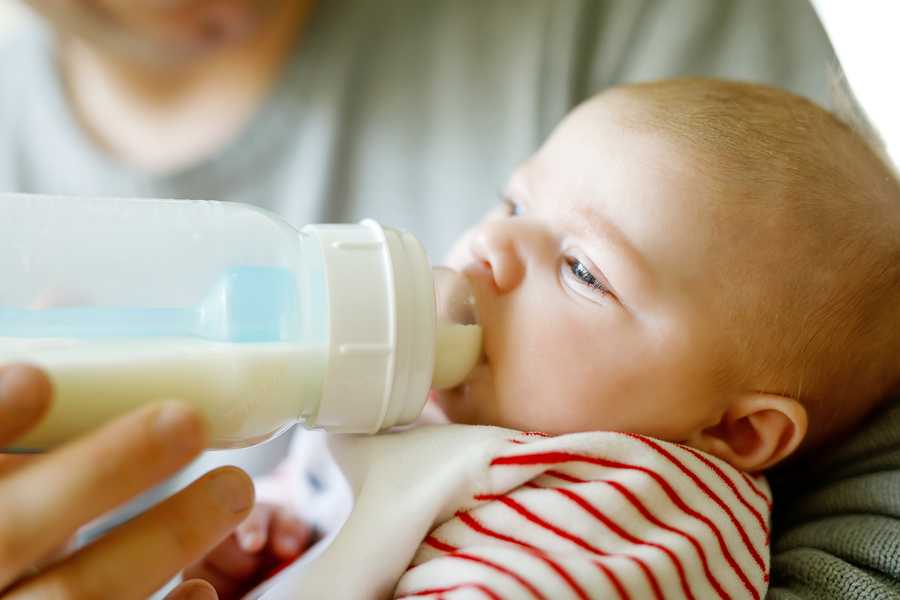 Among other concerns, new parents often wonder exactly how—or whether—breastfeeding will work for them. These questions can become more complex when breastfeeding moms get busy with life and/or a return to work.
A potential solution is a breast pump from Medela Canada, including the mobile Freestyle system, Easy Expression bustier, Calma feeding system, and much more. They're all available at London Drugs. You can even rent the Medela Symphony Breastpump, which is a hospital-grade double breast pump proven to reduce pumping time through faster milk flow. The benefits of the double pump are:
Initiate, build & maintain your milk supply
Get up to 18% more milk per session
Cut your pumping time in half vs single pumping
Express more fatty milk; great for brain development
Of course, knowing where to access breast pumping products isn't enough.
Other questions include: 
When to start pumping.
How long breast milk will keep and how to store it.
When to change bottles and parts.
Whether breast pumping costs are often covered by medical plans.
And more…
Luckily, London Drugs buyer Laurie Leeder and Medela expert Karli Kirkpatrick, along with LD pharmacist, Marmar Rabiei, joined forces recently on Facebook Live to answer these and other questions.
Find their two-part discussion in the video section of the London Drugs Facebook page. Or simply click below to watch now. (You'll also find answers to some frequently asked questions in this post, below the videos.)
Breast Pumping Discussion from Medela & London Drugs
Part 1:
Part 2: 
Frequently Asked Questions
Q: How long will breast milk last?
A: The answer depends on a couple variables. First, whether the breast milk is fresh, refrigerated, frozen or thawed. And second, whether it is intended for a healthy term infant or one that is currently in a neonatal intensive care unit. Of course, the majority of cases fall within the first category. See the chart below for complete details: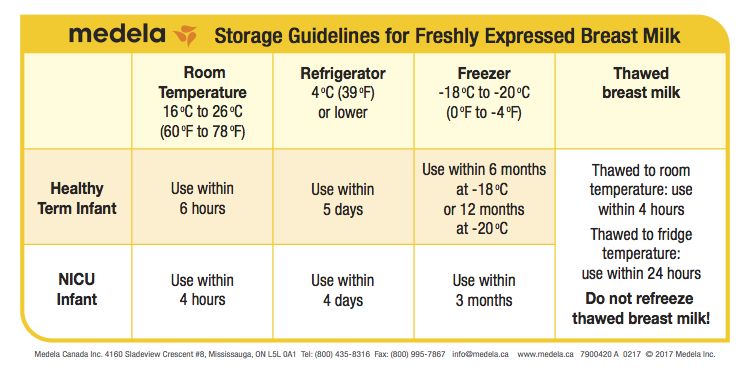 Q: Which breast pump option best suits my needs?
A: The short answer is it varies based on your lifestyle and breast milk feeding goals! But there are two main options.
Double Pump: If you would like to provide breast milk to your baby full-time, share feedings, or return to work or school and continue providing breast milk, you will likely need a double pump. Double pumps are ideal for frequent, daily use and can be used full time, or to complement a full-time breastfeeding relationship. You can use them to pump one breast at a time (sequential) or both at once (simultaneous, which comes with some amazing benefits!).
Single Pump: These pumps are ideal to occasionally supplement full-time breastfeeding. They should only be used to fill roughly 1-3 bottles a week. This is because baby is responsible for maintaining your milk supply. So you should only be occasionally supplementing your breastfeeding with single pumping sessions.
Still Unsure? Click HERE for a great breakdown of all Medela pumps and how they should be used!
Additional Information
Did you know, many extended benefit insurance providers cover the cost of a breast pump. Check your coverage to see if this applies to you.
About Medela Canada: Many recognize Medela as the leading brand of breast pumps and accessories worldwide.  What you may not know, however, is that Medela is the world's largest supporter of scientific research surrounding breastfeeding, breast milk, and everything to do with lactation. We support Ph.D. research, nurses & doctors at universities and hospitals worldwide to conduct rigorous research. Then, we design, manufacture and bring to market products which incorporate their findings. 
Our goal is always helping moms provide their babies with breast milk for as long as they choose. Breast milk provides three key benefits to babies: perfect nutrition, immunological protection and enhanced developmental growth.  Moms benefit too, by lowering their incidence of certain illnesses and conditions, including breast cancer, diabetes, depression and more.
About the video: This Q&A was the first London Drugs Facebook Live broadcast. It was filmed in our Learning Lab studio, located this time at the Park Royal location in West Vancouver. We plan to create more helpful Facebook Live events, featuring various LD Experts. So we would would love to hear what topics or products you think we should cover next.
Until next time, thanks for watching!