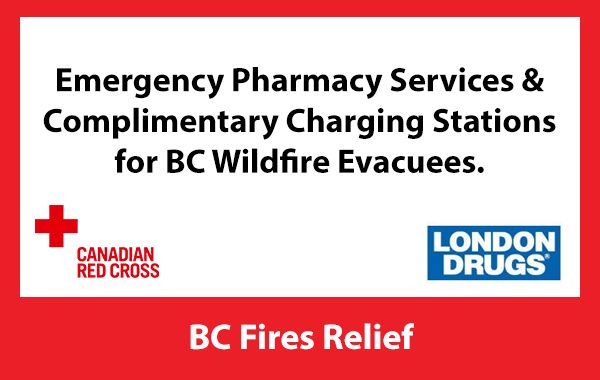 Our thoughts are with everyone dealing with the wildfires in British Columbia. We are currently assembling essential supplies and staff to support evacuees where we can, in and around the wildfire areas. In addition, donations to the Canadian Red Cross can be made by phone at 1.800.418.1111 or at any London Drugs location in BC or Alberts, or by clicking the donate button below.

We also understand that people may have been required to leave their homes without important personal health information, prescriptions, or health aid items and may be requiring temporary emergency pharmacy services.
Please know our pharmacists are here to help in the following ways:
look up past medication history, contact your insurance provider and fulfill an early emergency supply of your prescription(s)*
access your CareCard number so you are able to visit a doctor if needed
adapt or prescribe an emergency supply of medication*
*Please note not all medications can be released early or prescribed. See your pharmacist for details.
You do not have to be a current patient of London Drugs to access essential health care services and medications.
For individuals with major health concerns requiring emergency health prescriptions, please contact London Drugs' emergency health information line at 1-844-782-0051.
In an effort to help evacuees keep connected to your loved ones, or access important information, all stores in the region are set up with complimentary charging stations. Please feel free to visit any location in these areas to charge your mobile device or computer to keep connected.
LONDON DRUGS LOCATIONS CLOSEST TO THE CARIBOO / KAMLOOPS WILDFIRES:
Kamloops – Lansdowne Village
450 Lansdowne Street
Kamloops British Columbia V2C 1Y3
Pharmacy: (250) 372-3445
Store Hours
Monday – Saturday 9:00 AM – 9:00 PM
Sunday 10:00 AM – 6:00 PM
Holidays 9:00 AM – 9:00 PM
Prince George – Parkwood Place
1600 -15th Avenue
Prince George British Columbia V2L 3X3
Pharmacy: (250) 561-1118
Store Hours
Monday – Saturday 9:00 AM – 10:00 PM
Sunday 10:00 AM – 8:00 PM
Holidays 9:00 AM – 9:00 PM
To find another location, please visit: www.London Drugs/locations or call us toll free at: 1-844-782-0051 for emergency pharmacist assistance.