Here we are on the second day of CES 2019 in Las Vegas, and the overarching theme this year appears to be "Artificial Intelligence" and "5G". In essence the technology is an imitation of it's human creators in that 5G provides the "backbone" for the AI "brain" to exist upon. While some may consider the idea that a machine is able to learn from prior experience and apply this knowledge to new situations a bit far fetched, guess what?! This is now a reality.
Last night we heard from Nvidia about how they use AI and deep learning to increase efficiency and image quality in their latest RTX graphics cards. Today we heard this term many times to describe how AI is being used to help create platforms that have more natural speech dialogues, create predictive responses for autonomous vehicles or as we saw in LG's announcement, the ability to determine for the user the best sound profiles to use based on the type of content and the lay out of the room.
And this is just the tip of the iceberg.
With long lines of eager reporters, we got to see a number of the new technologies that are going to depend on high speed connections and enormous quantities of data. Think about being able to download a full 4k video in seconds – nearly 20x faster than current 4G technology. In order to accommodate this LG has partnered with Qualcomm to bring 5G to North America in 2019.
Boy are we going to need it.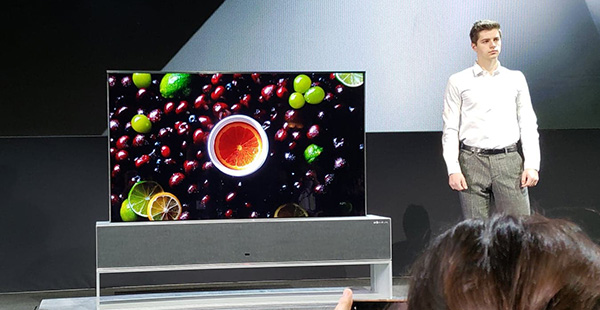 Both LG and Samsung are bringing out 8K OLED TV's this year, each with their own subset of content including airplay 2.0 and better integrated AI's. Samsung 2019 TV's will also include the ability to utilize Apple iTunes Movies & TV. Flexibility and positioning increases exponentially when you look at LG's new Signature OLED TV R. The first roll up TV with integrated sound bar.
Like last year, manufacturers are giving their customers the choice of which platform to use with their products along with the flexibility to connect them with an every expanding category of connected home products.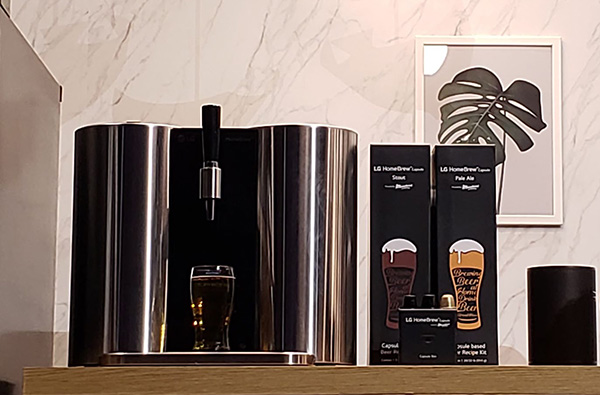 Speaking of which, how does the idea of a capsule based home craft beer brewing system sound? Intrigued? We certainly were! With the ability to brew up to 5 different types of beer, this Keurig looking machine takes just 2 weeks to complete the entire fermentation to consumption process in the comfort of your own home.
Sounds like the perfect end to a long day of reporting with lots more coming in the next few days so stay tuned!
Diane Williamson & Ron Fraser