Summer weekends were made for lake and cottage country. Most Fridays now after work, we will see the mass exodus of cars leaving for a weekend of fun, sun, and relaxation. Whether the drive is an hour, four or more, road trips can be made easier by traveling with essentials that can make getting to your destination safe and fun.
Here are our top 5 picks for your summer road trip must-haves:
Entertainment on the go. Verbatim Mediashare Wireless Portable Streaming Device
Imagine infinite storage capacity and live video/audio streaming for your tablet or smartphone. MediaShare allows you to stream media including videos, music, photos and data on up to five tablets or smartphones from portable media such as SD cards, USB drives or portable Hard Drives via a secure, wireless connection. With up to 9 hours of continuous battery life for the maximum in mobility, this can make any road trip go by in a flash.
The dashcam is going mainstream. Thinkware X500 Dash Cam- Black/Silver – TW-X500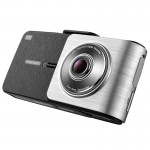 Everyday driving should not be stressful. With the Thinkware X500, there is an advanced, high-quality dashcam that not only acts as a reliable witness in the case of an incident; it can also help prevent incidents from happening too. With the built-in GPS antenna, the X500 can embed speed, time, and location data to the recorded videos to give you all the crucial information you need after an incident. In addition, the Safety Camera Alert can recognize the road and direction of travel to notify you of impending red light cameras or speed cameras.
Silence is golden. Philips Kids Headphones – Blue – SHK1000BL28
On long drives kids don't count cars or telephone poles anymore. Keep everyone happy if they each want to watch their own thing with individual headphones. These headphones are perfect for kids, fit snugly on little ones, and are reasonably priced for the summer travel season.
Keep your cool. Coleman 36 Can Personal Wheeled Cooler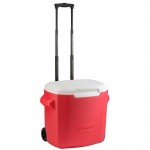 Your favorite treats can stay cool in the car with a Coleman® 26.5L Wheeled Cooler. Its tall, slender design fits 2-litre bottles upright to prevent spills or more than a case of soda for single servings. The portable, wheeled design with comfortable, telescoping handle makes easy work of rolling the cooler from the car to the party, BBQ, picnic or campsite.
Cover your assets means sun protection for all. Banana Boat Sun Comfort Sunscreen Spray – SPF50 
Spray-on sunscreen is easy especially for kids. Wearing sunscreen when out in the sun for an extended period of time is wise and that includes having your arm out the window or the top of your head from a convertible or sunroof. With broad spectrum UVA/UVB protection Sun Comfort from Banana Boat offers protection for everyday use and is lightweight. It's water resistant (80 minutes) meaning that as soon as you arrive at your destination you can jump in the water knowing you're protected.
For all your summer needs and more great travel tips and ideas, visit London Drugs in-store and online.