For parents, the list of holiday preparations is brutally long—from shopping and baking to tree-trimming and hall-decking. Phew! By the time we're done, many of us are longing to don the PJs and curl up with the kids in the TV's warm glow—to laugh, or even shed a sentimental tear. Here are seven of the best holiday movies, old and new, that never fail to bring the jolly. Sit back and pass the popcorn!
* * *
Elf (2003)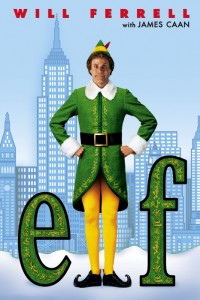 A modern classic, Elf is pure goofy fun. It features six-foot-three comic weapon Will Ferrell donning yellow tights and a pointy chapeau to play Buddy the elf. Buddy, as a wee babe, escapes from his orphanage crib, crawling into Santa's sack—only to find himself at the North Pole, where he grows up believing himself (despite his size) to be an elf.
Farrell's brilliant physical comedy is squared off against straight man James Caan, who plays his long-lost dad. Elf is warm-hearted, laugh-out-loud funny for kids and adults alike. By film's end, we bet you'll catch yourself humming along to a carol or two.
* * *
How the Grinch Stole Christmas (1966)
What list could be complete without the Grinch? We will forever recommend the original version, and not only for the song by Thurl Ravenscroft. The animated version—based on the 1956 book by Dr. Seuss and narrated by the legendary Boris Karloff—takes just 26 minutes to tell the story of a very grumpy green man who learns to love instead of hate. The 2000 remake, starring Jim Carrey in the title role, is good, but not quite as kid-friendly as the original.
* * *
A Christmas Carol (1951)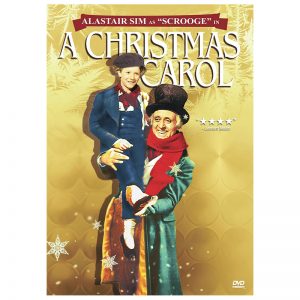 Some will disagree, but for us, only the Alistair Sim version of this classic will do. Sim plays miserly businessman Ebenezer Scrooge, whose heart—like the Grinch's—is several sizes too small.
Proof: He overworks and underpays his clerk, Bob Cratchett, paying no mind to the spiralling health of Cratchett's son, Tiny Tim. The film's moral lesson arrives with some supernatural help. Scrooge is visited, on Christmas Eve, by a series of ghosts who scare him silly and give him one last chance to change his life—and he takes it. God bless us, every one.
* * *
The Original Christmas Classics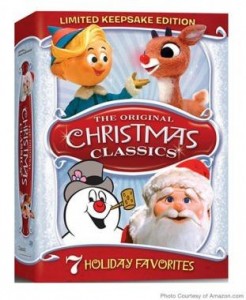 This is a fantastic collection for grounding kids in traditional Christmas lore while allowing grownups a nostalgic backward glance. It includes Rudolph the Red-Nosed Reindeer, Santa Claus Is Comin' to Town, Frosty the Snowman, and Frosty Returns. The story of Frosty, of course, is the one that brings a friendly snowman to life with that old silk hat. It's a delight, too, to hear Jimmy Durante's distinctive 1969 narration.
Rudolph, with Burl Ives as the narrator/snowman, is a holiday staple, showing that with a bit of luck and the help of friends—like Hermey the aspiring dentist, rip-roaring Yukon Cornelius, and of course, Bumble—outsiders can find their way.
Santa Claus is Coming to Town is a kind of Christmas 101 for kids, explaining where Santa got his name, why he lives at the North Pole, and the finer points of gift-giving and reindeer flight—all while reminding us that Santa will never give up on us, no matter what. We need these reminders occasionally.
* * *
The Nightmare Before Christmas (1993)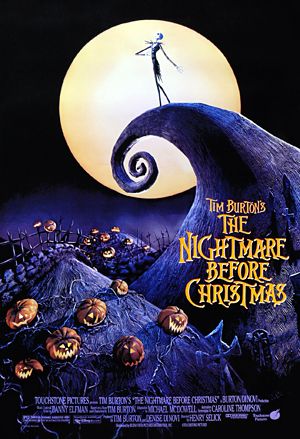 This Tim Burton-directed film may not (yet) make the list of Christmas classics, but it's a worthy picture with charm to spare. Burton's peculiar style is likely to delight kids who appreciate the unusual—those, say, who prefer Halloween spookiness to Christmas sweetness.
Join Pumpkin King Jack Skellington as he tries to 'share the joy of Christmas'—infused with perhaps a dollop too much oddity. The Nightmare Before Christmas may look scary, but it's not. It's suspenseful, imaginative, visually sumptuous, and warm-hearted.
* * *
A Christmas Story (1983)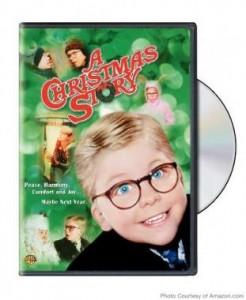 While too sophisticated for toddlers, A Christmas Story will appeal to younger and older kids—with plenty of amusing moments for Mom and Dad. It's Christmas in the 1940s, and nine-year-old Ralphie is pining for an official Daisy Red Ryder 200-shot Carbine Action BB Gun for Christmas. (That's right, the one with the compass in the stock.)
But Ralphie's mother dashes his dreams: the rifle is a no-go. "You'll shoot your eye out" becomes a family refrain, leaving Ralphie despondent and struggling to make sense of Christmas, his more than slightly askew family, and life in general.
Ralphie, played by Peter Billingsley (who appears briefly in Elf), carries the film with cheer, persistence and vivid imagination, giving us a window onto what Roger Ebert called the "small but perfect moments" of a child's life.
* * *
It's a Wonderful Life (1946)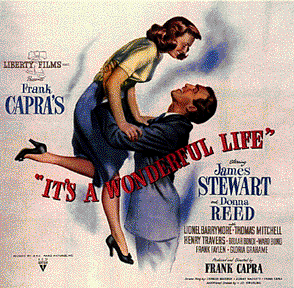 This classic is forever listed as a holiday favourite, owing chiefly to the likable and heartfelt performance of Jimmy Stewart. He plays George Bailey, an ambitious young man who defers his dream of leaving Bedford Falls in favour of doing the right thing—again and again.
When Bailey doubts himself, he receives encouragement from an angel in training, a good turn he later reciprocates. It's a Wonderful Life is sweet, never saccharine, and argues strongly that, ultimately, kindness and goodness matter most.
---
Did we miss any? What's your favourite Christmas movie? Tell us in the comments!