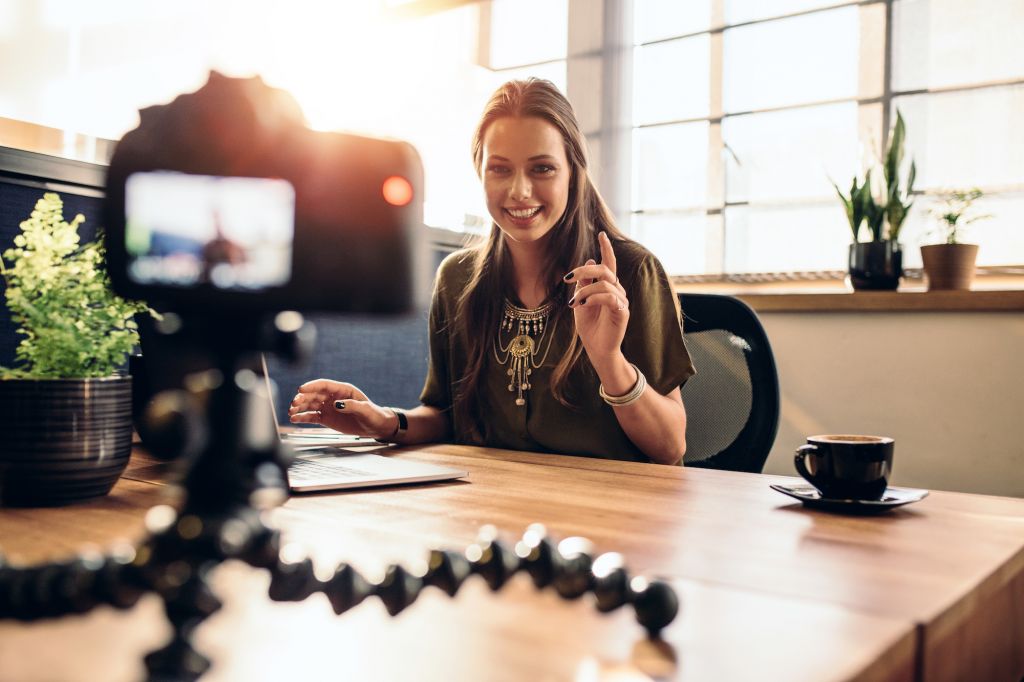 If you've been wanting to start a YouTube video channel to show off your amazing makeup skills, display your ukulele talents, or show off any other creative ideas you've got, we have some advice to make you (or your cat) look great on video, without spending a fortune.
Set a goal
What do you want to achieve with your YouTube videos? Teach a skill? Make people laugh? Engage more followers? Once you figure out what your goal is, that will set the tone for the videos and determine what kind of equipment and planning you'll need. If you're shooting fun, short videos, avoid making things look over-produced. If you're going for a more serious tone with a focus on people talking or teaching, you'll need a bit more polish and planning.
Write a script
Wait! Don't run for the hills yet. You don't need to write pages of dialogue if you're just shooting a fun clip for your work's Instagram feed. By 'write a script', we just mean write down the things that you need to accomplish your goal. For that goofy video, your script could look something like this:
Start on Karen from Finance riding her bike down the hallway
She rolls toward camera and goes past, singing show tunes at top volume the whole time
Cut to company logo
From that, you'll know you need: to check the lighting in the hallway; to tell everyone to stay out of the hallway between 3:30-4:00 pm; to get a bike and a helmet; to tell Karen to practise her favourite show tune; and to have a digital file of the company logo. You'll be ready and confident, and the whole thing will take a lot less time than if you were scrambling to throw things together on the spot.
If your YouTube video is going to be longer or more serious, we recommend some additional preparation. Write yourself a script (or at least some talking points) and practise it in the mirror a few times before you start rolling.
Get the gear
For the fun and quick clip category, the best investment you can make is an up-to-date smartphone with high-quality video. According to tech experts, the Samsung Galaxy S9+, Apple iPhone X, and the Google Pixel 2 XL are among the best phones currently on the market for shooting video.
If being a YouTube video guru is your calling and you're ready to invest in a camera, whether it's DSLR or mirorrless, start with a visit to a London Drugs camera specialist. They love talking tech, and they can show you the best deals in-store. Some of the cameras you'll want to consider include the Canon EOS M50 15-45 Kit, and the Canon EOS 80D 18-135 IS USM.
Light it up
We have three words for you when it comes to lighting your videos: windows, windows, and windows. That's right – all you really need to make a nice-looking video is lots of natural light. Set up your subject facing a big window and go to town! It looks great, it's free, and natural light will give an easy-going, casual feel to your videos.
The downside to using natural lighting is that you're at the mercy of mother nature. Sunlight is inconsistent, and what if daylight doesn't fit into your shooting schedule? You'll need some artificial lighting help, and a London Drugs camera specialist can help you set up the best video lighting kit that suits your needs and budget (consider the Manfrotto Lumie Art 6 LED for a nice mid-range video lighting kit).
When setting up your lighting, stick to the three-point method for a professional look:
Key Light – This is the light shining directly on the subject. Experiment with colour, intensity, and position in the room, depending on the mood of your video.
Fill Light – Lower-intensity light that's also shining on the subject, but at more of a side angle to fill in the shadows cast by the key. A reflector can also be used for the fill, especially in natural light.
Back Light – Shines on the shoulders, back, and top of the subject's head. This step is not always necessary, but it gives dimension to the shot and separates the subject from the background.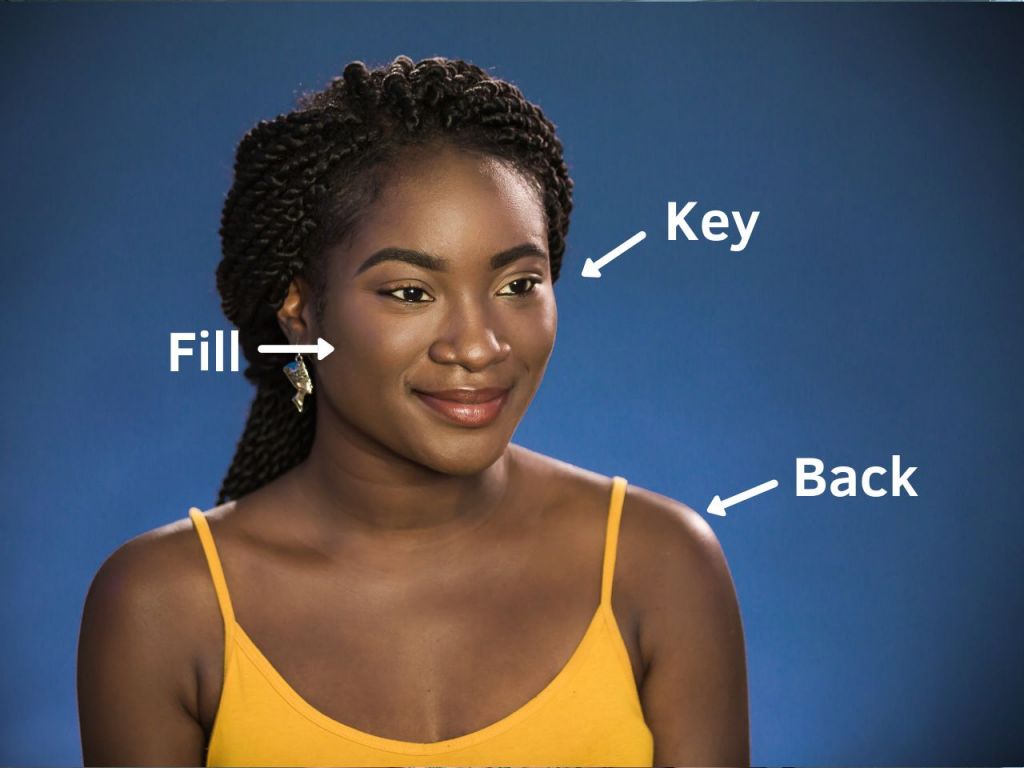 Can you hear me now?
One big difference between good and not-so-good video content is sound quality. Yes, all smartphones and cameras now have built-in mics, but they're not enough if you're shooting from further away than a metre or two. Don't worry – sound gear doesn't have to be complicated! All you need is something to record a secondary audio track. Most phones come with a voice recorder app, so the easiest option is to borrow a second phone, place it close to your subject, and hit record, then lay that audio track on top of the video during editing.
If you want to take your sound quality up one more notch, an external microphone will do wonders. London Drugs has a great selection of recording gear, so pay a visit to your local LD electronics specialist for help choosing the audio setup that's right for you. Some mics to consider include the RODE Video Mic Go, RODE VideoMic Pro, Blue Microphone Snowball iCE, and the Blue Yeti USB Mic.
But wait, does your video sound like it's coming from an empty cave? You'll need soundproofing to eliminate that bounce. Make sure there are rugs or carpet on the floor, and hang thick blankets on the walls around where you're shooting (in a place that doesn't mess up the look of your shot, of course).
Ready, set, shoot!
For shooting on the go, give your arms a break and get a selfie stick. Go for a versatile model like the S-Line Selfie Stick that has an expandable handle, an adjustable clamp that fits all smartphones, and a removable head that can be attached to a tripod. Or, if you want to add add intelligent functions like cinematic zoom control and built-in sensors for stability, try the DJI Osmo Mobile 2 .
Speaking of tripods, you'll need one if you're going to be shooting video of people or things that are sitting in one place. If you're using a smartphone or small camera, a mini tripod works just fine on a table or stack of books, and it is versatile for different settings. For shooting with a larger camera, a full-sized tripod works best. Some tripods to consider include the Joby GorillaPod 3K Kit and the Joby GorillaPod 5K Kit. The Joby GorillaPod Rig Upgrade Kit works with both the 3K and 5K kits and enables you to add additional devices as needed. Looking for a solid carry bag for all your new gear? Check out the Lowepro Fastpack BP 250 or the Manfrotto Windsor Reporter Messenger Bag.
Fix it in Post
Now that you have all of this beautiful footage, what do you do with it? Edit it, of course! This can be the most time-consuming step in making good videos, but it can also be the most fun. There are many affordable and free video editing apps out there: iMovie, Videoshop, Splice, FilmoraGo, and Adobe Premiere Clip are all perfect for quick and fun edits. If you're interested in longer-form YouTube-style videos, all the pros swear by Adobe Premiere, Corel VideoStudio or Final Cut Pro, but these are more expensive and require some learning time.
Want to add music? Before you hit up Spotify, remember that it's illegal to use copyrighted music without written permission from the artist. (You probably already know this from your cat video with the Rihanna soundtrack that was rudely muted on Instagram.) There are a few ways to get music into your videos legally: ask a musical friend for one of their original tracks, use the music provided by your editing software, or search for a royalty-free song from a music service (there are loads to choose from).
We hope this video content starter kit will be helpful on your road to internet stardom. Want to show off your best video? Post a link in the comments!