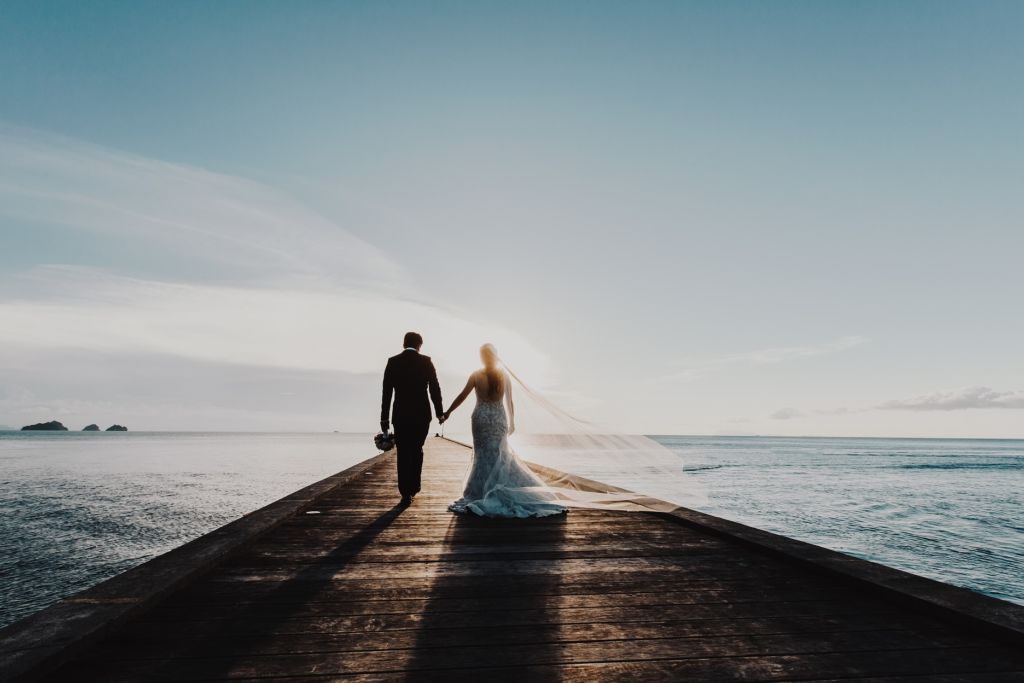 Calling all brides and grooms-to-be! For those who have been waiting patiently this past year to host a wedding in the presence of family and friends, it looks as though the time has finally come to start planning, as COVID restrictions begin to lift!
With so many weddings pushed until later in 2021 or until 2022, as well as many newly engaged couples looking to tie the knot in the next year, it's best to get those save-the-dates out as soon as you can! That way, you can ensure your friends and family will have your wedding marked down before their calendars fill up.
Save-the-dates and wedding invitations are your way to not only announce the details of your big day, but are a chance for you to create a beautiful keepsake that both you and your guests can cherish. To make those keepsakes extra special, adding some personalization is important. With the help of our Photolab, you can create one-of-a-kind wedding cards, like save-the-dates and invitations, that truly capture the love you and your partner share.
Feature Your Photos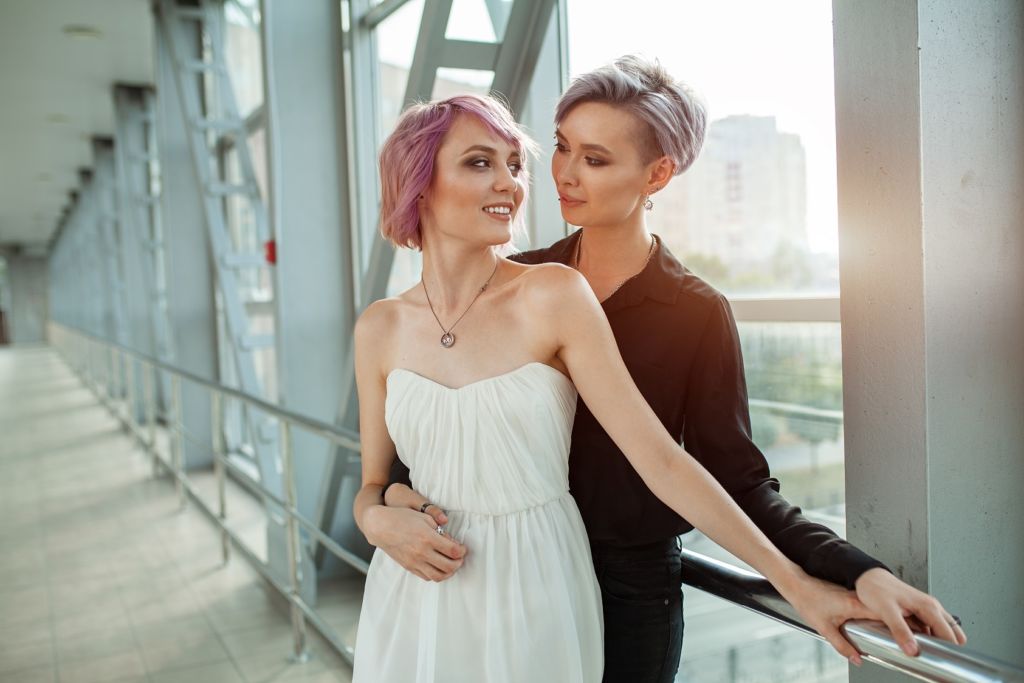 Before we dive into all the ways to design your save-the-dates and wedding invites, let's talk about photos. Many photographers offer wedding photo packages that include engagement photos. This is not only a great way to get comfortable with your photographer and being in front of the camera before your big day, but is also a way to get some photos ahead of the wedding that you can then use to personalize your save-the-dates and invitations.
If you haven't shot your engagement photos yet, let your photographer know that you'd like to use some photos for your save-the-date and invitations, and they can help plan out a shoot to fit the look and feel that will match your cards.
Here are a few tips to keep in mind, from some local wedding and engagement photographers:
1. Do your shoot during golden hour
"The most important thing is to ask the photographer to take the photos at sunset or sunrise. It is golden hour for the photographer when the lighting conditions are the best. We took this photo during sunrise. We prefer to shoot during sunrises because there are not a lot of people around. Most of the time we are shooting alone with the couple, so the couple will be more relaxed, when there is nobody around looking at them." – @bdfk_photography
2. Strive for real vs. 'perfect' moments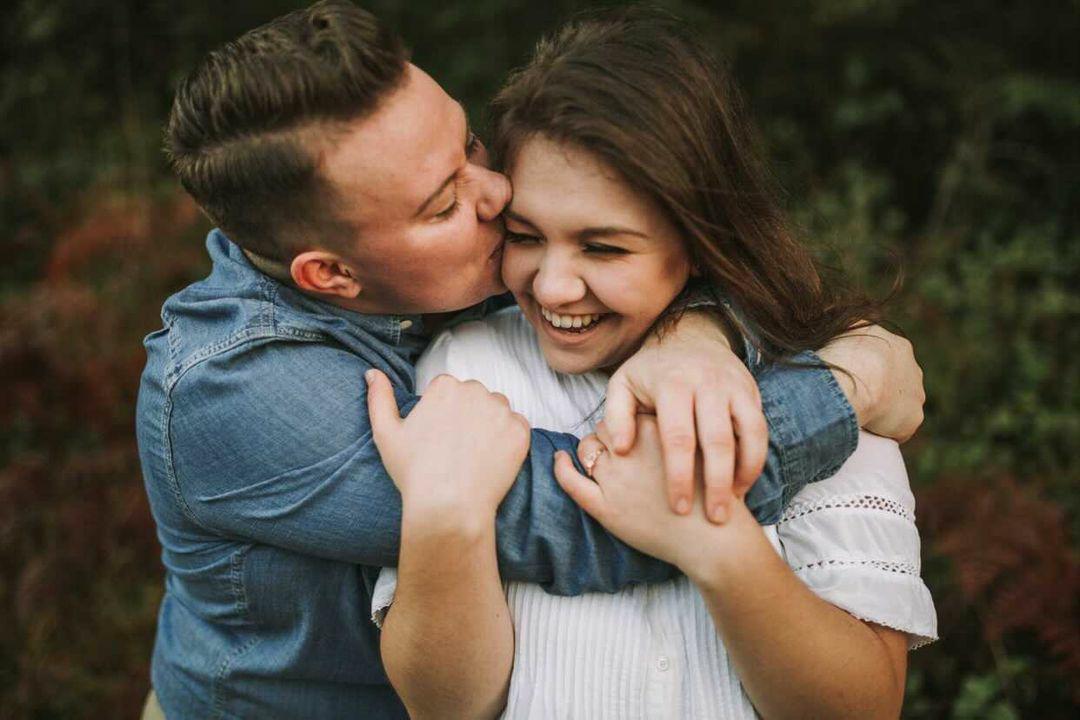 "Don't worry about getting 'perfect' photos, let yourselves be seen as you are together. Whisper inside jokes, think about how excited you are to marry this person, and have fun with it! Bring drinks, choose your favourite spot for photos, wear your favourite outfit and have fun with it!" – @justinerussophotographer
3. Splash around and let loose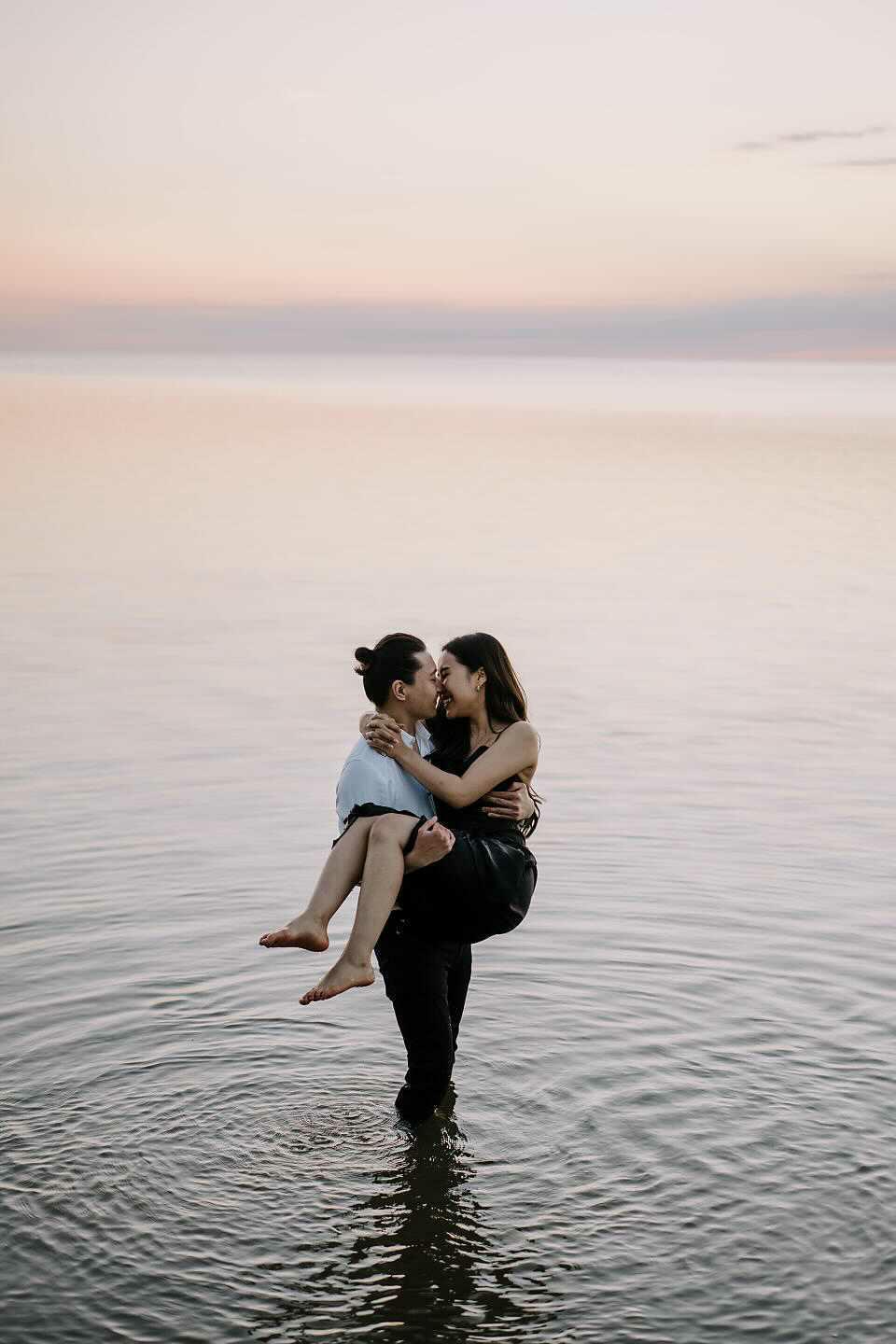 "Plan your engagement session at the beach, for sunset! Bring a bottle of champagne and pop that bottle for all the fun! Be prepared to get in the water and splash around and just let loose! You won't regret it and it will be something you'll remember forever" – @cojophoto
If you aren't doing engagement photos, then why not dig through your old photos together? You're bound to find some gems. Maybe it's a photo from when you first met – or that as well as a photo of you two now, to show how you've grown together. Another great place to look is photos from other weddings you've been to together. Wedding photographers often capture great candid shots of guests, so if you can get your hands on a photo of you two together, that could be the one!
Save-the-Dates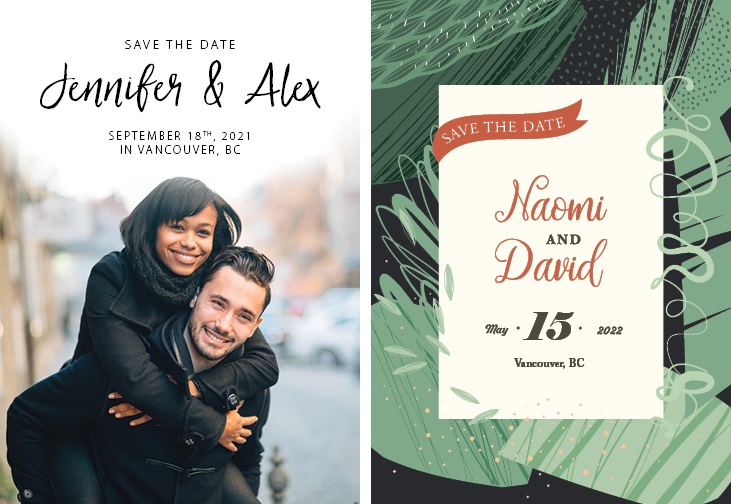 The function of your save-the-dates is to give your guests a sneak peek at what to expect for your wedding (and to literally save the date in their calendar, of course). For instance, if you plan to have a formal wedding, it makes sense to give your save-the-dates a more formal tone too. Our Photolab has a selection of save-the-date templates so you can find the right one to set your tone.
Save-the-dates are often printed on a flat card, as it's a smaller amount of info being shared than the full wedding invitation. We have both single-sided photo cards and postcards that fit the bill. For the postcards, you can choose from 9 specialty papers (see below), which can also help you set the tone of your save-the-dates. If you're planning to send your save-the-dates by mail, our postcards are a great choice; you'll be able to just stick on a stamp and an address and pop them in the mail!

Specialty papers Techweave, Woodgrain and Stipple not pictured here. Visit your local London Drugs Photolab to see samples.
The next step is to upload photos to the template to fully personalize your save-the-dates. As we mentioned above, engagement photos are a great choice. Or, just pick a favourite photo you have of the two of you.
Of course, your save-the-date is also meant to share key wedding details with your guests. Below are a few things to consider including on your cards. In addition to personalizing your save-the-dates with photos, our templates give you the ability to add text as well.
Details to include on your save-the-dates:
You and your fiancé(e)'s names
Wedding date
Wedding location (doesn't need to be the venue name – can just be the city)
Wedding website URL (which may have additional info available for guests, including your gift registry)
'Invitation to follow' or another phrase that lets your guests know if you will also be sending out a wedding invitation at a later date
Generally, it's recommended to send out your save-the-dates 4 to 6 months before the wedding, to allow your guests enough time to book off the date and/or make travel arrangements.
Wedding Invitations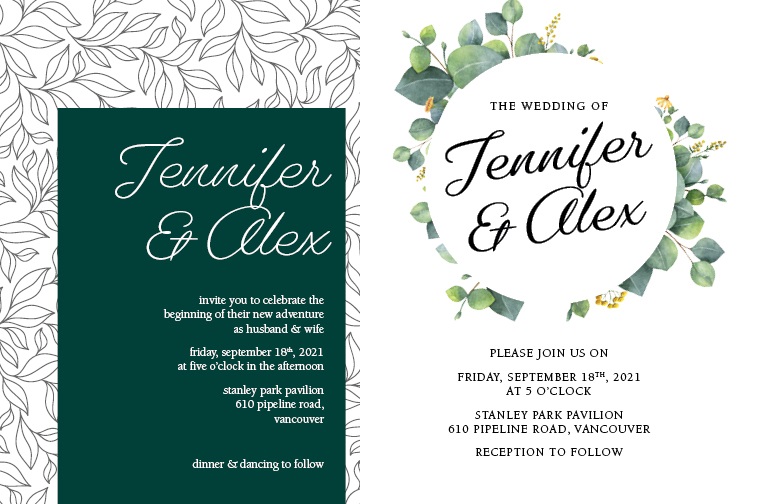 While save-the-dates are often single-sided cards, wedding invitations can also be double-sided or folded. After all, there is more information to share! Based on your preference, you can choose from our single-sided photo cards, double-sided cards, postcards and folded cards. Like the save-the-dates, our postcards can be printed on specialty paper, as can our double-sided and folded cards. All of our cards (excluding postcards) also come with envelopes included, so you'll be all set to add addresses and send them off.
In addition to choosing your card style and template, just like the save-the-dates, you'll be able to completely personalize your wedding invitations digitally with photos and text. Invitations don't always have images included, but if you'd like to personalize with a photo or two, you could use some additional photos from your engagement shoot if you did one, or select photo(s) you already have of the two of you.
Your invitations will give your guests a full picture of your wedding day, beyond the limited info on your save-the-date. Here are some details we recommend including on your wedding invitations:
You and your fiancé(e)'s names
Wedding date and time
Wedding location (venue details)
Dress code
Wedding website URL (which may have additional info available for guests, including your gift registry)
Info on how to RSVP and RSVP deadline (either a separate RSVP card, or a wedding website URL)
Pro tip: Create a Photolab account so that you can save a copy of your personalized wedding invitations. That way, if you need to re-send an invitation or send more invitations, you'll still have a copy ready to order again! This is also helpful if you need to send out a second round of invitations, as you'll be able to update the RSVP deadline date if necessary.
Depending on if you're sending your wedding invitations internationally or within the country, the rule of thumb is to send them out 12 weeks or 6-8 weeks ahead of your wedding date, respectively.
Thank You Cards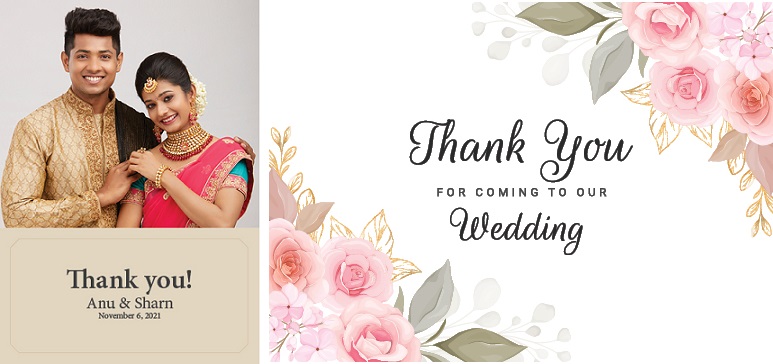 Once you've said your I Do's, it's customary to send out a final card to your guests. A wedding thank you card allows you to personally thank your guests for joining you on your special day, as well as let them know your appreciation for any wedding gifts they may have given you (don't forget to keep track of which gifts are from which guest).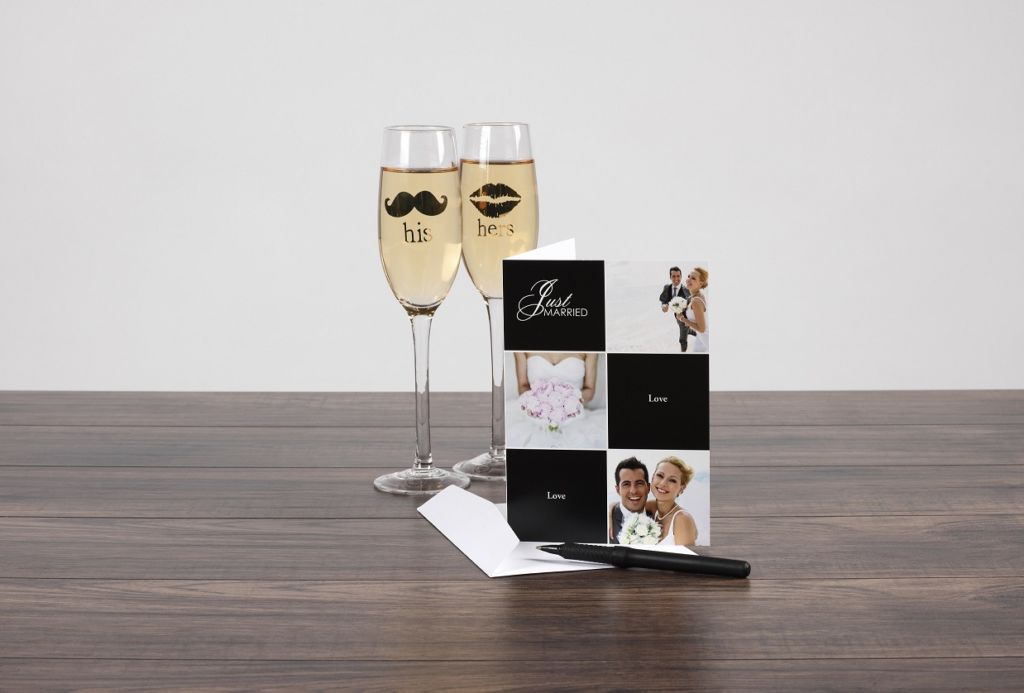 Thank you cards are also a great way to share some of your favourite photos from your wedding day! Ensure you receive a digital copy of your photos from your wedding photographer, so that you can incorporate some of them into your thank you card template. Some people also like to tuck a couple individual print photos into the card for guests; easy enough – just choose a print that will fit inside your selected card style (you'll want to go with folded cards for this one).
You could also use our thank you card templates for other wedding-related events like your bridal shower. Thank your guests for attending and for any gifts you received, and let them know you're thrilled they will be there with you on your wedding day.
Pro tip: Rather than adding a handwritten note to each of your cards, save yourself the hand cramp by personalizing each of your thank you cards digitally! Once you've created a Photolab account and have saved your personalized card, you'll be able to update it for each guest. Then simply add each card to your order.
Thank you cards are usually sent out within 3 months of the wedding.
Need some help creating the perfect wedding invites, save-the-dates or thank you cards? Visit our LDExperts at any London Drugs Photolab! You'll be able to personalize your cards using our in-store kiosks, and our LDExperts will be there to answer any questions you might have. If you're ready to get started right away, just hop over to our London Drugs Photolab website to start customizing!