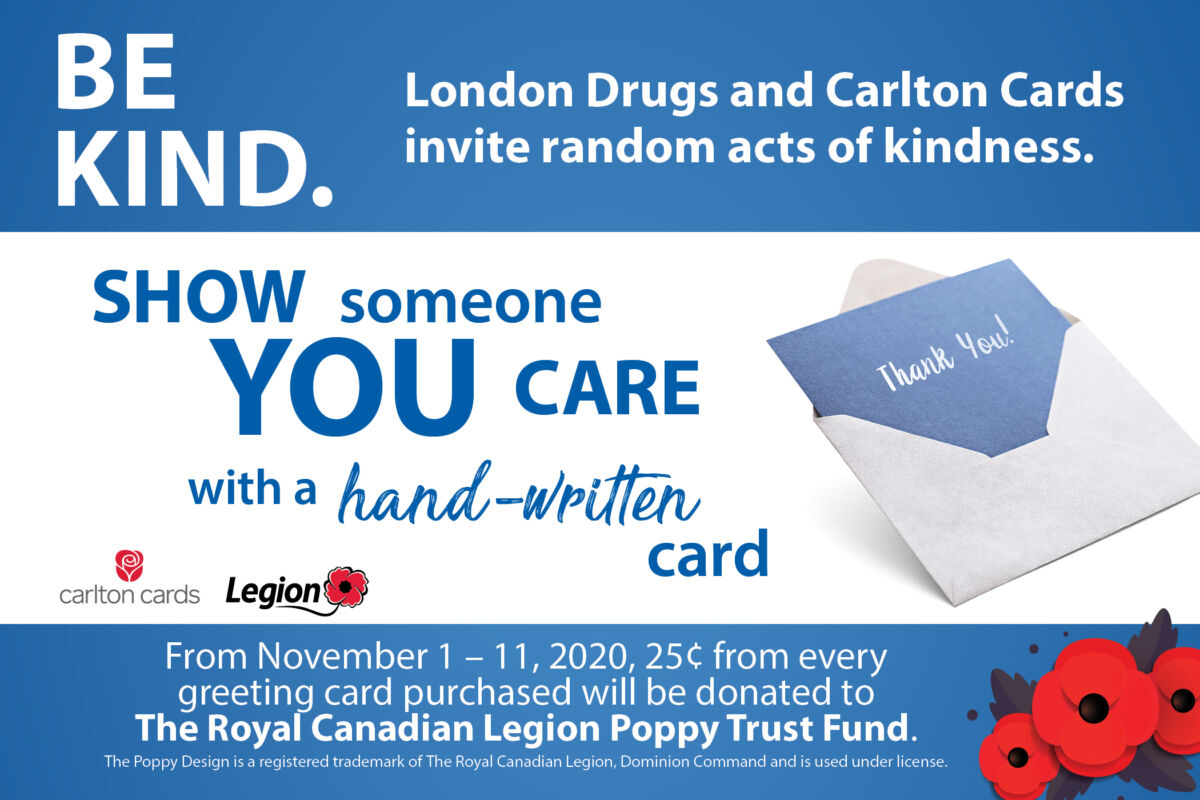 With COVID-19 concerns and precautions limiting volunteers and more people following guidance to stay home, London Drugs is launching a new campaign to help The Royal Canadian Legion with donations to its annual National Poppy Campaign. While poppy boxes will still appear at London Drugs locations – as they do every year – we are hoping to help raise additional funds for Veterans through a new campaign in partnership with Carlton Cards.
BE KIND invites Canadians to send handwritten cards to friends, families, and neighbours, to show appreciation and brighten their day.
"Now more than ever, people need to be reminded they are not alone," said Clint Mahlman, London Drugs President and Chief Operating Officer. "Whether that is sending love to a friend or family member or showing your appreciation to a Veteran whom you've never met, sending a personalized written message can be so meaningful – particularly at a time when social distancing has left many feeling isolated."
For the first time ever, The Royal Canadian Legion is discouraging spectators from attending Remembrance Day ceremonies in person in order to limit gathering sizes and adhere to physical distancing measures.
"Our Veterans won't get to see us supporting in person at Remembrance Day ceremonies this year but there are a variety of ways we can show our support including making donations to the Poppy Campaign. We are excited about offering our customers an additional way to support our Veterans with the BE KIND campaign," says Mahlman.
London Drugs has been a proud partner of The Royal Canadian Legion for decades with Legionnaires and volunteers once again being welcomed to collect poppy funds outside stores; poppy boxes and Veteran pins for sale inside stores; and donations being collected at cashier tills. New this year, the BE KIND campaign will see a portion of sales from all Carlton or Papyrus Greeting Cards between November 1 and 11 going directly to the Royal Canadian Legion Poppy Trust Fund. Customers can visit any London Drugs store and pick out cards to give.
"Supportive and generous long time sponsors like London Drugs help make the National Poppy Campaign a success every year and we couldn't do it without them," says Thomas D. Irvine, CD, Dominion President of The Royal Canadian Legion. "We are pleased to learn that London Drugs and Carlton Cards have teamed up on a new initiative to donate to the Poppy Trust Fund. This fund is critical to the work we do across the country to help our Veterans and we are thankful for the additional support this year."
Donations made during the National Poppy Campaign go directly into the Legion's Poppy Trust Fund. The funds raised locally are used locally to help with a range of supports and services for Veterans and their families. It can include emergency funding, helping Veterans get off the streets, completing benefit applications or establishing and supporting programs to help tackle operational stress injuries.
Please visit https://legion.ca/ for more information.