It's easy to let your drawers fall into chaos. They're only open for a few seconds at a time, and they're easy to hide. But you know they're there–whispering behind your back, just waiting to explode. We're here to help you wrangle the clutter with these easy and satisfying tips for beautifully organized drawers.
1. Tidy Your T-Shirts the KonMari Way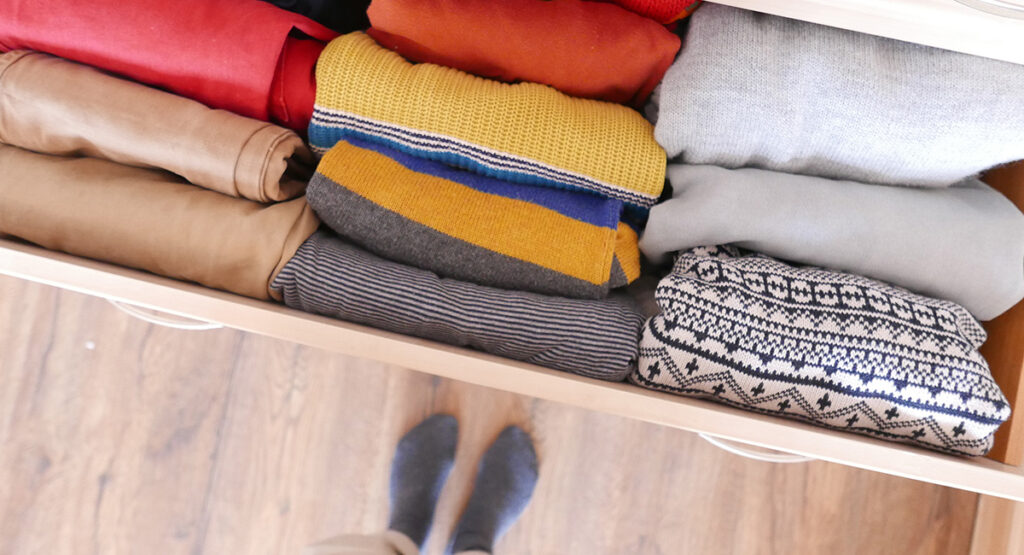 If you have a big collection of t-shirts, you know how quickly your drawer can turn into a mess. To save time in the morning, and prevent wrinkles, stack your t-shirts upright in the drawer instead of flat. Your drawer will hold more, you'll be able to see them all at once for easy choosing, and they'll stay neatly folded.
Folding skills a little lacking? Check out this step-by-step guide on using the KonMari method to fold like a pro: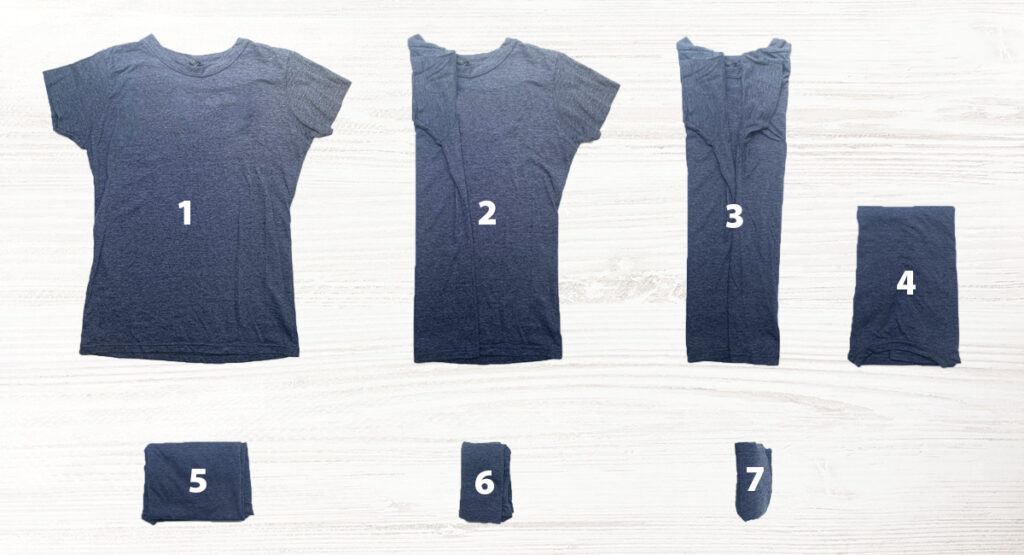 2. Use Smart Compartments For Odds and Ends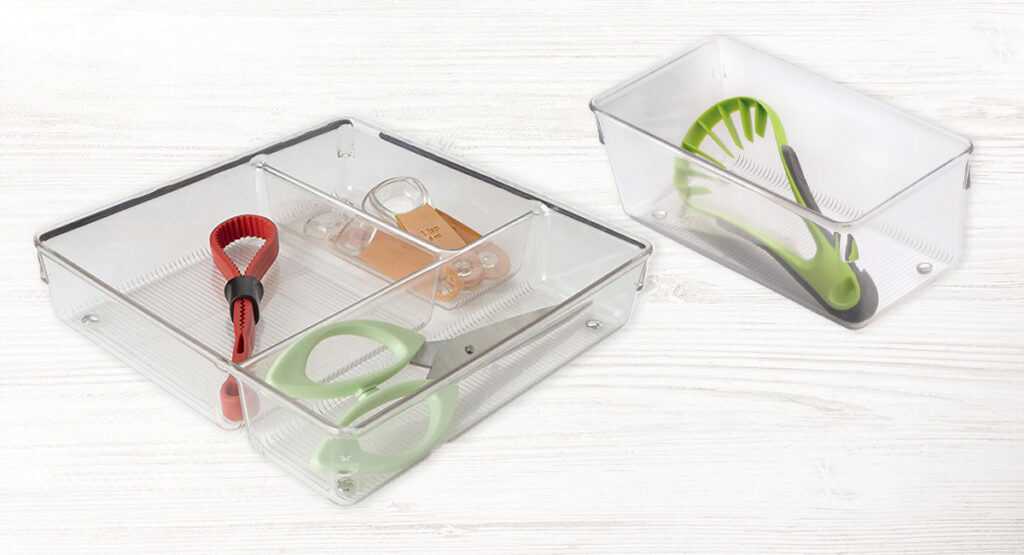 Your silverware drawer is pretty organized, right? Knives, spoons, and forks are all in their right places. That's because of the organizer in there! You probably already have one in the kitchen, so why not get one for your other drawers that need some TLC? Cutlery trays and small bins are inexpensive, and great for keeping cosmetics, junk drawers, craft drawers and other small odds and ends tidy.
3. Contain Those Pesky Kitchen Containers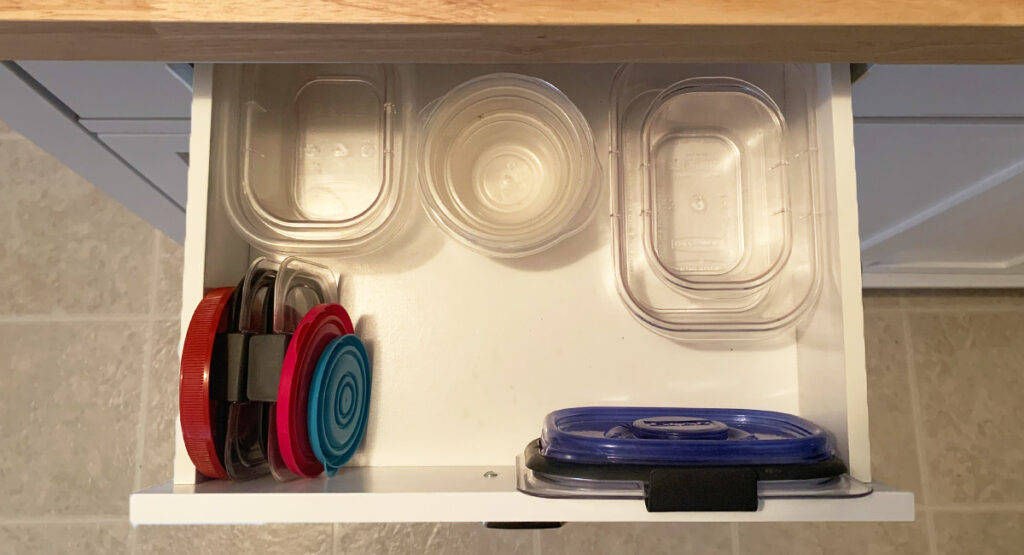 It's your kitchen's dirty little secret. It's your… FOOD CONTAINER DRAWER! Don't worry—you're definitely not alone. Everyone's is a mess. But it doesn't have to be! Despite food storage containers being bulky, awkward, and mismatched, your drawer can actually be a soothing place of zen organization.
Recycle any tubs or lids that don't have a mate. Ahhhh. Feels good, doesn't it? Next add a drawer divider or two and separate items into size/shape categories. Start with the largest items in the corner and add smaller ones around. Lastly, stack your lids horizontally so you can 'file' them instead of digging through the pile every time.
Pro tip: Nest plastic containers together, and turn them on their sides if the stack is too tall for the drawer. Don't nest glass containers together, as they could get stuck together and break. And store plastic containers and lids separately, since a seal can trap moisture and create a stale smell.
See more tips, tricks, and photos from Better Homes & Gardens
4. Upcycle Using What You Already Have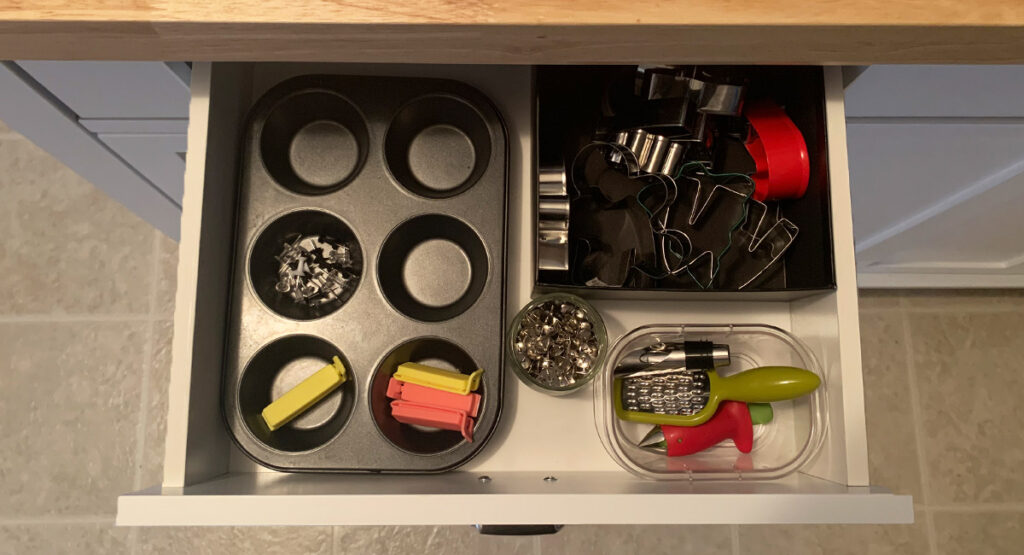 We love a good upcycling tip! Keeping a messy drawer organized can be as easy as re-using old stuff from around your house. Have you got things collecting dust around your house like old gift boxes, egg cartons, muffin tins, or food containers without their lids? (Really, who doesn't?) Well then, you have an organized junk drawer!
There, another spring cleaning item checked off your list! Share your best drawer organization tips in the comments below and find everything you need for storage and organization online at London Drugs.