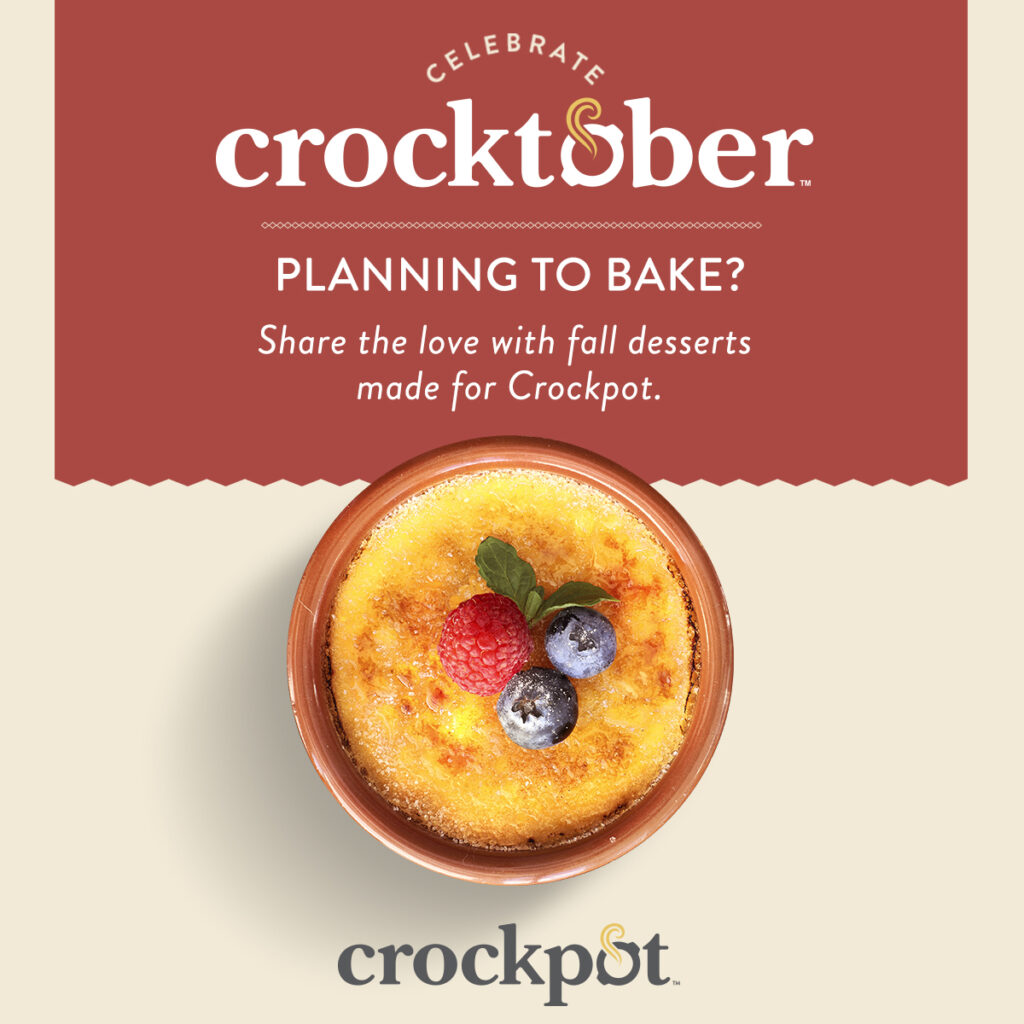 Crock-Pots are known for their ability to make delicious, home-cooked meals with minimal effort and clean up, but did you know you can also use them to create an array of different desserts? We've curated a list of Fall inspired after-dinner delights from Crock-Pot's website, all featuring ingredients like cinnamon, apple, pumpkin and cranberry. These warm and comforting dishes are so satisfying, they'll have you cooking in your Crock-Pot long after the month of Crocktober!
Cinnamon Swirl French Toast Casserole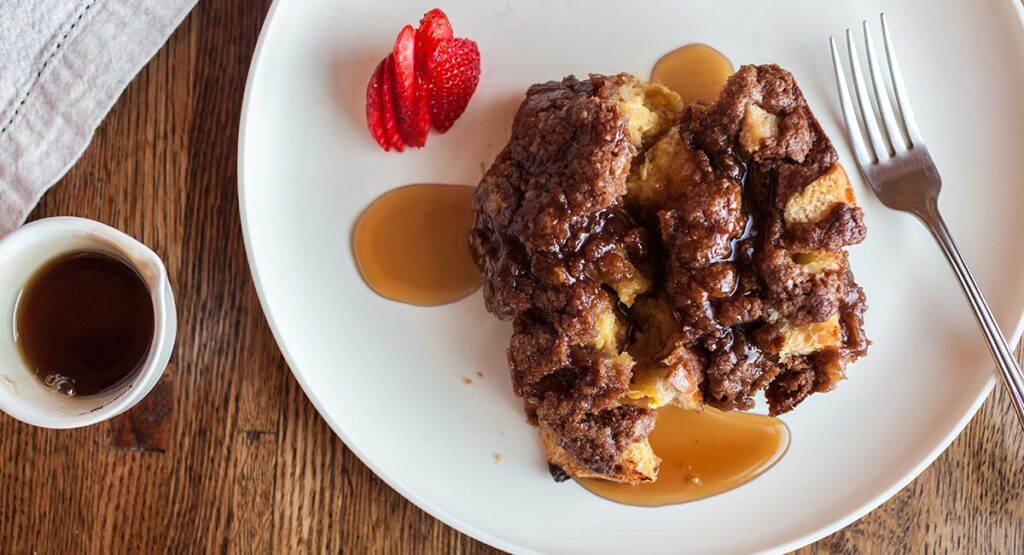 Ingredients (French Toast)
• 6 Cups of cubed Cinnamon Swirl Bread
• 7 Large eggs
• 2 ½ Cups whole milk
• 1 Cup heavy cream
• ¼ Cup granulated sugar
• ¼ Cup maple syrup
• 2 Teaspoons real vanilla extract
• 1 ½ Teaspoons ground cinnamon
• ¼ Teaspoon ground nutmeg
• ¾ Cup chopped dates
• 3 Teaspoons butter, cut into bits
• ¾ Cup candied pecans, coarsely chopped
Ingredients (Candied Pecans)
• 2 Teaspoons melted butter
• 2 Teaspoons brown sugar
• 1 Cup chopped pecans
Instructions
1. Coat the inside of your Crock-Pot® slow cooker with cooking spray
2. Spread the bread cubes on a baking sheet and crisp in a 275 degree oven for 20 minutes, or until slightly dry and hard. Spread bread over the base of your Crock-Pot® slow cooker.
3. While the bread is baking whisk the eggs, milk, cream, sugar, syrup, vanilla, cinnamon, and nutmeg together.
4. Pour mixture over bread and press lightly to make sure all the bread is submerged. Sprinkle on the dates and pecans (recipe below), and finally the cut up pieces of butter and cook on high for 3 to 4 Hours.
5. Garnish with powdered sugar and syrup – enjoy!
Slow Cooker Pumpkin Swirl Cheesecake Bars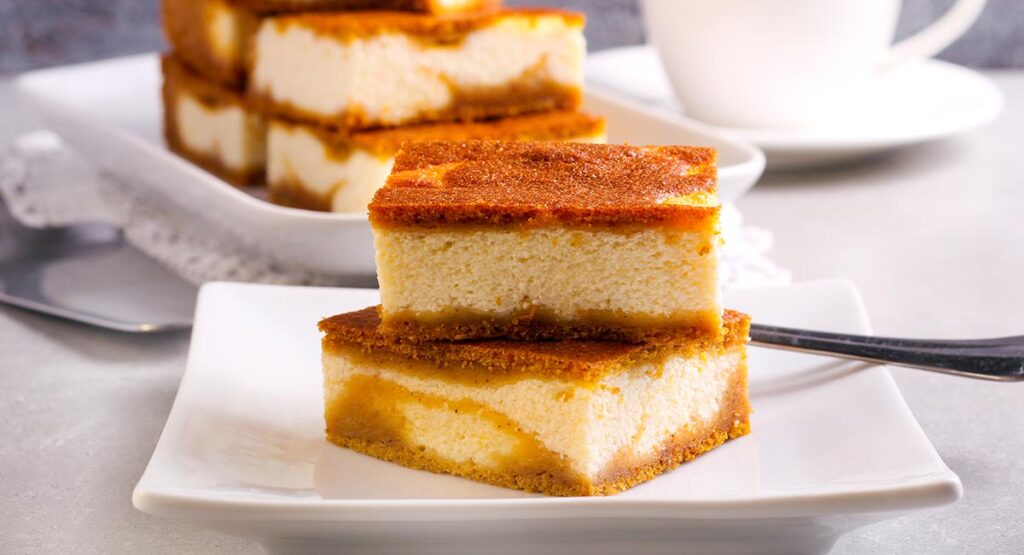 Ingredients (Crust)
• 1 Cup graham cracker crumbs
• 5 Tablespoons unsalted butter, melted
• 1 Tablespoon sugar
Ingredients (Cheesecake Mixture)
• 12 Ounces cream cheese, softened
• ¾ Cup sugar
• 12 Ounces sour cream
• 3 Large eggs
• 1 Egg yolk
• 1½ Teaspoons vanilla extract
Ingredients (Pumpkin Mixture)
• 6 Ounces cream cheese, softened
• 4 Ounces mascarpone cheese, softened
• ¾ Cup of sugar
• 1/8 Teaspoon salt
• 2 Large eggs
• 11 Ounces pumpkin puree
• 1¼ Teaspoons pumpkin pie spice
• ½ Teaspoon vanilla extract
Instructions
1. Butter a Crock-Pot® Casserole Crock Slow Cooker or other large slow cooker.
2. In a small bowl, combine the crust ingredients (graham cracker crumbs, melted butter, and sugar)
3. Press crust mixture in bottom of the buttered Crock-Pot® slow cooker.
4. Next, prepare just the cheesecake ingredients in a mixing bowl.
5. Beat the 12 Ounces of cream cheese over medium speed until soft.
6. Gradually add the sugar.
7. Mix in the sour cream, one cup at a time.
8. Add the eggs and the yolk one at a time, mixing well after each one.
9. Mix in the vanilla and set cheesecake mixture aside.
10. In a separate bowl, prepare pumpkin Mixture:
11. Using a mixer, cream the cream cheese, mascarpone, and vanilla on medium speed until well combined and smooth.
12. Slowly add sugar and salt.
13. Add eggs, one at a time, mixing well after you add each one.
14. Add pumpkin and pumpkin pie spice and vanilla; mix until completely combined.
To Assemble
Pour ONLY the cheesecake batter over the graham cracker crust in the Crock-Pot® slow cooker.
Next, dollop the pumpkin mixture evenly over the cheesecake mixture.
Using a table knife, carefully swirl the pumpkin mixture into the cheesecake mixture.
Cover; cook on High for 3 to 4 hours or on Low for 4 to 5 hours, or until cheesecake looks firm but center is still just a bit jiggly.
Refrigerate cheesecake overnight to firm before cutting/serving.
Note: You will assemble the cheesecake mixture and the pumpkin mixture in separate bowls then combine in the Crock-Pot® slow cooker. For best results, start with room temperature ingredients.
Apple Pecan Bread Pudding
Ingredients
• 8 Cups day old bread, cubed
• 3 Cups Granny Smith apples, peeled cored and cubed
• 1 Cup chopped pecans
• 8 Whole eggs
• 1 Can evaporated milk
• 1/2 Cup apple cider or apple juice
• 1 Cup packed light brown sugar
• 2 Teaspoons ground cinnamon
• 1 Teaspoon ground nutmeg
• 1/2 Teaspoon ground allspice
• 1/2 Teaspoon salt
• 1 Teaspoon vanilla extract
Instructions
1. Place bread cubes, apples, and pecans in buttered Crock-Pot®.
2. Mix remaining ingredients.
3. Pour over bread and stir thoroughly.
4. Put lid on Crock-Pot® and start cooking on Low for 3 to 4 hours.
5. Top with caramel sauce, ice cream, or whipped topping.
Apple Butter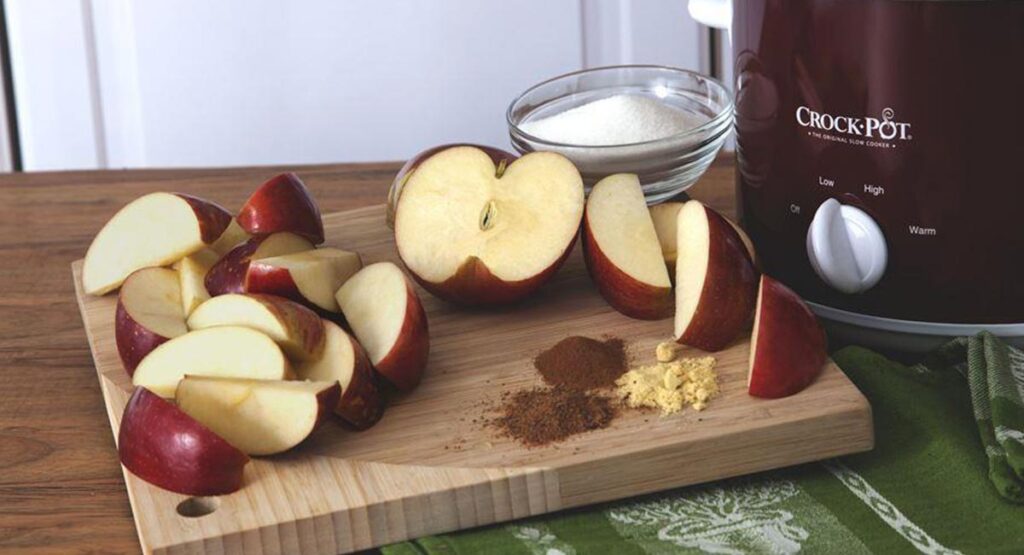 Ingredients
• 3 Pounds cooking apples (Rome recommended)
• 2 Cups granulate sugar
• 1 Tablespoon cinnamon
• 1 Teaspoon ground ginger
• 1 Teaspoon nutmeg
Instructions
1. Peel and slice approximately apples.
2. Place in Crock-Pot® with sugar and spices.
3. Cook on low for approximately 21 hours.
4. Use a potato masher to break up apples.
5. Place 2 wooden spoons over the top of the Crock-Pot® and place lid on wooden spoons to allow liquid to evaporate and cook approximately 3 hours more.
6. Apple butter is ready when no free liquid remains. Apple butter can be canned, refrigerated or frozen.
Apple, Cranberry And Almond Muffins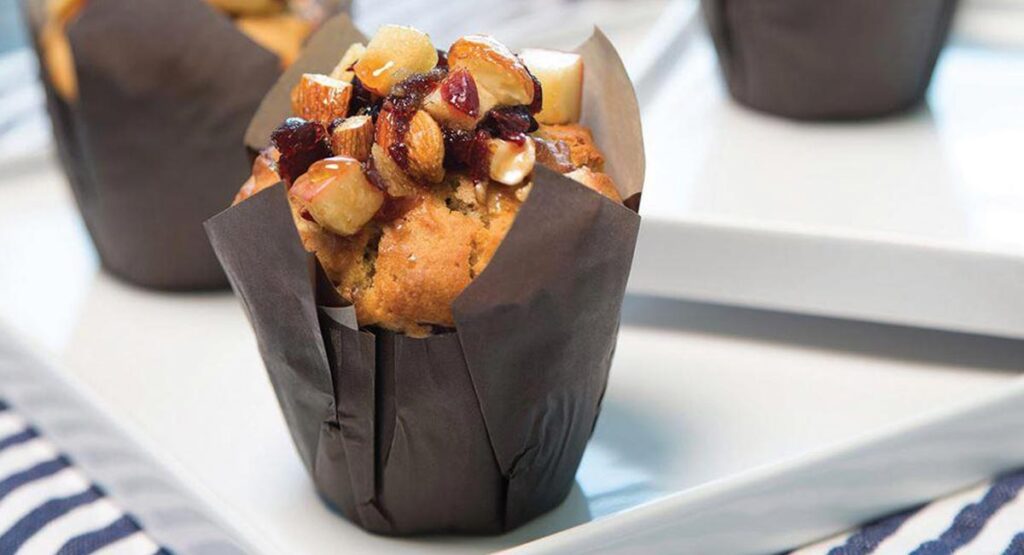 Ingredients
• 1 cup chopped almonds plus 2 tablespoons for garnish
• 1 cup blueberries plus 2 tablespoons for garnish
• 1 cup red apple, peeled and diced plus 2 tablespoons diced with skin for garnish
• 1 cup brown sugar plus 1 tablespoon
• 1 cup canola oil
• 3 eggs
• 1 teaspoon vanilla extract
• 3 cup wheat flour
• ¼ teaspoon salt
• 1 ½ teaspoon baking powder
• 1 tablespoon ground cinnamon
Instructions
1. In a bowl mix flour, baking powder, salt and cinnamon. Set aside.
2. In the mixing bowl of your Oster® Planetary Stand Mixer, mix cranberries, apples, sugar, oil, eggs and vanilla. Preheat oven to 400˚F/205˚C.
3. In the shaft for accessories, install the paddle beater, place the bowl and the splatter protector. Turn on your mixer set at Speed 4.
4. Once you observe all ingredients are mixed, add slowly the dry ingredients mixture; flour, baking powder, etc. Wait for all the ingredients to blend.
5. Remove mixture from mixing bowl and pour into greased muffin cups. Insert muffin tray in the oven and bake for about 25 minutes or until a knife inserted into the center of one of muffins comes out clean.
6. In the meantime, in a skillet mix almonds, cranberries, apples with skin and reserved sugar for garnish with 3 tablespoons of water. Wait approximately 3 minutes for the sugar to dissolve and the fruit to caramelize.
7. Once the muffins are ready, place on a rack to rest. Remove muffins from the cups and pour mixture on top to garnish. Serve with freshly brewed coffee.
Enjoy baking up a storm with Crock-Pot, all Crocktober long! All recipes featured here and many more can be found on Crock-Pot's website. Find our full selection of Crock-Pots in store or online here.