Do you know someone who is expecting and will be attending a baby shower for them soon? Since becoming a Mom I have started putting together a running list of things that for my go to baby shower gift items. One of them, is a baby thermometer.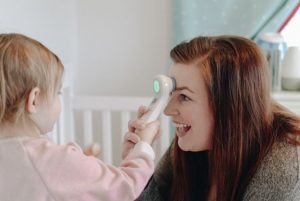 Before my oldest daughter arrived, friends of mine hosted a beautiful baby shower for me inviting family and friends of mine to attend. The party was filled with "dirty diapers" that we had to guess the contents of, wearing safety pins and not saying the word "mom" and several other typical shower activities. Beyond the activities that night there were several gifts that really stood out and have continued to be used to this day.
I was given a Braun Baby ThermoScan as one of my gifts. Little did I know how often that gift would be put to use. It's had a permanent place within our daughter's bedroom so that we know where it is and can grab it whenever needed. It's seen us through first colds, teething, pneumonia and so much more. Not just with our first daughter, but both of our girls. It's been helping us for 5 years!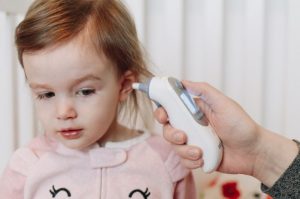 Braun has great options for thermometers. There's the Braun ThermoScan ear thermometer. It measures the infrared heat generated by the eardrum and surrounding tissue. The ear provides a location that will accurately show the core body temperature on a thermometer. It's very easy to check a child's temperature within seconds using the small, soft tip of this thermometer.
The other option is the Braun No Touch + Forehead thermometer. With two modes; no touch and touch, you can easily get your child's temperature. Imagine checking your child's temperature in the night without waking them thanks to No touch mode, plus you can also put it on silent so there will be no beep sound when the temperature is taken.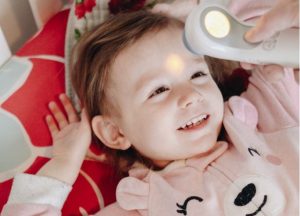 As a parent, I appreciate how easy Braun has made taking a child's temperature. Gone are the days of having to get a help when checking. Braun has helped give me peace of mind when checking my child's temperature. I am that parent who will go into my kid's room at night and check on them when they are sleeping. Now, I don't have to worry about them waking up. Even better, is the fact that there is a colour coded display letting you know for certain that a temperature is normal, above average or high.
This is why I've added Braun thermometers to my baby gift list. I can pick one up easily from my local baby store. I know how much I appreciated being given peace of mind when it comes to fevers and taking my child's temperature. I want the same for those I know with children. Temperature readings should be easy and not add to the stress when a child is not feeling well.
This blog post was brought to you by Discovering Parenthood
Did a Braun Thermometer help you get through your child's first fever?
You can find Braun thermometers available at:  London Drugs
Together with Braun, we're excited to be giving away one Braun Thermoscan 5 Ear Thermometer! See below for full Terms & Conditions and how to enter.
Braun Facebook Contest Terms & Conditions
To enter: Comment with your favourite baby health product on the Braun giveaway Facebook post.
Contest is open to all residents of British Columbia, Alberta, Saskatchewan, and Manitoba who, as of the date the prize draw is made: (i) have not won a London Drugs contest since May 30th, 2017; (ii) have reached the age of majority in the province in which they reside as of May 30th, 2018; (iii) are not employees of London Drugs, their respective advertising and promotional agencies, the independent judging organization (if any), or any family member living with any such employee.
No purchase necessary. Limit one (1) entry per person per social network per contest. Entries must be received no later than 11:59 PM Pacific Time on June 15th, 2018. London Drugs is not responsible for entries that become lost or misdirected. All entries become the property of London Drugs Limited and will not be returned.
One (1) winner will be randomly chosen on the day the contest ends (see dates below) in Vancouver, British Columbia, from all eligible entries received per contest. To win, selected entrants must correctly answer a skill-testing mathematical question and must sign London Drugs' declaration and release confirming compliance with the contest rules and acceptance of the prize(s) as awarded, releasing London Drugs from liability in association with the contest and prize and consenting to the use of their name, photograph, voice and statements for promotional and publicity purposes.
There will be three (3) prizes of
One (1) Braun Thermoscan 5 Ear Thermometer – IRT6510CA ($89.99)
One (1) Braun No Touch or Forehead Thermometer – NFT3000CA ($89.99)
One (1) Braun Age Precision Thermometer – PRT2000CA ($27.99)
See details and contest date below. Prizes must be accepted as awarded, are non-transferable and no substitutions are permitted. Prizes will be awarded at the closest London Drugs location to contest winners.
Contest date – Wednesday, May 30th, 2018 – Friday, June 15th, 2018, 11:59 PM Pacific Time
Draw date – Monday, June 18th, 2018
Only one prize may be won by any one person and household. In the event that any selected entrant incorrectly answers the skill-testing question or is otherwise unwilling or unable to comply in full with these rules, a new entry will be drawn.
Selected winners will be contacted by email or on the social network they were drawn from. No correspondence will be entered into except with selected entrants. If the winners do not respond then they will be notified for the second time, 3 (three) days after the first notification. If the winners still do not respond within 3 days of the second notification, a new winner will be chosen in the same manner until a winner is successfully contacted.
The chances of winning a prize will depend on the number of eligible entries received. Decisions of the judges in respect of all aspects of this contest including, but not limited to, eligibility of entries and correctness of answers given to the skill-testing question, are final.
London Drugs and their respective advertising and promotional agencies, the independent judging organization, and their respective agents are not liable to an entrant in any manner relating to the contest or the awarding and use of the prize(s).
This contest is subject to all federal, provincial, and municipal laws and regulations. By entering the entrant consents to the collection of all personal information included on their entry and agrees to the use and disclosure of such information by and between London Drugs, an independent judging organization, and their agents. The winner(s) also agrees to the collection, use, and disclosure of their name, entry, photographs, voice, and statements for London Drugs' publicity purposes without further compensation. All personal information collected from entrants will be used only for the purposes of administering the contest and for marketing and promotional purposes as contemplated by these rules; under no circumstances will any personal information be sold or rented to third parties. All personal information collected by London Drugs will be kept in accordance with the privacy policy of London Drugs, which can be viewed at www.londondrugs.com, and in accordance with all applicable privacy laws.
The right is reserved by London Drugs to terminate this contest, in whole or in part, and/or modify, amend or suspend the contest, and/or these rules in any way, should any cause beyond the reasonable control of London Drugs or its agents affect the proper administration thereof.