Despite the fact that digital photography is now the norm, many people still have hundreds and thousands of original printed photos that are not backed up by a digital copy – childhood memories, family photos and historic images of ancestors that will be precious memories for future generations.
To help prevent devastating loss or damage to these cherished memories, we have launched a new service that allows customers to easily have these items scanned and digitized in bulk.
The new Photo Scanning Box is all about prevention, preservation and peace of mind. By allowing you to digitizing hundreds of photos at once, the process of backing up print photos is far quicker and painless compared to scanning the photos one-by-one at home.
Why It's Important
Print photographs degrade due to environmental factors like light, heat, and humidity. Photos taken between 1936 and 1990 are particularly in danger of fading due to the processing used during that time. Digital restoration for these photos becomes more difficult with each passing year.
Moreover, without digital duplicates of printed photos, disasters such as a fire or flood can immediately erase a generation's worth of irreplaceable photo memories – a devastating scenario many Fort McMurray fire victims were all too familiar with earlier this year.
Courtney Power lost hundreds of family print photos in the wildfire that destroyed approximately 2,400 homes and buildings and forced the largest wildfire evacuation in Albertan history. With only a few moments to pack up personal belongings before the evacuation, years of family albums were left behind.
"We lost so many photos in the Fort McMurray fire," says Power. "I regret not digitizing them a long time ago: it would have saved us a lot of heartache. We would still have those photos today if we had had them scanned to keep in a safe place."
Using the Photo Scanning Box
1. Pick up a FREE Photo Scanning Box from London Drugs, and bring it home to fill it with 800 photos and other precious documents.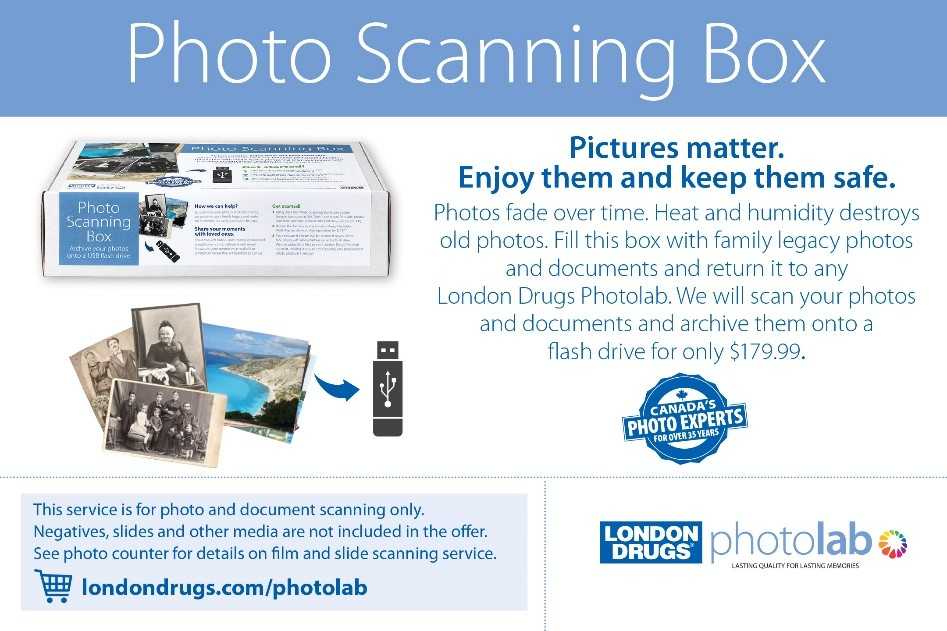 2. Return the full box to your local London Drugs Photolab, prepay for the service, and our technicians will then digitize the photos at high resolution.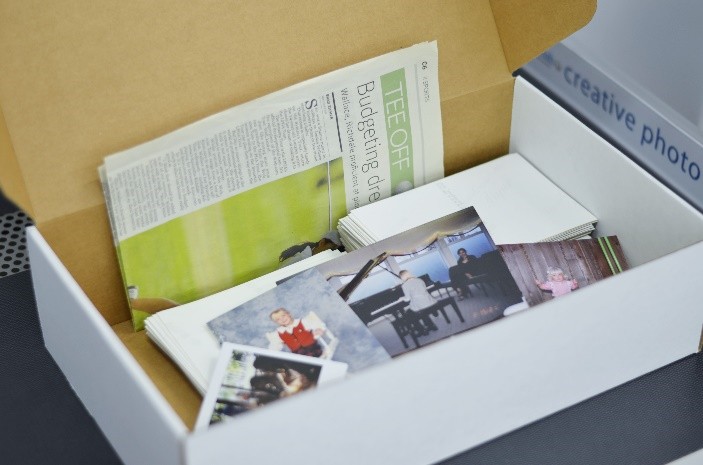 3. Your treasured photos will be returned to you along with all digital files on a USB flash drive.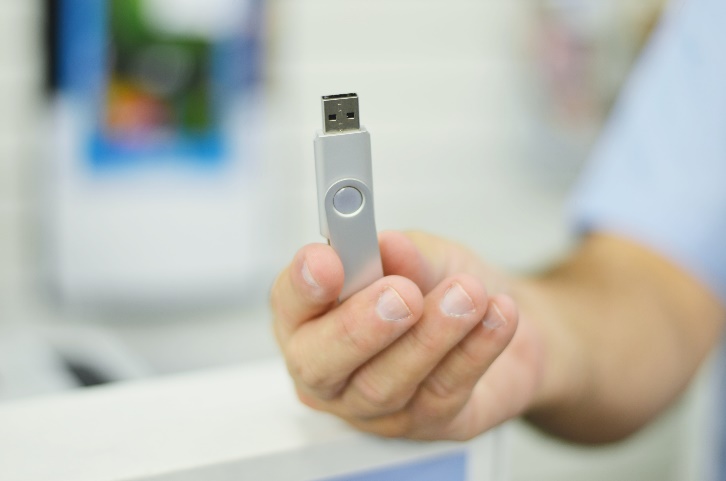 Once the files are digitized, you should back up the photos using an online drive or storing them in multiple locations in the same way you should with other digital photos. This will ensure that, in case of disaster, the photos will still be accessible. Plus, once you have the print photos digitized, there are endless ways to share them or reprint using modern printing methods. Send copies to family members, and create calendars, photo books and more. In this way, photos that were once relegated to the basement or tucked away in shoeboxes in the closet, can really come back to life.
Precious documents such as birth certificates and wedding certificates can also be included in the Photo Scanning Box. The service costs $179.99 per box (approximately 22 cents per photo or document) and Photo Scanning Boxes can be picked up at any London Drugs location.