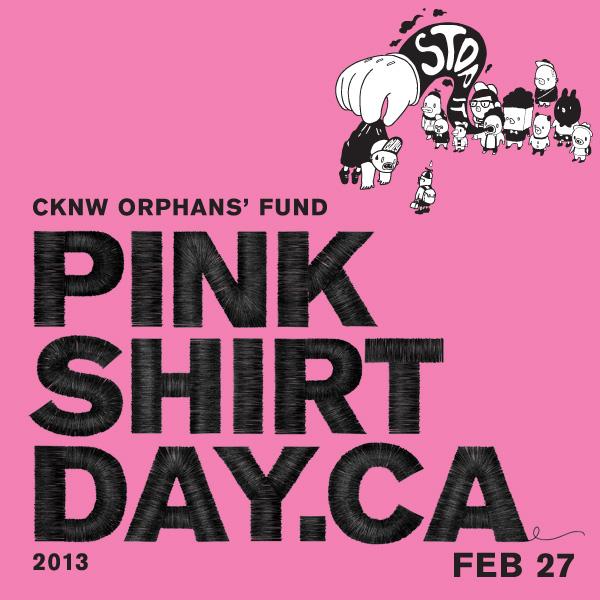 The Sixth Annual Pink Shirt Day is February 27!
London Drugs is excited to announce that we've partnered with CKNW's Orphan's Fund once again, for the 6th Annual Pink Shirt Day nation-wide on Wednesday February 27th. We are a proud supporter of the powerful Pink Shirt Day campaign, with the official anti-bullying Pink Shirt Day T-shirts available at all London Drugs locations. Net proceeds from the sale of Pink T-Shirts benefit the CKNW Orphan's Fund and Boys and Girls Clubs across Western Canada.
"We are proud to return as a staunch supporter and partner of the sixth annual Pink Shirt Day," said Wynne Powell, President and CEO, London Drugs. "We encourage everyone to support this important awareness campaign and purchase Pink Shirt Day T-shirts from London Drugs. The shirts have a new design and all funds raised go to the CKNW Orphans' Fund and local Boy and Girl Clubs in each community we serve, helping to foster local anti-bullying programs."
Over the past six years, London Drugs has helped raise more than $330,000 for Boys and Girls Clubs in Western Canada through the Pink Shirt Day Campaign. Pink Shirt Day T-shirts are available for $9.80 at London Drugs in both adult and youth sizes ranging from small to XXL, as well as online at www.pinkshirtday.ca.
Join us and wear PINK on February 27th to make some noise against bullying, symbolizing that we as a society will not tolerate bullying anywhere!
Be sure to connect with us on Facebook and Twitter and use the hashtag: #PSD2013
What is Pink Shirt day all about? CKNW started Pink Shirt Day six years ago following an anti-bulling stand of two grade 12 Nova Scotia students. The students took action after witnessing a grade 9 student being bullied for wearing pink to school and encouraged their schoolmates to wear pink to send a message against bullying. Since then, CKNW's Pink Shirt Day Campaign has sent a powerful message that Bullying Stops Here and we should Make Some Noise Against Bullying.
In Canada, every seven minutes someone is bullied on a playground in Canada (www.bullying.org). A University of Guelph Bullying Study found that 50% of Canadian school children report being bullied with 45% of surveyed children feeling unsafe when they go to school. Bullying is demoralizing, wrecks self-esteem and has led to shootings and suicides in Canada. Bullying happens in many different forms but its purpose is to make someone else feel bad on purpose. Through awareness and education Canadians can continue to take a stand against bullying.
London Drugs would like to thank CKNW and the CKNW's Orphans' Fund, for their commitment to the campaign for the past six years!