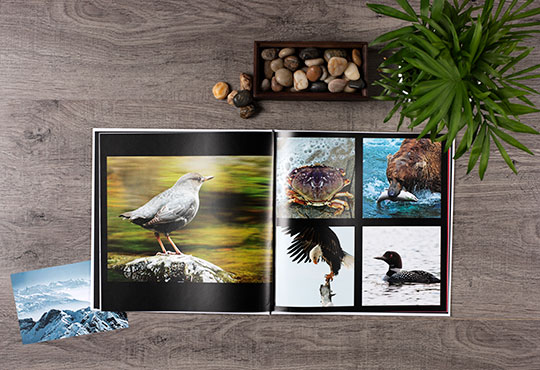 If you've browsed the Photolab website, you may have noticed that both are described as 'books'. However, some products are actually photo albums, while others are books comprised of (your) photography. True, in many ways they are similar; but there are also some key differences between them.
Let's begin with their similarities: You can customize both using the Photolab website and in-store kiosks, and both are printed at the highest quality possible by Photolab technicians. As for their differences, the biggest is the type of paper used in each. All photo albums are printed on high quality photo paper (usually pearl finish, but glossy is available for certain albums.) True photobooks meanwhile, are printed on archival bond paper, which lends them a contemporary and realistic book feel. You can curl the pages of a photobook, while the photo paper in albums is more stiff. However, because of the way they're bound you can flat-lay the photo albums; photobooks, not so much.
Of course, I could just make it easy for you and list which is which:
Albums
Photobooks
You'll notice that albums offer a wider range of products. Express books and Instagram books are great options to keep in a purse or in an office drawer; something you can pull out for quick and easy viewing. Photographic albums, meanwhile, can have some real heft to them and are perfectly suited as a wedding album or for documenting years of family history (as photo albums have traditionally done). Photobooks, meanwhile, are lightweight and lend themselves well to creative expression. They're a great choice for when photos are only part of the story you want to tell, or if you'd like to be able to design the cover. If you'd really like to know which type of book is the best choice for any given situation, the best thing to do is discuss your options with the Photolab technican at your neighbourhood London Drugs. And if you'd like to know just how easy and convenient they are to create and customize, well, there are Photoblog posts that cover that—just check out a few of these.