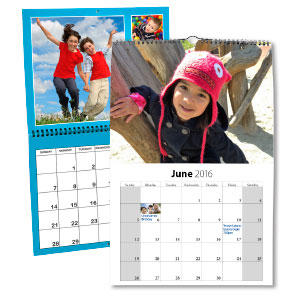 This is generally around the time where every holiday shopping procrastinators' mind starts turning with the eternal question: What gift to get Whom? If this question is indeed in the back of your brain right now, never fear—the Photoblog is here to help! (Cue heroic trumpets.) For I can recommend one single gift—from the Photolab, of course—that is appropriate for roughly 99.936% of the people on your list.
I speak of course, of the customizable Photolab calendar. The Photoblog has paid tribute to it in past posts like this one, but since you're here and probably grappling with The Question (see above) here are just a few reasons why customizable Photolab calendars make such a great gift for everyone:
They do an excellent encapsulating your whole year in pictures, especially if you have kids. It is simply mind-blowing to see how much kids grow within the span of 12 months. These calendars let people see those changes in one sitting, which is what makes them an ideal gift for proud grandparents and extended family.
Whether giving or receiving, no one likes gifts that end up getting stashed away and forgotten after the holidays. Calendars are useful literally every day of the year, and since you can customize them for the recipient, they also offer something meaningful to look at each day.
They are completely customizable. This probably should have been #1 on the list, because it's the reason these calendars offer universal appeal: you can tailor them to each recipient's specific interests.
Photolab home software makes it easy and gives you complete control. For example, nowhere is it written that you have to use only 12 pictures. You can do split-frames or collages to include as many photos as you like—whatever your artistic muse dictates.
All your photos—from your hard drive, your storage media, the internet—are at your disposal. Use your social media posts, take the photos with the most likes and turn them into a calendar. It'll make you feel like a social media celebrity!
Best of all, since the Photolab software is both easy and free, you can download it now and check it our for yourself, lest you doubt my sincerity here. But hey, the Photoblog is just here to help, as are the experts at your local Photolab should you have any questions or need additional tips. With their expertise and your creativity, you can put The Question to rest once and for all. Happy Holidays!