Do you remember how you used to have to put collages on the wall? How you'd have to shop around for a frame with the precut matte—the perfect precut matte? And then if you couldn't find one that would fit your prints, you'd have to choose new prints that would fit the precut matte? Of course, that's if you want to the prints to be underneath the matte. If you wanted to place the in your prints on top, then you'd have to very carefully glue them, making sure each and every print was glued on perfectly straight…
Well, those nightmarish days are over! Thanks to the Photolab's new, incredibly user-friendly website and in-store kiosks, making collages has never been simpler or more fun — or more customizable. To show you what I mean (and since I'm a total fan-boy of the new site because its simplicity makes it so easy to do demonstrations), here is a demonstration of how to make a collage from home using the website: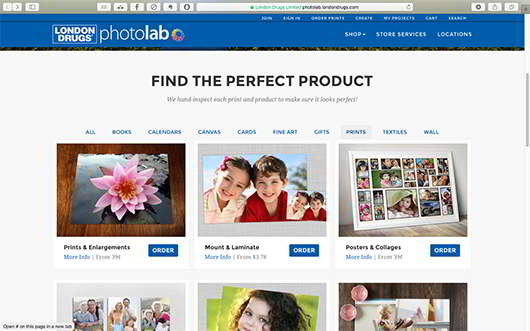 Start by going to the new & improved, totally revamped Photolab website. Choose the PRINTS category to select Posters & Collages.
---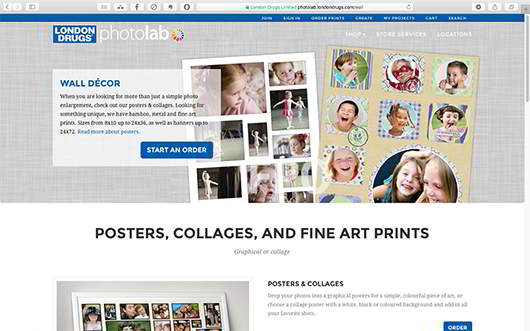 So yeah, in the new site, wall décor has its very own dedicated page – about time! And there's Posters & Collages, just waiting for you to order.
---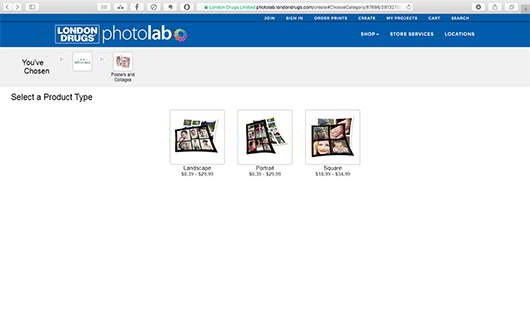 Then, select Landscape, Portrait or Square. Simple, right?
---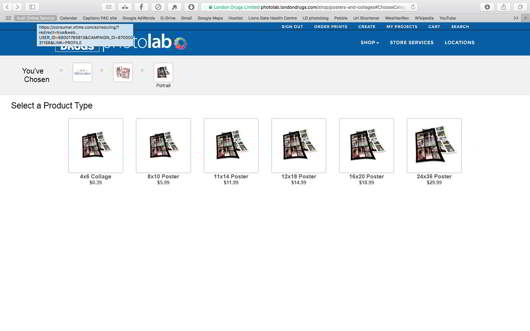 Choose your size: 4×6 all the way up to true poster size, 24×36.
---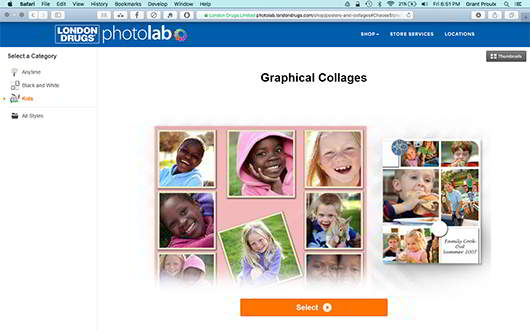 Choose your size: 4×6 all the way up to true poster size, 24×36.
---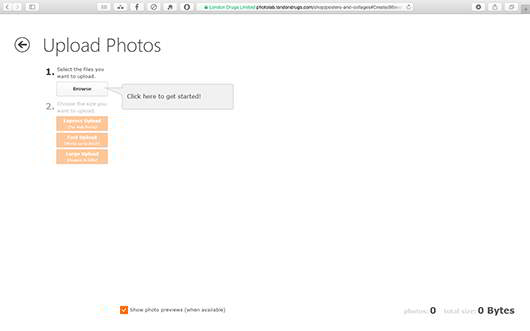 Upload your photos to your online Photolab album (unless you've done so already of course).
---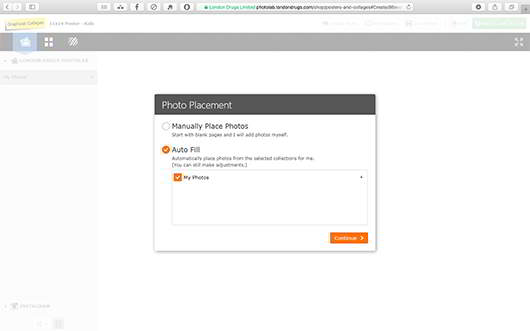 Auto Fill: this wasn't an option on the old Photolab Home Edition Software but it can really save time if you've got your Photolab albums already sorted. Of course, you can still place them in the template one-by-one yourself if you wish using the Manually Place Photos option.
---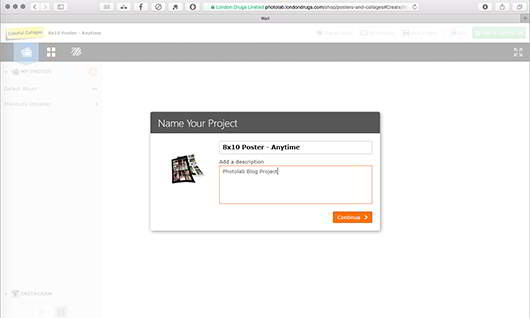 Another helpful feature: the new site lets you save your project online. In the cloud. Hard drives are so 2010.
---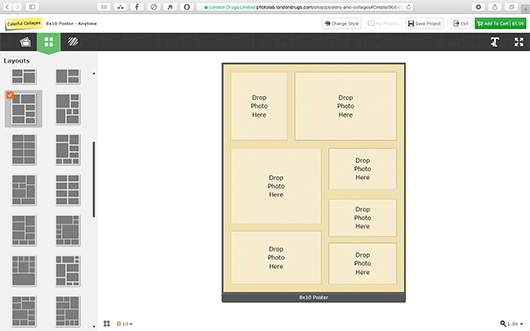 Personally, I chose the portrait orientation. I could then choose from over 40 different layout templates.
---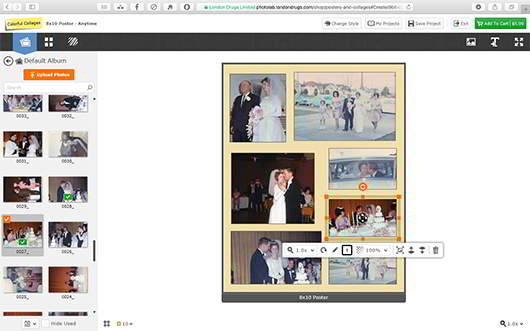 Not only are there dozens of layout templates to choose from, but each frame in the template is individually customizable as well. You can adjust the frame sizes and borders as well as move the image around within the frame. You can layer photos, adjust transparency, add text and much more.
---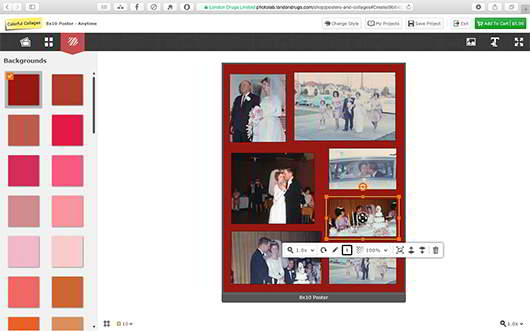 When it comes to choosing your background there is literally an entire spectrum of colours at your disposal.
---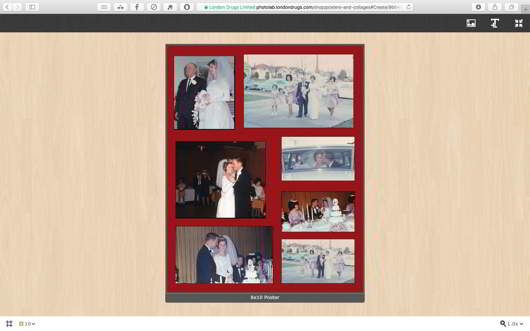 And to help you choose your background, just hit the little 'Review' icon four arrows in the top right corner to view your collage as would appear on a wall.
---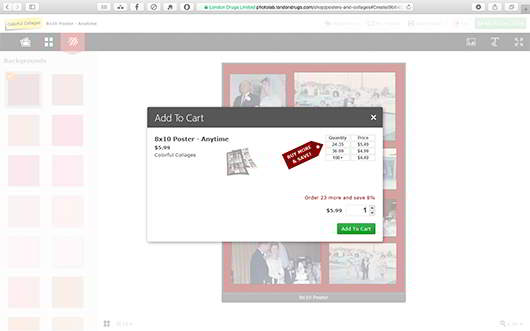 Once you're done, just add it to your cart and send it to the Photolab—just like you've always done with your prints.
---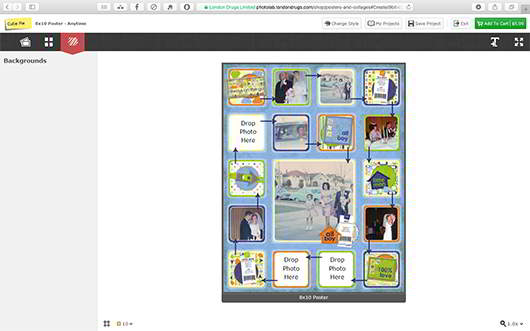 One of the coolest things? You can go back and change themes at just about any point in the process. Not that I would change it to the boy theme. But I could….
The generally awesome thing about collages is that they're suitable for just about any occasion or application. And thanks to amazing online apps like the new Photolab site and in-store kiosks, they've never been easier to create or more customizable. You've got the photos. Now you've got the technology. So what are you waiting for?
–Grant Proulx