We've all said it before – even if it's only lasted for the first two weeks of January: "My resolution this year is to eat healthier meals and stop snacking on junk." Even though a protein-packed and nutrient-rich diet may be ideal, the truth is that a low-fat life is not easy to sustain for everyone.
Thankfully, healthy eating does not have to mean drab and flavourless eating. The following recipes are designed to keep you fuller longer, provide ample nutrition, and satisfy any unhealthy cravings left over from the holidays.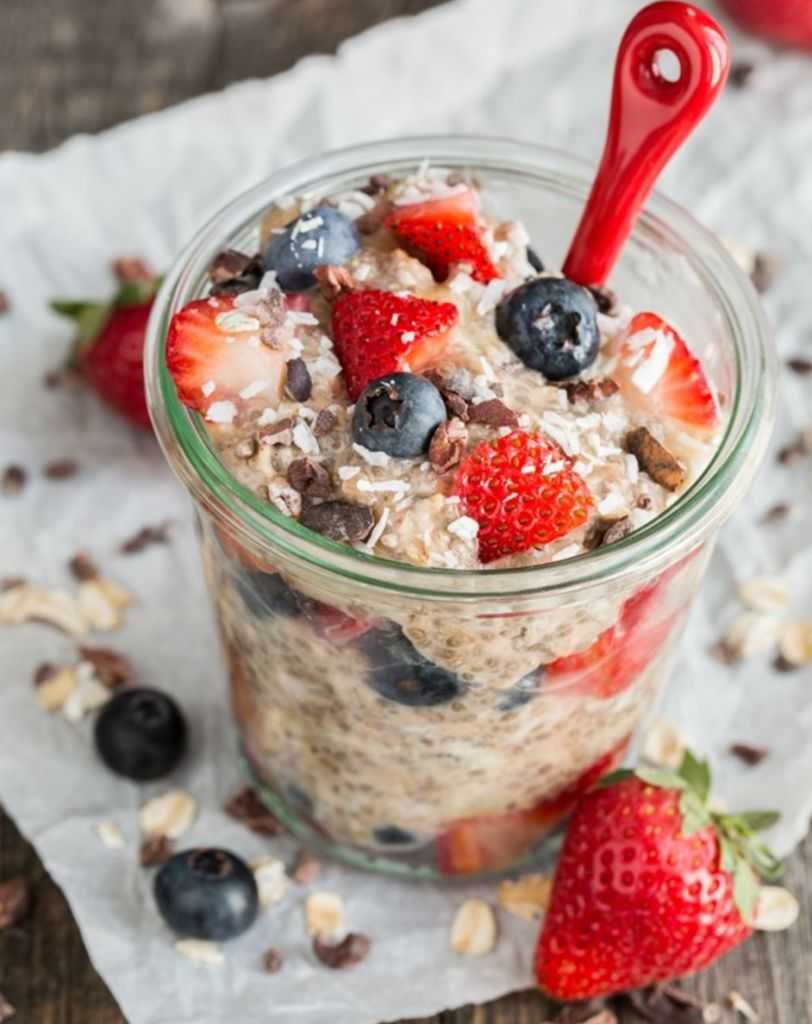 During a busy workweek, it can be difficult to make time for a well-rounded breakfast that will get you through the day. While oatmeal has a reputation for being bland, there are countless variations that will allow you to switch it up daily. Add cinnamon, maple syrup, and dried fruit to your oats the night before, and allow your mixture to soak up all the goodness. The addition of chia seeds supplies an early morning dose of Omega-3s to allow for a bustling day ahead.
Find this vegan, gluten-free recipe from Oh She Glows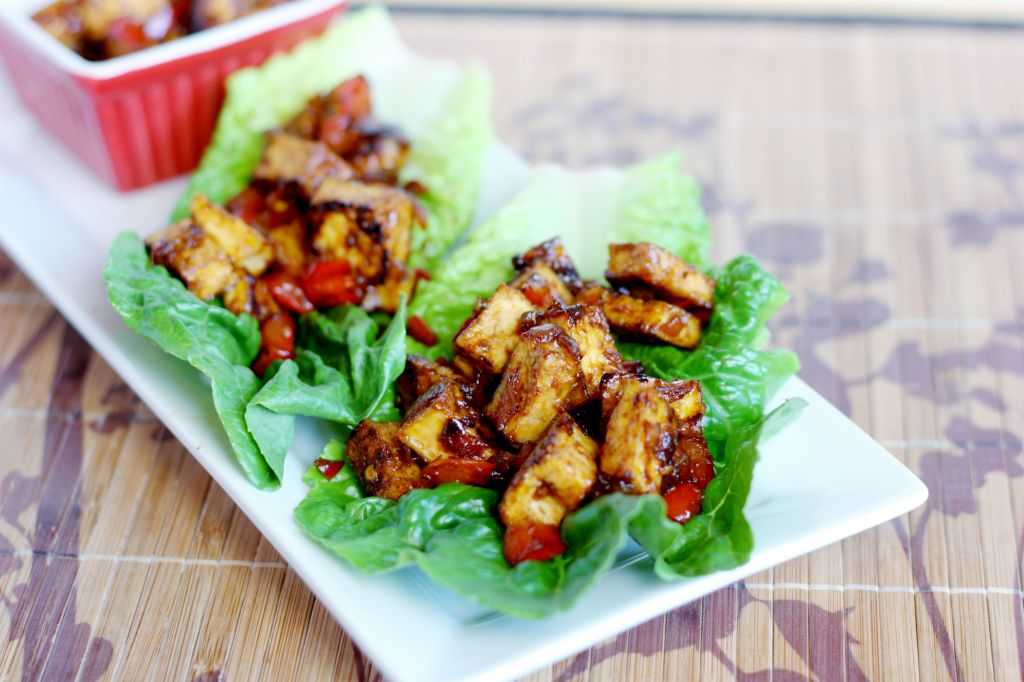 When you have a hankering for a big plate of Chinese food from your local restaurant, you may not regret it at first, but all that grease won't settle well in your stomach. If you're vegetarian, it's difficult to find anything on the menu you can eat at all. Lettuce wraps can be made at home for everyone, and are even speedier than takeout. With hoisin sauce, Sriracha and soy sauce as a base, all you need is fresh lettuce, tofu and veggies of your choice. Meat lovers can even substitute chicken or shrimp to make it family-friendly.
Find this delicious vegetarian recipe from Not a Leaf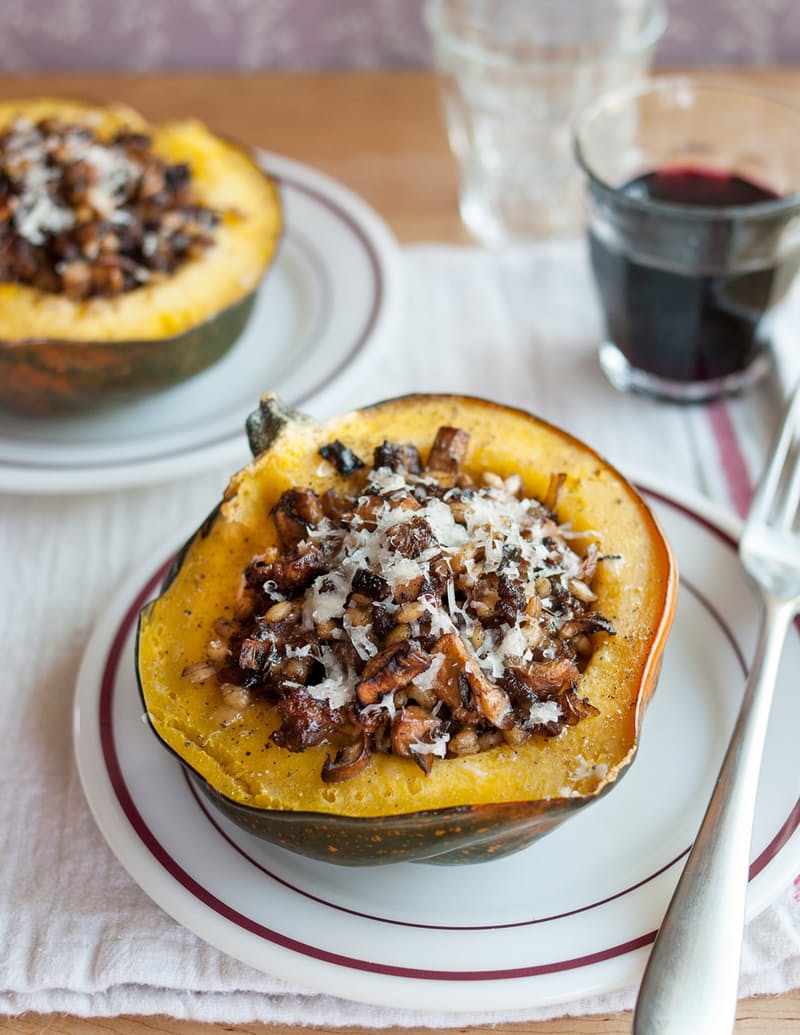 Although squash is a staple of the fall season, they can usually be found at the grocery store year-round. Whenever there's a significant cold spell in the city, nothing is better than turning on the oven and baking an aromatic, savoury-sweet dinner. This dish is extremely versatile: just add whatever protein you're in the mood for, quinoa or rice, veggies on hand and toppings such as walnuts and parmesan cheese. Another easily-adaptable meal, roasted squash can also be substituted with bell peppers and zucchini.
Find this cold-weather recipe from the Kitchn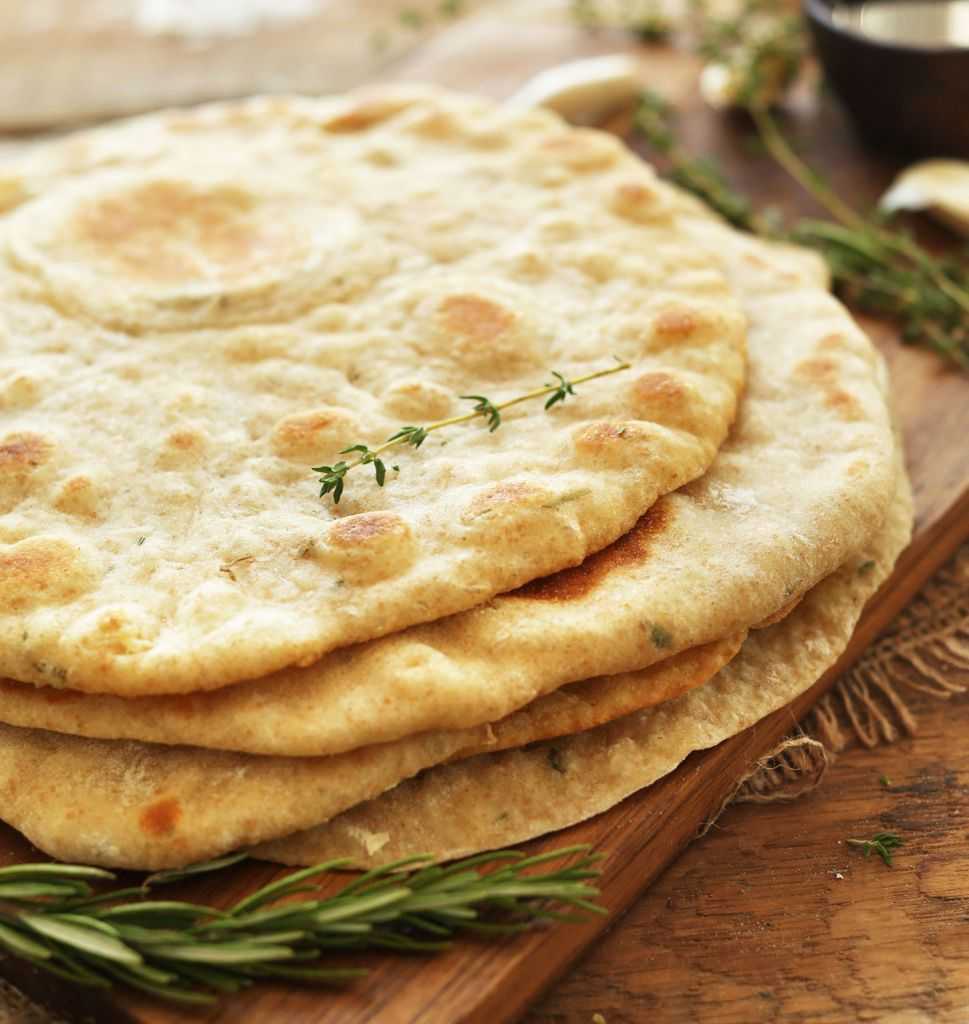 Carb-cutting might seem near-impossible (or just unrealistic), but as long as you eat it in moderation, and you have no gluten sensitivities, there's no harm in having pizza once in a while! Personalized flatbread (usually featuring a little less dough than a pizza crush) is one healthy— and delicious—way to curb your craving. Using health-conscious ingredients like organic sugar, and spelt flour (in addition to all purpose flour) can lessen the guilt and add to the flavour. Top your flatbread with hummus, sautéed vegetables, and a protein of your choice. Drizzle with a balsamic dressing for added sweetness.
Try this homemade garlic herb flatbread recipe from Minimalist Baker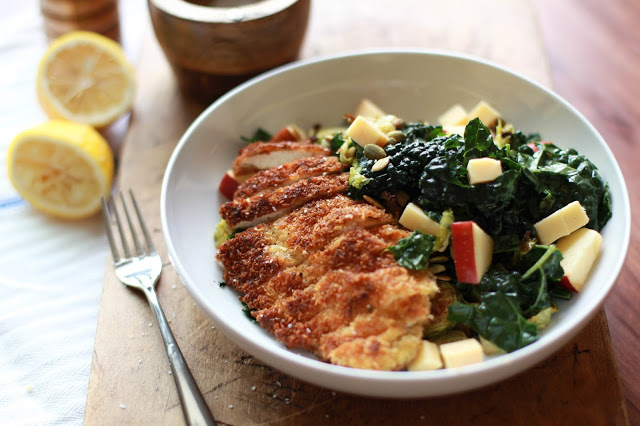 When you're looking for an extra boost of energy—whether training for a marathon or preparing for a presentation at work—it can be difficult to eat mindfully. It's far too easy to load up on carbohydrates like pasta, or simply drink a protein shake and call it a day. Make sure you reap all the benefits from this protein and fibre-packed salad. Olive oil, sunflower seeds, apples and kale can be topped with breaded or grilled chicken, fish or pork. Add a handful of chopped figs for sweetness and sprinkle with hemp hearts for Omega-3s, iron and zinc.
Try this delicious take on kale from Honeycomb Food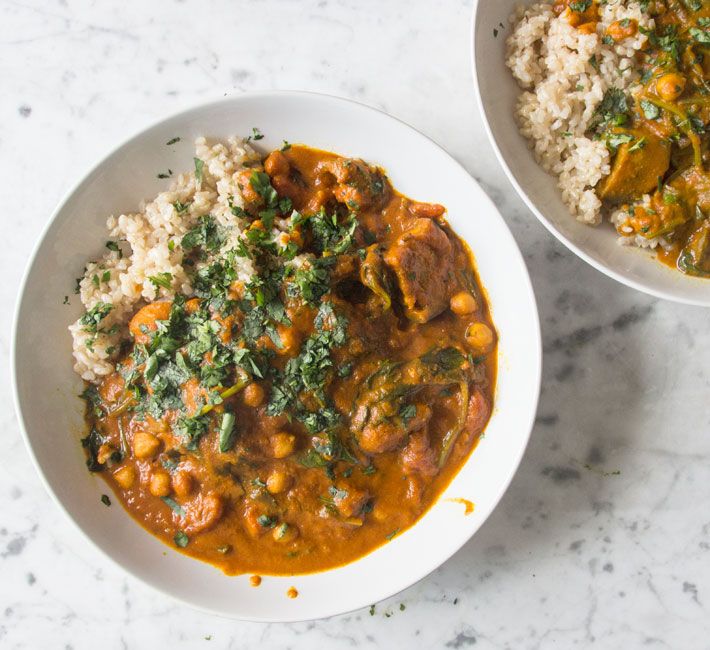 For another vegetarian dish that will please everyone at the dinner table, grab that can of chickpeas you've been saving in your pantry and make this creamy curry. Canned tomatoes, coconut milk, tomato paste and spices make the sauce for this stew. Add eggplant, sweet potato and spinach to round it off. Served on rice or quinoa, this is a foolproof dish perfect for the winter. Hint: double the recipe and freeze a portion for another day.
Find this hearty vegetarian recipe from Deliciously Ella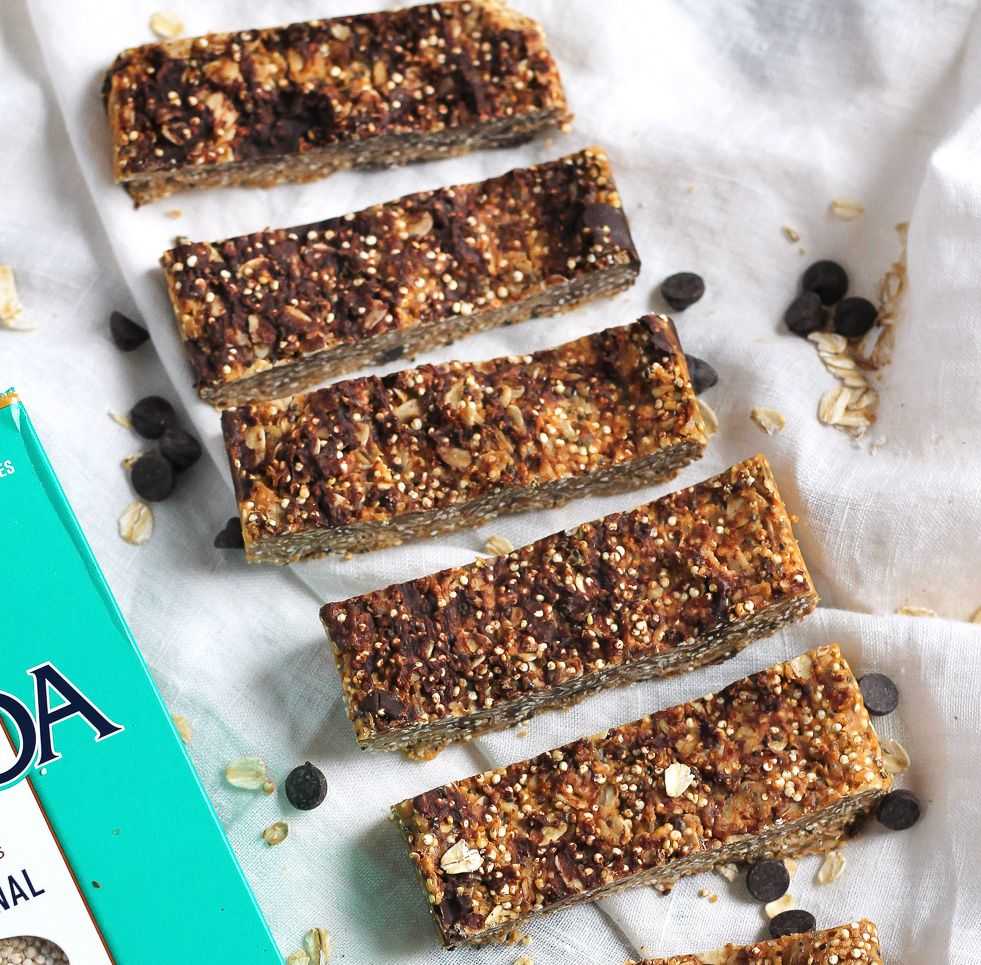 Using just a handful of ingredients you probably already have in your cupboard, these peanut butter quinoa bars are great as a snack to throw in your bag, a quick breakfast on-the-go, or as a satisfying dessert after dinner. Substitute peanut butter with almond butter in case of allergies, and chocolate chips with raisins. Oats, quinoa, honey, coconut oil and chia seeds make this a jam-packed protein bar reminiscent of sweet blondies or granola bars.
Try this chewy and fresh recipe from Ambitious Kitchen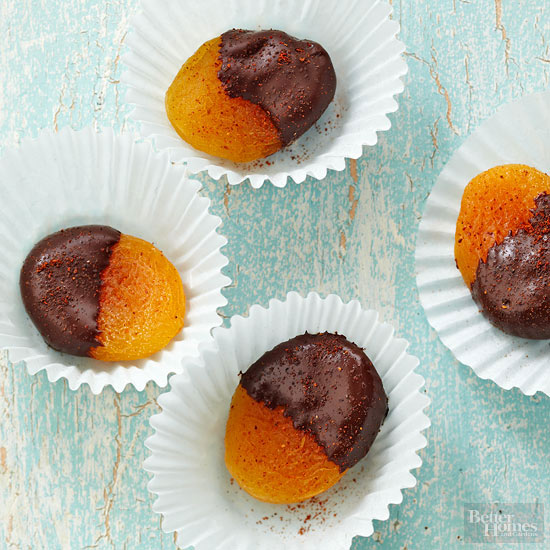 Dark chocolate is not only acceptable as a healthy treat, but it's also recommended for daily intake. It contains heart-healthy antioxidants, amino acids and releases feel-good chemicals in your brain. Of course, only 1 to 2 ounces of dark chocolate is needed per day to promote some of these health benefits, but don't worry, we won't tell if you exceed that amount. Dip dried apricot halves in melted chocolate and sprinkle with chilli powder for a fast and decadent dessert with a kick.