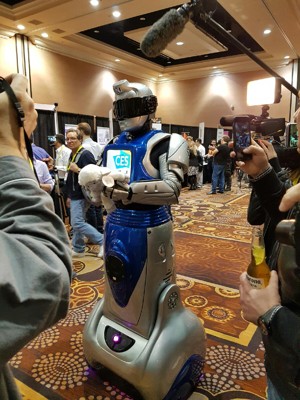 As a computer manager at London Drugs I've always been fortunate to get a glimpse of new technology coming out. But there is no other experience for looking into the future of tech than the annual Consumer Electronics Show, or CES as you've most likely heard it referenced to.
Through my guest hosting on Victoria's CFAX 1070 radio Tech Talk program I've been able to attend CES and report back what new tech gadgets and gear are coming to market. I've gotten to see some amazing products and many amazing innovations in technology, as well as products that have thankfully never come to fruition.
I want to start by giving you an idea of the scope of the show, the largest of its kind in the world, held each year in Las Vegas, Nevada.
There is 3,250,000 ft.² of dedicated display place for the show.
The show routinely attracts about 175,000 attendees.
There are almost 17,000 presidents, CEOs, and business owners here for the show including a team from London Drugs.
There are 6,000 members of the media here covering the show, that's 1,000 more than covered the 2016 Olympics in Rio this past summer.
The show runs for four days, January 5th through the 8th.
For me, the two days before, January 3rd and 4th, are spent with CFAX radio interviewing vendors and looking at some of the innovations and previews we are invited to see ahead of the show for everyone else.
Over the next few days I will be sharing some very exciting and unique products from CES. Some may even change your life for the better in some way.
Talk to you soon!
Ron Fraser
London Drugs Yates Street
Computer Manager
Victoria, BC
CFAX Tech Talk airs each Saturday on CFAX 1070 radio in Victoria from 10:00 a.m. to 12:00 p.m.