Day One with Ron Fraser
It's after 11 pm here in Las Vegas and today was a very busy first day! As a Co-host of TechTalk on CFAX radio here in Victoria, I am attending the Consumer Electronics show in Las Vegas as a reporter. I always have my London Drugs hat on too though, as we always find great products that hopefully we can put into our stores to help our customers get the things that help make their lives easier, better, and of course, more fun!
Today though, was all about the press conferences to get a sneak peek at the amazing new technology that is coming soon to all of us.
LG Electronics was first, and they are talking about all of the products, and I mean ALL 100% of them being connected and communicating at all times. That is certainly a theme that was repeated a few times today. Everything wants to talk to everything else, to help make your electronics work for you better. Robots are again being used to great effect to help check you in at the airport, and then to carry your bags and even take payment from you. We were reminded that there is still some fine-tuning to be done, not every robot wanted to talk as it turned out!
Samsung was next…..Showing off a new ultra-high resolution TV using "microLED" technology, and the TV was called "The Wall"".They are huge. The one we saw measured 149 inches! No end in sight for size growth.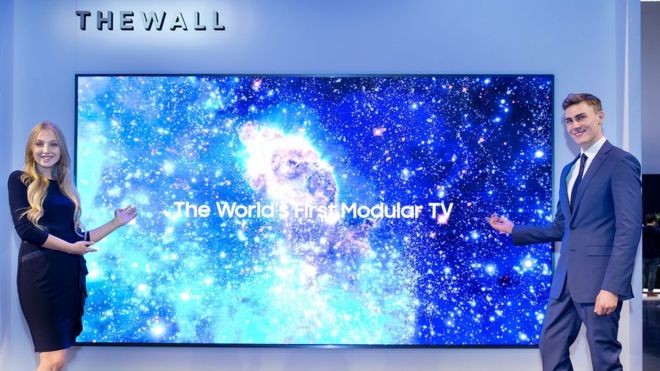 Toyota, and Hyundai were very excited about their new car offerings. One thing is certain, Google and Alexa voice assistants are very firmly embedded with the car manufacturers now, and even more in the future as they may end up becoming the hub in your home to perform so many functions.
The evening ended with a mind blowing presentation by Intel that was, as always, both amazing and nearly impossible to describe adequately. Suffice to say they are very involved in music, sports, entertainment, business applications, and connectivity between everything you can imagine…..and a few…you really cannot! Let's just say, the cartoon "The Jetsons" and the flying cars they had…..are here, now in a form 🙂
Much more tomorrow!