Protecting a shiny new car takes more than your average auto insurance. If your vehicle is totaled in a car accident, basic coverage often won't cover the full cost you paid at the dealership. After all, your car's value depreciates over time. Let's say you bought the vehicle for $25,000 in 2016, but its present-day value is only $14,000. As a result, you're likely only covered for $14,000 in the event of a collision.
There is, however, an easy solution. By purchasing replacement cost insurance, your new vehicle can be insured for its original cost or the full cost of its dealership repairs. If the car is irreparably damaged, you'll be reimbursed for a new car of the identical make and model, minus the deductible. We'll tell you a true story below to show you why you should buy replacement cost insurance from The Insurance Services Department of London Drugs.
Learning From Our Mistakes

A current staff member, let's call her Dawn, tells a cringe-worthy account of driving to Edmonton in 2015 with her husband in their one-month-old car, which they had declined to insure with replacement cost insurance. "We figured we are pretty safe drivers and we are not going to have any accidents," explains Dawn.
But during that fateful trip down Coquihalla Highway, Dawn and her husband collided with a deer that ran into their path. "The vehicle was a total write-off from that accident," she says. Things were, unfortunately, about to get even worse. "While we were waiting to be towed," Dawn continues, "A tour bus full of US tourists slammed onto the tow truck, which consequently slammed onto our vehicle damaging it even more."
The Cost of Being an Underinsured Motorist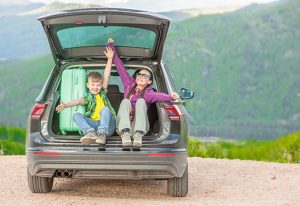 Since Dawn and her husband didn't have replacement cost insurance, ICBC only paid for the vehicle's value at the time of the accident. After the incident, the couple vowed to never buy a new vehicle without investing in replacement cost coverage. "Whenever I have a client who is insuring a vehicle that's less than 3 years-old, I always tell them my story so that they don't make the same mistake that I made," Dawn says knowingly.
Travel safe with the right kind of insurance.In January 2018, Dawn's new Toyota was stuck in a crash, causing significant damage to its front bumper. But this time, she was prepared with replacement cost coverage. The insurance not only covered the repair costs, but it ensured that genuine Toyota parts were used, instead of generic ones.

Protecting Your New Car Today
If your car is involved in an accident, replacement cost auto insurance can protect you from depreciation and inflation. As a result, your settlement could cover the cost of a brand new vehicle. Visit us at the Insurance Services Department at London Drugs.