Spring in Western Canada is a welcome change from the snow and sleet of the winter months. The days are longer, the weather is warmer and cities brighten with springtime events and activities. Whether you've been looking forward to spending time outdoors or discovering new restaurant patios, this is a season for everyone.
1. Take a hike
It comes as no surprise that Western Canada is known for having some of the best hiking trails in the nation. With a milder climate and access to ranges like the Rockies, the arrival of spring on the mountains beckons to many avid hikers and trail runners. Of course, the highest peaks are best avoided without appropriate snow gear, but many mountains are perfect for a springtime climb.
Deep Cove in North Vancouver, B.C. is open year-round, while Mt. Seymour is a popular option in late spring because of its breathtaking snow-capped peaks. In Alberta, skip tourist season and have Johnston Canyon to yourself in Banff, or find a trail in family-friendly Kananaskis.
2. Dine on a patio
Many restaurants will open their patio doors for covered outdoor dining even during a chilly day. Patio heaters are usually available year-round, but for those lucky enough to experience a warm streak in their city before summer, the availability of patio dining is the perfect reason to socialize or hold a company event. Always call ahead to make sure patios are available, and make reservations if needed!
Choose the best patios in Vancouver, from most dog-friendly, best brunch spots and prime people-watching. In Kelowna, find patios overlooking sprawling vineyards and waterfront views. Keep your eyes out for these Calgary restaurants as soon as the sun comes out, and don't miss out on Winnipeg's top rooftop spots.
3. Train for a race
You may have started training for your next marathon in the fall or winter in preparation for spring, which is prime racing season in Western Canada. Whether it's a marathon or an obstacle course that's up your alley, there are dozens of races to choose from.
Assemble a team for Tough Mudder in Whistler, participate in the longest running marathon event in Canada at the Calgary Marathon, get colourful at Color Me Rad in Winnipeg, or qualify for Boston at Gopher Attack in Regina.  
4. Hit a hole-in-one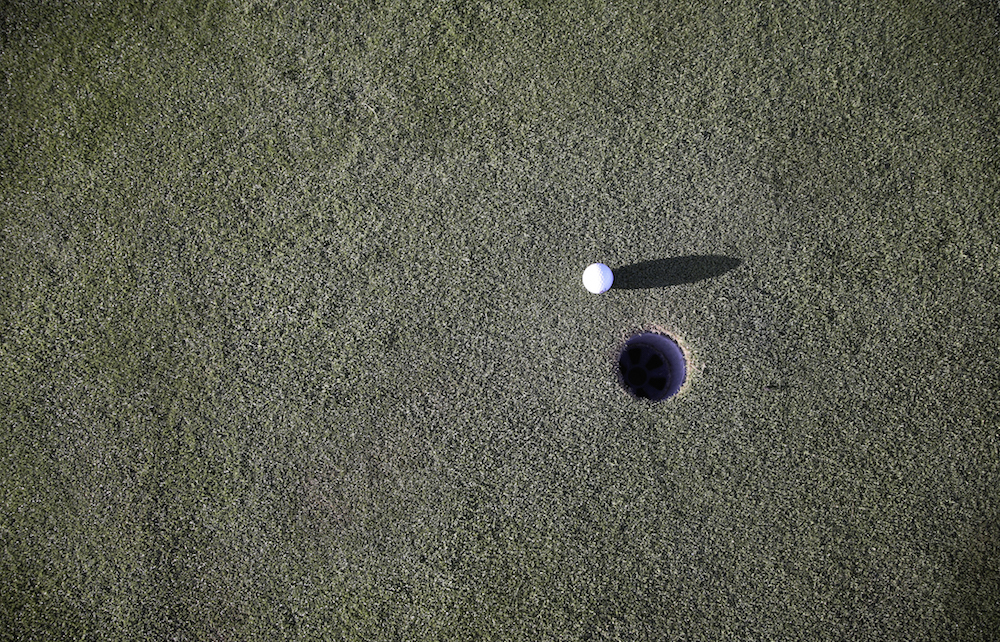 B.C. golf courses can open as early as February. The Okanagan is a beautiful and popular attraction for golf-lovers, and Vancouver Island is also renown for year-round golf due to it's mild climate. For the rest of Western Canada, golf season starts mid-April, and it's best to plan ahead if you're looking for a sweet vacation spot. Saskatchewan is the perfect place to land a hole in one, and Alberta provides spectacular glacial scenery to accompany your swing.
5. Have a mountain adventure
You don't have to be a hiking enthusiast to appreciate a day on the mountain. There are endless activities for everyone in the family that will keep you preoccupied once ski season has ended but your favourite walking trails and lakes are not yet accessible.
If you're looking for a thrill, take a zipline across the peaks of Grouse Mountain in North Vancouver before tackling the Grouse Grind in the summer. Love heights, but want to bring the kids? The Grouse skyride is popular at all times of the year, and sports gorgeous views of the mountain and city. In Canmore, try your hand at ice climbing before the season ends, and then take a rock climbing course to use your new skills. For a family day or adventurous date, play paintball or sign up for a high ropes course in North Battleford.  
6. Stroll in a garden
Spring is the season where we're inspired to rejuvenate our gardens and appreciate new blooms. In Canada, we're also fortunate enough to be surrounded by beautiful public gardens and parks.
Take the day to explore some of the 55 acres of the Butchart Gardens in Victoria, or stop to smell the roses at the Rose Garden in Stanley Park in Vancouver. In Lethbridge, get a taste of Japan at the Nikka Yuko Japanese Garden or explore the botanical garden pyramids in Edmonton at the Muttart Conservatory. See specimens from the 1960s at Patterson Garden Arboretum in Saskatoon, and Assiniboine Park in Winnipeg for its 450 hectares of forest, gardens and conservatory.
7. Escape on a road trip
For those itching for a quick weekend getaway or spur-of-the-moment day trip, spring is the perfect season to escape from the city. Not too hot and not too cold, many roads are clear of snow and ready to be explored.
Discover a hidden hot spring in B.C., or brave the waves in Tofino — Canada's surfing capital. Take a long weekend off in Alberta and make the drive from Calgary to Lake Louise for prime camping or luxury accommodations. Set up a yurt in a Manitoba provincial park, or rent a camper and find your way to Prince Albert for historic tours. Be sure to map out your route, and pack sunscreen and snacks for whichever spring adventure you choose.