The statistics are staggering: heart disease is the second leading cause of death in Canada[1], and the leading cause of premature death among women[2]. Otherwise known as the 'silent killer', heart disease often has no symptoms, until the underlying disease has progressed. When signs are present, they are easily missed or dismissed.
As one of the most accessible health care providers available to Canadians, our pharmacists are stepping up their efforts to help in the prevention of heart disease by providing critical screening tests conveniently in the pharmacy.
The benefits of screening tests
London Drugs Pharmacist Agusha McGrath recently visited Breakfast Television in Calgary to explain how the screening tests work, and how you can recognize the early signs of heart disease. Click here to watch.
Pharmacists like Agusha now play a key role in the prevention of heart attacks and other cardiovascular problems: helping patients understand their risk factors, emphasizing the importance of medication adherence and offering counselling to make important lifestyle changes.
Sit down with a London Drugs Pharmacist
To help you take control of your own heart health and learn about heart disease prevention, our pharmacists are offering Healthy Heart Clinics, running now until April 26th at 68 London Drugs locations.
During the one-on-one 45 minute Healthy Heart clinics, patients will have the opportunity to sit down with a London Drugs Patient Care Pharmacist for a customized screening and evaluation. The pharmacist screens for total cholesterol, HDL cholesterol, random glucose and blood pressure, and can determine a 10-year cardiovascular risk factor based on those measurements.
They also discuss with the patient how to lower their risk and improve heart health, which includes recommendations for changes to diet, fitness routines or lifestyle. As a collaborative health care provider, the pharmacist may also contact a physician, in order to recommend changes to the patient's medications, or further medical intervention.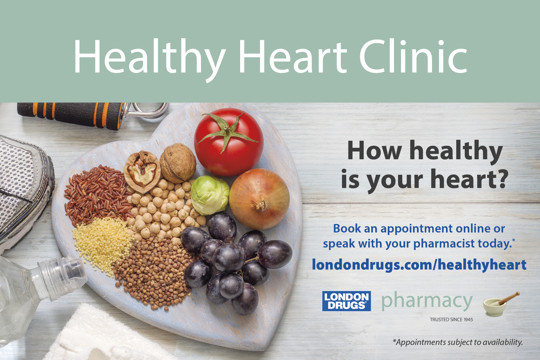 To book a Healthy Heart Clinic appointment visit: http://www.londondrugs.com/healthyheart
[1] Public Health Agency of Canada
[2] Heart and Stroke Foundation of Canada, 2018 Heart Report