This month marks London Drugs' 73rd anniversary. What started as a humble community drugstore located on Main St. in Vancouver in 1945 has expanded into a multi-category retailer and community anchor in 35 major markets throughout B.C., Alberta, Saskatchewan, and Manitoba.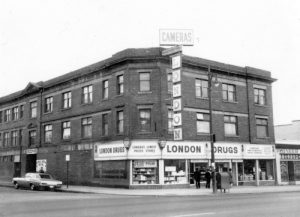 The store pictured on the right was one of our original locations, shown here in 1968, at 800 Main St. in Vancouver.
London Drugs started as a pharmacy. We were open evenings and weekends, which was unusual for any store in that era.
We wanted to ensure we could help people who needed medicine anytime they needed us. And we still do! The heart of what we do remains in our pharmacy, where care for your health is our top priority.
We quickly expanded to carry photography equipment as well, and photography became another core area of our expertise.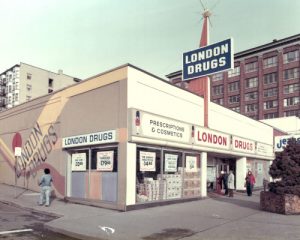 By the mid-'70s we had entered into new municipalities, like New Westminster, pictured here (left) in 1975. We had 10 stores around the Lower Mainland.
Around this time, we were acquired by Tong Louie, head of the HY Louie Group. Mr. Louie carried on the tradition of innovation that had led to London Drugs' success, and helped make us bigger and better.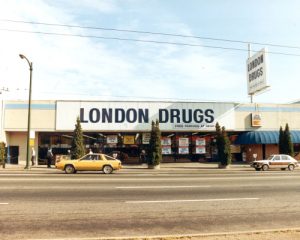 We opened stores in Alberta, eventually tripling the number of London Drugs' locations. We also started carrying a broader range of products, including kitchen appliances, electronics, and cosmetics, unique offerings for a drugstore.
In the 1980s, London Drugs pioneered the concept of one-hour photo finishing, and worked with suppliers to refine technology so that it could be brought right into stores.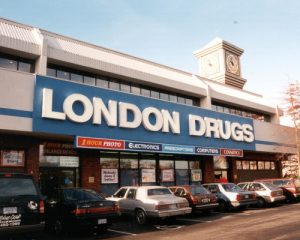 To this day, in the age of digital photography, we continue to offer state-of-the-art photo finishing and professional photography expertise and services. 

We also launched a computer department and hired technology specialists to help advise you on all your technology needs. And we continued to grow across western Canada.
All of the changes we've made over 73 years have been propelled by our dedication to serving you: our valued customers and communities. For that we say: thank you!
Interested in learning more about our history? Read the full London Drugs story here.
---
Anniversary Giveaway!
Any LDExtras visits between October 26-31 will automatically count as an entry to win one of the following London Drugs gift cards: 10 x $1000, 10 x $730, or 10 x $100!
Learn more about our anniversary giveaway and come celebrate 73 years with us!