Rain rain, go away, no wait stay so we can stay inside and play video games guilt free!  April sees the release of 9 new games for you, including a new special edition XBOX One Console and some re-released classics!
Quantum Break
An experiment gone wrong has broken time! Now not only is time breaking down but you can manipulate it to your advantage! Stop time, bend time, slow down bullets or send them back at your enemies! Quantum Break features a whole host of time based powers for the main character as well as an all star cast including Shawn Ashmore (X-Men: Days of Future Past), Dominic Monaghan (The Lord of the Rings, Lost), Aiden Gillen (Game of Thrones) and Lance Reddick (Fringe, The Wire).
You can pick up the game on it's own or choose the special edition XBOX One Console in Cirrus White with a 500 GB hard drive and award winning game Alan Wake. Quantum Break will be available on April 5th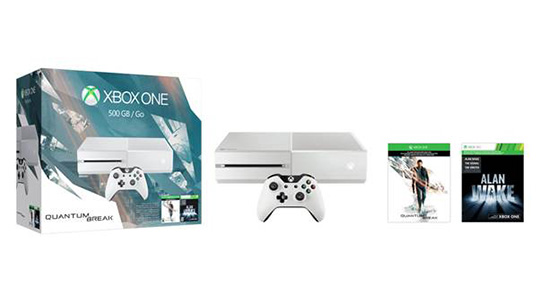 RBI Baseball 16
RBI Baseball is back! This years edition of the classic franchise features the full rosters of Major League Baseball, plus all the classic 16 man rosters of the games past! Play as a current team, a classic team, or any team you can imagine! The graphics and gameplay are improved too with more advanced lighting and all new fielding moves!
RBI Baseball 16 will be available on XBOX One and PlayStation 4 on April 5th.
Dark Souls 3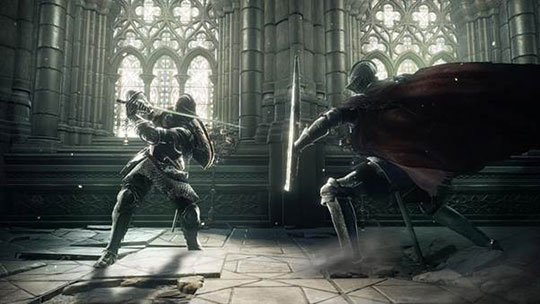 Another entry in the acclaimed franchise, Dark Souls 3. Continue the story with faster, more dynamic action and larger, more connected maps to explore! If you loved Dark Souls 2 then this game is a no-brainer! Dark Souls 3 will be available April 12th.
Ratchet & Clank

Ratchet & Clank are back! Insomniac Games have re-imagined and modernized their classic PlayStation 2 game for the PlayStation 4! New origins, new bad guys, new boss fights, and all with state of the art graphics and the franchise trademark sense of humor!
Another must have for anyone with a PlayStation 4, Ratchet & Clank will be available on April 12th!
Bravely Second: End Layer

Bravely Second: End Layer, the sequel to Bravely Default, is finally here! The acclaimed RPG has you taking a party of four to find your friend after she is kidnapped by the mysterious Kaiser Oblivion. This game has been out in Japan for almost a year and was the best selling game there when it launched! It's hotly anticipated here and will be released on the Nintendo 3DS on April 15th!
Order Bravely Second: End Layer
Lichdom: Battlemage
We talked about Lichdom: Battlemage last month but it's release was pushed back to April 19th! When an evil warlord takes away your loved one you are granted magical powers and set about a quest for vengeance. Begin your quest as a male or female character (each with a unique variation on the character back story) and use all kinds of magic to destroy your enemies! Plus once you finish the game you can start over with your fully developed character! We talked about Lichdom: Battlemage last month but it's release was delayed and will now be available on April 19th
Star Fox Zero
Remember Star Fox 64? Of course you do, it was one of the best games on the Nintendo 64! Now Star Fox Zero is here to continue that legacy! You play as Fox McCloud and you pilot your Arwing fighter through various levels to defeat the bad guys! The Arwing can once again transform, this time into a walker for land based combat, and you can release a robotic drone to assist!
Whether you're new to game or in it for the nostalgia, Star Fox Zero is a must have for Wii-U owners and it will be available on April 22nd!
Sega 3D Classics Collection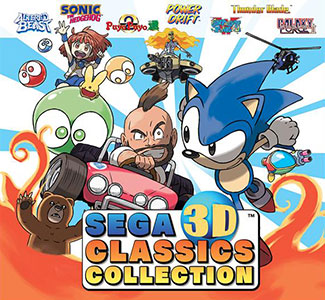 Relive the glory days of gaming on your Nintendo 3DS with the Sega 3D Classics Collection! Nine classic games have been fully remastered in stereoscopic 3D: Sonic the Hedgehog, Galaxy Force II, Thunder Blade, Fantasy Zone II W, Fantasy Zone II, Power Drift, Puyo Puyo 2, Maze Walker, and Altered Beast! Play all these classic titles on your Nintendo 3DS on April 26th!
Order Sega 3D Classics Collection
Adr1ft
You wake up on a wrecked space station with no memory of who you are or how you got there, and now you have to figure out what happened so that you can get home. There's no gravity and you're running out of oxygen, will you solve the mystery in time? This is Adr1ft. You'll move through five main areas of the station and solve puzzles along the way before finally deciding whether or not to return to Earth. Those of you with an interest in VR this will be a title to check out as it supports Oculus Rift.
Adr1ft will be released on April 30th for Windows, and later this year for XBOX One and PlayStation 4.
That's it for April. Be sure to visit your local London Drugs Computer Department to pick up your copies of all these new games and more!
To view all available games online, or pre-order any of the above, click here or visit your local London Drugs.