Do you have funny, heartfelt, or age-old photos? Share them with London Drugs and the Photolab! In celebration of Save Your Photos Day on September 29th, we want to help you preserve your most treasured photographs.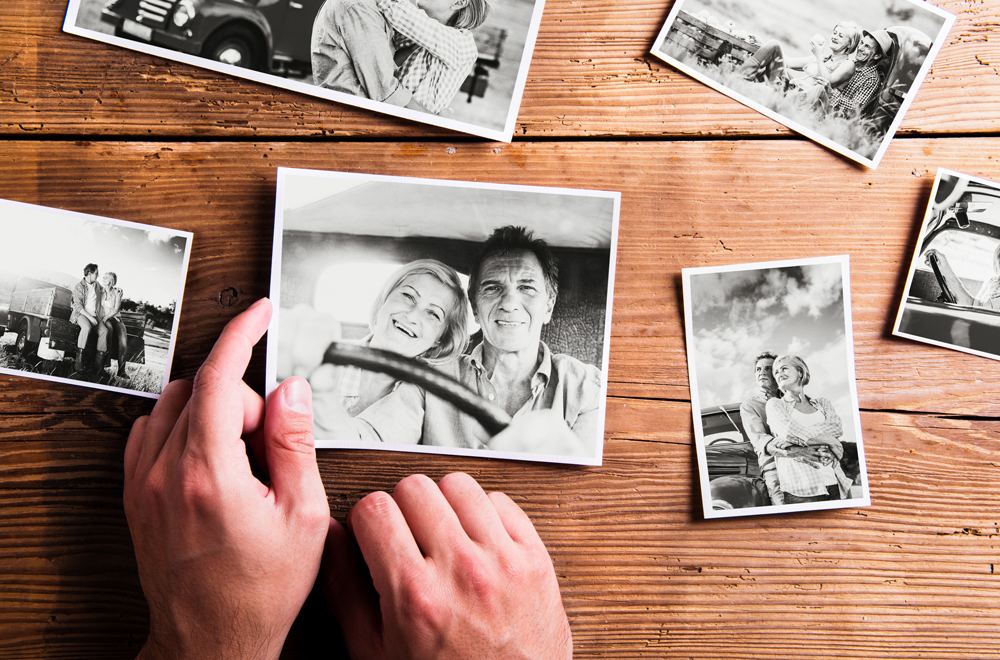 Degradation over time or even an unforeseen disaster could cause your irreplaceable photos to be lost forever. By taking measures to properly save your photos, you'll be able to rest easy knowing they are well protected. To help get you started, here's everything you need to save your photos.
Photo Scanning Box Service
Our Photo Scanning Box Service, so you can have up to 800 photos and documents (up to 8.5"x11" in size) digitized in a flash! How the service works: pick up the box from your local London Drugs Photolab, fill it up with your photos and documents, and then bring it back to us in-store, where we'll digitize everything for you. Once we're done, you just pick up your original photos as well as a USB drive with the digital copies.
Portable storage and flash drive
One WD 1TB My Passport Portable Storage, and one Transcend V790 128GB Flash Drive to properly back up your photos. (Our LDExperts recommend you keep the hard drives in separate locations, so that in case of an accident or disaster such as fire or flood, one hard drive will still have your precious photos saved).
London Drugs gift card
A $100 London Drugs gift card to print your favourite photos, so you can fully enjoy them on display, knowing they're all safely backed up!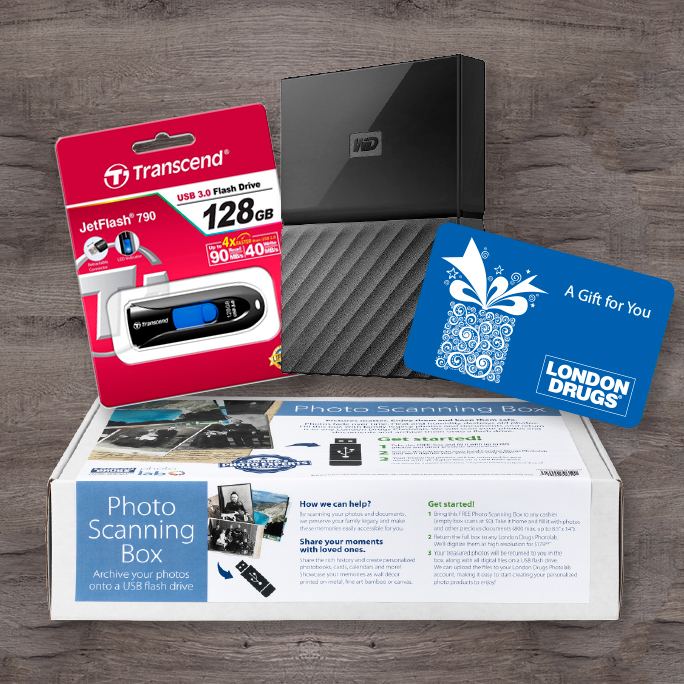 To enter for a chance to win our Save Your Photos Day Package, valued at approx. $400:
Comment on one of our Save Your Photos Day Contest posts, and tell us why your photos need saving.
Get a bonus entry by sharing a pic of your old/special photos with the hashtag #savemyphotosLD
Contest starts September 7, 2018 and ends at 11:59PM PST on September 29, 2018.
---
Contest rules and regulations:
To enter this @LDPhotolab Save Your Photos Instagram & Twitter contest:
Step 1. Follow @LDPhotolab on Instagram or Twitter
Step 2. Comment on one of our Save Your Photos Day Contest posts, and tell us why your photos need saving.
Step 3. Get a bonus entry by sharing a pic of your old/special photos with the hashtag #savemyphotosLD
Contest is open to all residents of British Columbia, Alberta, Saskatchewan and Manitoba who, as of the date the prize draw is made: (i) have not won a London Drugs contest since September 7, 2017; (ii) have reached the age of majority in the province in which they reside as of September 7, 2018; (iii) are not employees of London Drugs, their respective advertising and promotional agencies, the independent judging organization (if any), or any family member living with any such employee.
No purchase necessary. Limit one entry per person per social network per contest, plus one bonus entry per person per social network per contest. Entries must be received no later than 11:59 PM Pacific Time on September 29th, 2018. London Drugs is not responsible for entries that become lost or misdirected. All entries become the property of London Drugs Limited and will not be returned.
The winners will be randomly chosen on the day the contest ends (see dates below) in Vancouver, British Columbia, from all eligible entries received per contest. To win, selected entrants must correctly answer a skill-testing mathematical question and must sign London Drug's declaration and release confirming compliance with the contest rules and acceptance of the prize(s) as awarded, releasing London Drugs from liability in association with the contest and prize and consenting to the use of their name, photograph, voice and statements for promotional and publicity purposes.
There will be one (1) prize awarded to one winner: one (1) Photo Scanning Box, one (1) WD 1TB My Passport USB 3.0 Portable Storage, one (1) Transcend V790 USB 3.0 128GB Flash Drive, and a $100 London Drugs gift card, with a total package retail value of approximately $400. See details and contest dates below. Prize must be accepted as awarded, are non-transferable and no substitutions are permitted. Prize will be awarded at the closest London Drugs location to contest winner.
Contest dates – Monday, September 7, 2018 12:01AM to Saturday, September 29, 2018 11:59PM Pacific Time
Draw date – 12:00PM Pacific Time Monday, October 1, 2018
Only one prize may be won by any one person and household. In the event that any selected entrant incorrectly answers the skill-testing question or is otherwise unwilling or unable to comply in full with these rules, a new entry will be drawn.
Selected winner will be contacted by email or on the social network they were drawn from. No correspondence will be entered into except with selected entrants. If the winner does not respond then she/he will be notified for the second time, 3 (three) days after the first notification. If the winner still does not respond within 3 days of the second notification, a new winner will be chosen in the same manner until a winner is successfully contacted.
The chances of winning a prize will depend on the number of eligible entries received. Decisions of the judges in respect of all aspects of this contest including, but not limited to, eligibility of entries and correctness of answers given to the skill-testing question, are final.
London Drugs and their respective advertising and promotional agencies, the independent judging organization, and their respective agents are not liable to an entrant in any manner relating to the contest or the awarding and use of the prize(s).
This contest is subject to all federal, provincial, and municipal laws and regulations. By entering the entrant consents to the collection of all personal information included on their entry and agrees to the use and disclosure of such information by and between London Drugs, an independent judging organization and their agents. The winner(s) also agrees to the collection, use and disclosure of their name, entry, photographs, voice and statements for London Drugs' publicity purposes without further compensation. All personal information collected from entrants will be used only for the purposes of administering the contest and for marketing and promotional purposes as contemplated by these rules; under no circumstances will any personal information be sold or rented to third parties. All personal information collected by London Drugs will be kept in accordance with the privacy policy of London Drugs, which can be viewed at www.londondrugs.com, and in accordance with all applicable privacy laws.
The right is reserved by London Drugs to terminate this contest, in whole or in part, and/or modify, amend or suspend the contest, and/or these rules in any way, should any cause beyond the reasonable control of London Drugs or its agents affect the proper administration thereof.