Move over generic kitten and puppy calendars, there's a better way to keep track of all your most important life events, activities and appointments while also showcasing your favourite photos: a fully personalized photo calendar!
While we've been offering personalized photo calendars for years, you'll now have even more options than ever, thanks to our newly launched sizes for centre coil bound calendars. They are now available in 6"x6", 8"x8", 10"x10", 14"x11" and 12"x12" (as well as a premium 12"x12") and come ready-to-hang. Turnaround time on these centre coil bound calendars is 5 to 7 business days.
All of our calendars also now offer the option to type in special dates on each month as well as personalize those dates with a chosen image. They also have different templates you can use to personalize each month with multiple images – the perfect solution for when you can't choose just one photo. Our calendars are also available in both English and French. And don't forget – all of our calendars can be customized to start on any month!
There are lots of reasons to personalize your own photo calendars, but here are our top 5:
1. It Will Keep Your Family Organized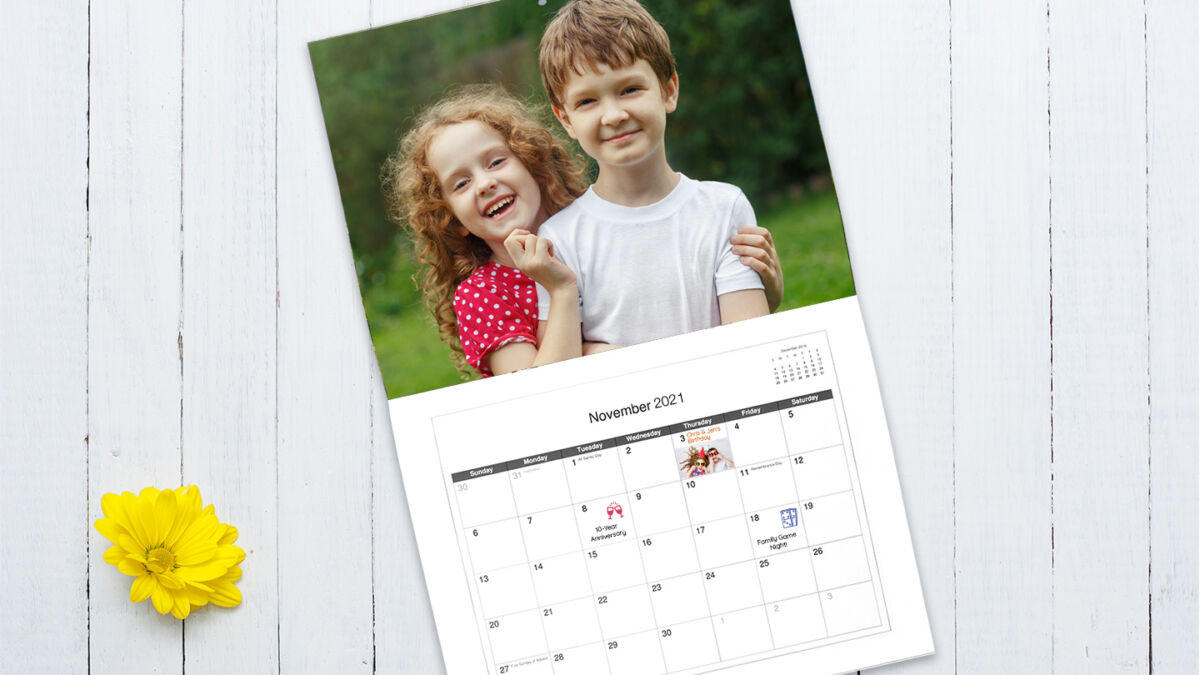 Keeping track of a whole family's worth of schedules is a tall order. Get a jump start by personalizing your calendar with all the important family events and special dates you know will be coming up over the next year. That could include everything from family members' birthdays to holidays and important school dates – even Taco Tuesdays and family games nights!
Feature photos of your family from the previous year, corresponding to each month; think family vacation photos during the summer months, Halloween costume photos for October, a family Christmas photo for December, etc. It's a good excuse to dust off your hard drive and go through the pictures you took last year. If you have a family pet, don't forget to include a few cute photos of them too!
2. It Makes A Romantic Anniversary Gift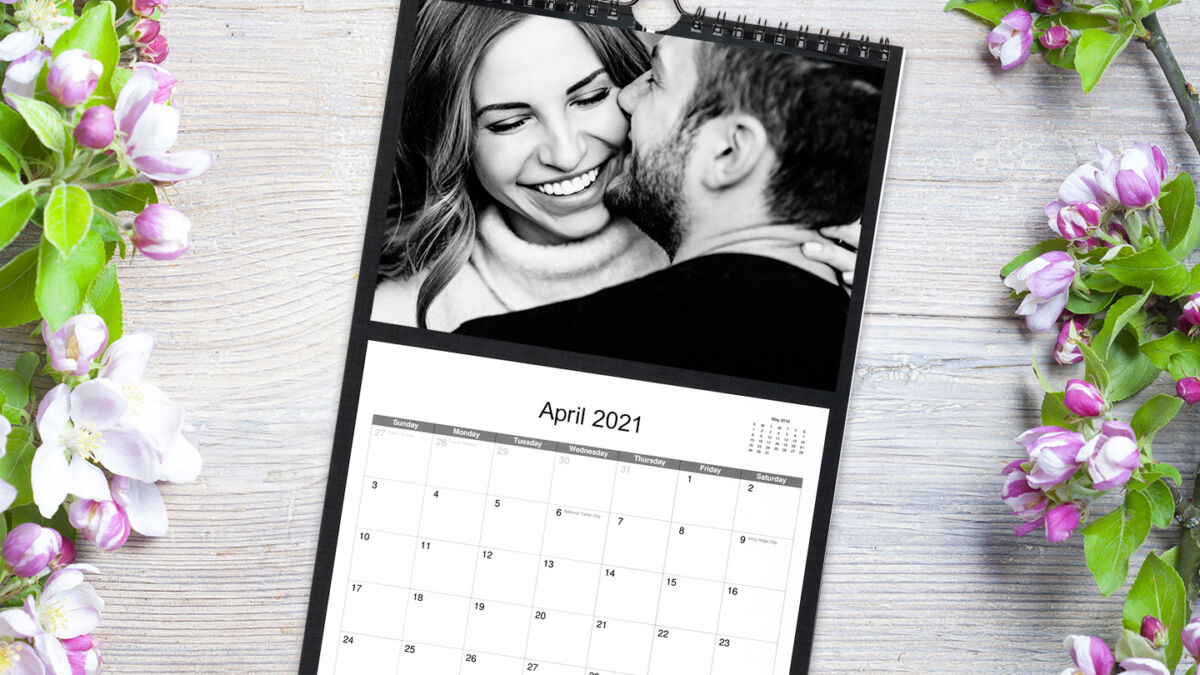 Coming up with a creative and thoughtful anniversary gift each year can be tough. This year, gift them something extra special: a calendar personalized with photos of the two of you. You'll be able to hand pick photos to be featured for each month, plus we recommend adding a special message and photo to your anniversary date. You can also include some special surprises each month by adding text to certain days, like 'date night' or 'I'll cook you dinner/do the dishes' that your partner can look forward to throughout the year.
3. It Makes a Thoughtful Birthday Gift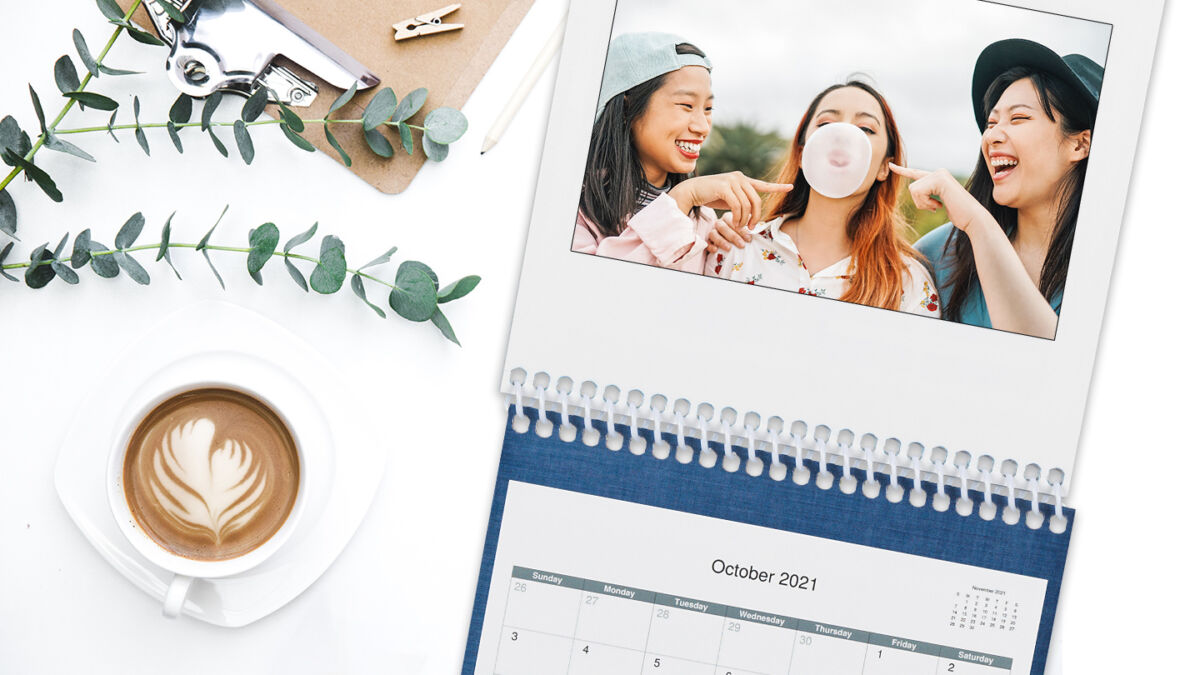 Make a calendar that's all about them for their birthday! Pick your favourite photos with them to feature, and of course make sure to add a special note on their birthday date (and even add a photo).
If you're celebrating your baby's first birthday, a 'baby's first year' calendar would make a sweet and sentimental gift to give to family members. Choose photos from throughout their first year to show how fast they've grown over the months!
4. It's a Great Keepsake for Grandparents
Grandparents love a good keepsake. Surprise them with a calendar, personalized with precious photos of their grandchildren. You can add each grandkid's birthday to the calendar too, so they'll always remember.
If you have old print photos of your grandparents, you could also feature some of those photos in the calendar too for them to reminisce over. If you need some help digitizing old photos in bulk, check out our Photo Scanning Box Service.
5. It Can Double as a Way to Feature Your Child's Artwork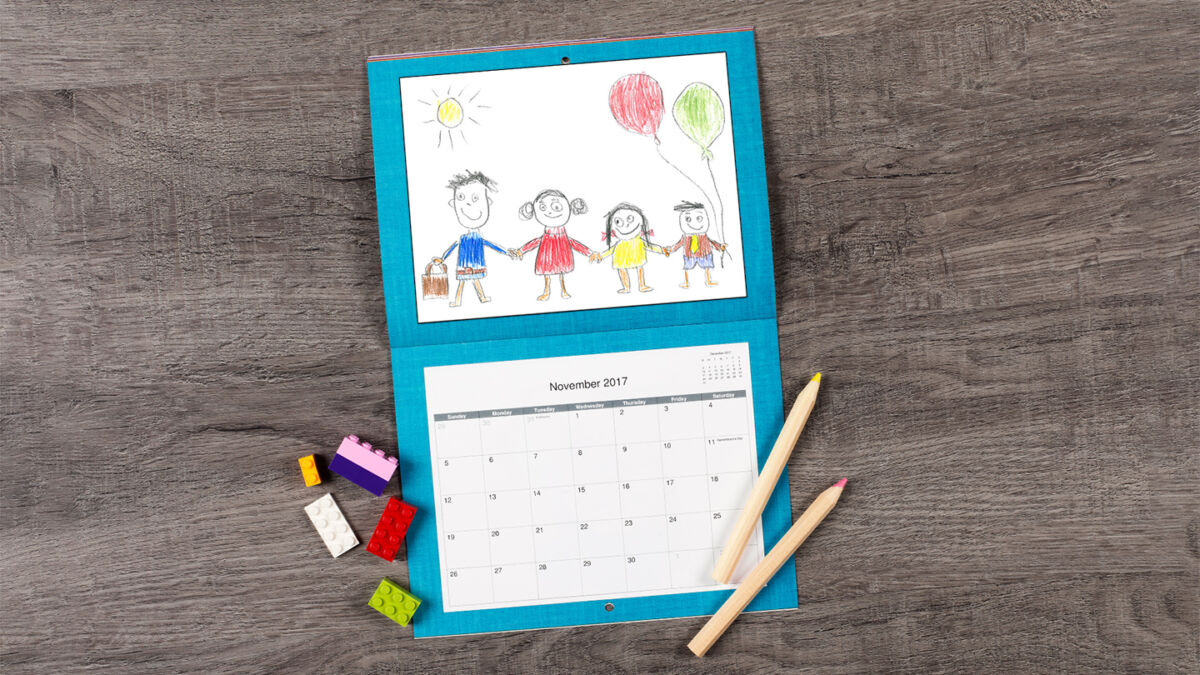 Our photo calendars can be functional pieces of art! Save space on your fridge by having your favourite artwork by your kids all in one place. Just take your child's artwork, scan it, and personalize your calendar with the digital image files. When you flip the calendar each month, you'll get to enjoy a new drawing by your talented little Picassos! You could even commission them to create special drawings for their birthdays and other important family events, which can be added as images to individual dates on your calendar.
Get started with creating your own personalized calendar online, or you can visit us in-store to use our kiosks (and get a little help from our LDExperts if needed). You can also download our London Drugs Photolab App, available for iOS and Android to order easily from your smartphone or tablet on-the-go!