Imagine a world in which trees are not cut down to make paper. That's the ambitious vision for Social Print Paper, a New Westminster, B.C.-based paper supplier whose goal is to minimize the dependency on global forests for single-use products like paper.
Consider the statistics:
3 million trees are cut down every day in North America

only 15-20% of the Earth's original forests remain
Social Print Paper has found a way to improve those statistics. It's been making high-quality, cost-efficient paper out of sugar cane waste by-products, and the results are virtually indiscernible.
"Our commitment is to make an environmentally friendly product that looks and feels the same as regular paper, and that is cost competitive," says founding partner Minto Roy. "For most green products now, you pay more and sacrifice quality, and we saw no real appetite for that. If we're going to cause positive change, we knew we had to make it easy for consumers, and make sure they didn't have to sacrifice quality and price."
The Birth of Sugar Sheet
Social Print Paper was started by Lee Gieschen, president of Royal Printers, and Minto Roy, a serial entrepreneur with a background in publishing, recruiting, and coaching. After selling his successful start-up publication to the Toronto Star, Roy had a life-changing realization:
"I thought, 'we've been given these talents and skills; what a waste it would be if all we do with them is chase money! What can we do to cause positive change?"
So Roy and Gieschen partnered up to see if they could positively disrupt the paper industry. "We discovered high-quality paper could be made with 100 percent agriculture fiber waste," Roy says.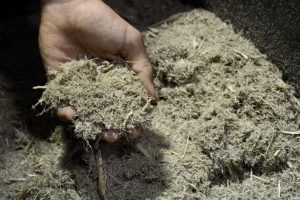 They started with wheat waste-based paper, then moved on to sugar cane. "After sugar cane has been harvested and the juice extracted, we take the residual waste by-product called bagasse to make paper. And it is truly indiscernible from traditional paper used by most consumers today."
The paper is produced in South America, in an ISO-certified production plant that maintains the highest standards of production, labour, and environmental best practices. "We've gone to immense lengths so if anyone asks a questions related to paper quality, performance, or environmental benefits, we can answer with facts."
And as it turns out, Sugar Sheet is actually cheaper than many copy papers available, and is comparable in quality to traditional paper. You'd never know it's not made from trees!
A Sweet Disruption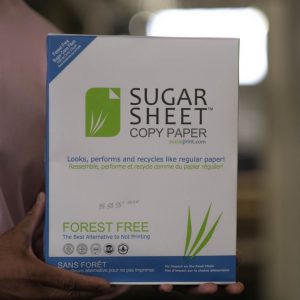 Interest has been growing in Sugar Sheet since the company launched in 2011, and requests for speaking engagements and industry education have also been pouring in.
"We're making sure that we speak about sustainability in a new narrative," Roy says. "It has always been communicated with guilt or social obligation. So we asked ourselves 'how do we leverage sustainability in a new communication framework that includes shrewd business advantage. Because getting interest from people is easy, but urgency is what we want to convey."
Urgency is something we've heard a lot about in the media lately, since the release of a recent UN Report on the increasing pace — and consequences — of climate change. And Sugar Sheet is doing something about it.
"We regularly engage with provincial and federal climate committees on how to elevate sustainability and leverage it to drive core business functions," Roy says, adding that Sugar Sheet is "supporting HR initiatives, and helping marketing, compliance, and operations" in companies where leveraging sustainability programs can really boost business advantage. "We can also provide eco savings reports to our clients," Roy adds. "They can get a report on how much carbon dioxide they've reduced and incorporate it into their carbon reporting, effectively reducing their carbon tax payable to the province."
Who's Using Sugar Sheet?
Many companies and individuals have already hopped on the Sugar Sheet train, including the University of British Columbia, the David Suzuki Foundation, the Canadian federal government, and London Drugs, of course.
"The company has grown 100% per year in terms of volume," Roy says. "But we have a lot of work to do. We don't want to be niche, we want to be a major player. We have incredible partners and support from education sector leaders, government leaders, and retail leaders. We've already expanded our product line beyond copy paper to paper in different weights and sizes; every paper required by an organization. We're expanding into the North American market, and then we'll hit the global market," he adds. "It's no problem in this world to get ideological agreement on doing the right thing. We want execution of the ideology."
At London Drugs, we're proud to support this local company creating global change. You can find Sugar Sheet copy paper in store and online.