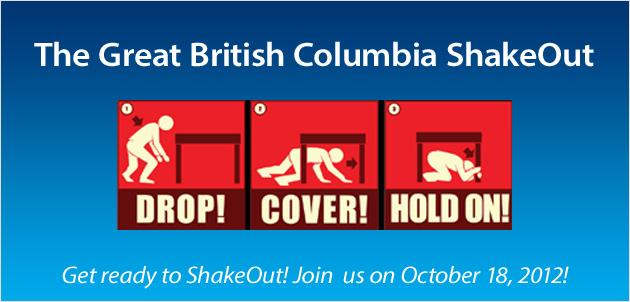 On October 18, 2012, thousands of British Columbians and Americans in various Western United States will "Drop, Cover, and Hold On" in The Great British Columbia Shake Out, the largest earthquake drill in Canadian history! London Drugs stores and offices across British Columbia will be participating in this mock drill for the Shakeout BC event. By participating in this event you and your family will be better prepared to survive and recover quickly from a big earthquake.
When we think of Emergency Preparedness it is human nature to think on a grand scale earthquake, major flood, complete transit system shut down and media reports of these types of disasters only heighten the concern. Although the likelihood of any of us being faced with one of these disasters is remote there is no doubt you will be faced with several small scale personal emergencies in a lifetime.
London Drugs has Disaster Kits available
The following is a  list of items you should consider when preparing your own customized kit; to assist you, we have rated the importance of each item:
M – "Must haves" – Must have in order to survive
R – "Recommend" – Not required for survival but very useful in an emergency
N – "Nice to haves" – Not necessary for survival but will make the experience a little more tolerable
The emergency preparedness kits are designed to be the basis for some of the supplies that may be needed to have available when an emergency or disaster happens. While the materials suggested below are a good start, no kit that can provide all the supplies that individuals may need in an emergency. While some may only choose a few selected items others may want a complete kit. Accordingly your kit should be customized based on your own personal desire and needs.
FOOD
M – Water – 2 litres per person per day Recommended quantity for basic survival (Bottles of club soda work great and also can be used for cleaning up spills in your car).
R – Water – 4 litres per person per day 2 litres for drinking, 2 litres for washing
R – Energy/Granola/Trail Bars While the body can effectively survivor water alone for a number of days, high energy food bars keep energy level up. These type of packaged products also have a very long shelf life.
R – Trail Mix You can make your own trail mix to suit your palette and dietary needs. Nuts, raisins, seeds, dried fruits and chocolate chips are tasty and full of nutrition. (Note: These products cannot be stored for long periods of time and should be replaced on a regular basis).
N – Hard Candy/Chocolate/Gum Simply put, stress foods. In a high stress situation or disaster your body requires a high caloric intake, not just nutrition, they are also a pleasant diversion to simply consuming "survival food".
N – Protein Drinks and Meal Replacements Generally speaking will serve as a meal replacement and have a long storage life.
N – Dried Foods (Fruit and beef jerky) Nutritious and satisfying and make up a portion of a complete meal.
CLOTHING
M – Running shoes or other comfortable walking shoes In some situations you may have to walk home a comfortable pair of shoes will make the trip a lot easier.
M – Hat To serve as a sun block or cover in rain (most heat loss occurs through the head)
R – Gloves Warmth and protection
R/N – Blanket or quilt Nice to have but takes up a lot of room however recommended if traveling in cold weather climates
N – Emergency (space) blanket Compact and can be used for shelter as well as warmth
N – Change of clothes or coveralls Nice to have even for something as simple as changing a tire
FIRST AID
M – Mask with one way valve Provides a protective barrier if providing artificial respiration
M – 3 – 5 pairs Disposable latex gloves Protective barrier if providing first aid
M – 60 ml Antibacterial wash (water not required to use) Disinfects hands without water
M – Adhesive bandages (variety of sizes) Wound dressing
M – 4 Large Sterile dressings Large dressings to stop bleeding
M – First aid tape To secure large dressings
R – Prescription Medications Should have a back up supply of specific medications to your personal needs (Heart medication, inhaler, insulin, etc.)
R – Aspirin or Ibuprofen Pain reliever
R – Solar (Space Blanket) Warmth or shelter for the injured
N – Scissors Useful for cutting or trimming bandages and tape
OTHER
M – City Map If you are on foot or a disaster has changed the landscape a good city map will aid in finding your way around
M – Pen/paper/Pencil Always required for a variety of situations
M – Flashlight Useful even for very minor situations
M – Kleenex and/or toilet paper Personal sanitation
M – Whistle To alert help if required
R – Crossword puzzle/pocket book/playing cards If you are stuck in one place for several hours and not in any danger you will need something to pass the time.
R – Duct tape Always useful
R – Swiss army knife Several uses
R – Matches/Lighter To light candle or start a fire if needed
R – Spare Contact Lens and solution As required
R – Mirror To assist with putting in contact lens
R – Spare Glasses As required
R – Variety of hand tools Things like multi screw driver, pliers, folding shovel and a hammer can come in very handy in an emergency.
R – Sun block In the event you have to spend time out of your car in the sun
R – Money About $20.00 in change can come in very handy, for simple things such as parking to purchasing emergency items while on the road.
R – List of important phone number and addresses Very difficult to remember phone numbers and addresses in an emergency
R – Recent photographs of loved ones If you are separated from your loved ones it is much easier to show a photo than to describe them
N – Garbage bags Provides immediate protection from the rain and can be used with emergency shelter
N – Candle Can provide warmth and light
N – Moist Towelettes Nice for clean up and hand washing
N – AM/FM Radio To keep informed of events
N – Sanitary napkins Personal sanitation
N – Cup or mug Water collection or other beverage
N – Rope Useful for securing shelter or something as simple as securing items on your car roof or closing a trunk