Official #PinkShirtDay T-shirts Available at London Drugs in Support of Boys and Girls Clubs Across Western Canada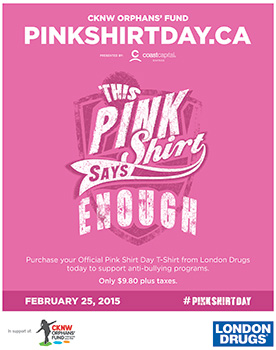 Every seven minutes someone is bullied on a playground in Canada (www.bullying.org). A University of Guelph Bullying Study found that 50 per cent of Canadian school children report being bullied with 45 per cent of surveyed children feeling unsafe when they go to school. Bullying is demoralizing, lowers self-esteem and has led to shootings and suicides in Canada. Bullying happens in many different forms but its purpose is to make someone else feel bad on purpose. Through awareness and education Canadians can continue to take a stand against bullying.
London Drugs, is proud to be the official retail partner for the popular Pink Shirt Day campaign along with organizers CKNW Orphans' Fund in support of anti-bullying programs. In its seventh year of participation, London Drugs continues to build awareness of this powerful campaign as the exclusive retailer for the official pink shirts.
Pink Shirt Day will be celebrated on February 25 this year, and thousands of Canadians are once again expected to turn schools and businesses into a sea of pink to make some noise against bullying.
"Every Pink Shirt Day we try to raise as much noise as we can against bullying with students, teachers and community leaders coming together that day," said Jen Schaeffers, Executive Director CKNW Orphans' Fund. "We are grateful to have the continued support of London Drugs in our support of anti-bullying programs across Western Canada. The money raised from Pink Shirt Day shirts at London Drugs goes back into local community organizations mainly Boys & Girls Clubs across British Columbia, Alberta, Saskatchewan and Manitoba."
"Pink Shirt Day is a way for us help share the message that you can make noise against bullying, and give the youth in our programs a way to share their voice," said Liz O'Neill, Executive Director, Boys and Girls Clubs Big Brothers Big Sisters of Edmonton. "Our clubs in Edmonton and area have directly benefited financially from the sales of the official shirts, and we continue to see these donations increase year over year as the initiative continues to grow. We encourage everyone to support this cause, grab their official shirt at London Drugs and join us in making some noise against bullying."
The 2015 pink shirt proclaims 'This Pink Shirt Says Enough' and is now available at all 79 London Drugs locations, as well as online at www.pinkshirtday.ca. The shirts are available in both adult and youth sizes ranging from small to XXL.
The shirts are available for $9.80 plus applicable taxes with net proceeds supporting CKNW Orphans' Fund who will distribute funds to Boys and Girls Clubs across Western Canada and a variety of other anti-bullying programs in the community.
Over the past six years, London Drugs has raised more than $500,000 for Boys and Girls Clubs in Western Canada through the Pink Shirt Day campaign. In 2014, supporters of the campaign purchased over 18,000 Pink Shirt Day t-shirts from London Drugs.
Youth and organizations continue to support Pink Shirt Day following the stand of two grade 12 Nova Scotia students In 2007. The students took action after witnessing a grade 9 student being bullied for wearing pink to school and encouraged their schoolmates to wear pink to send a message against bullying. Since then wearing pink shirts has sent a powerful message that Bullying Stops Here.