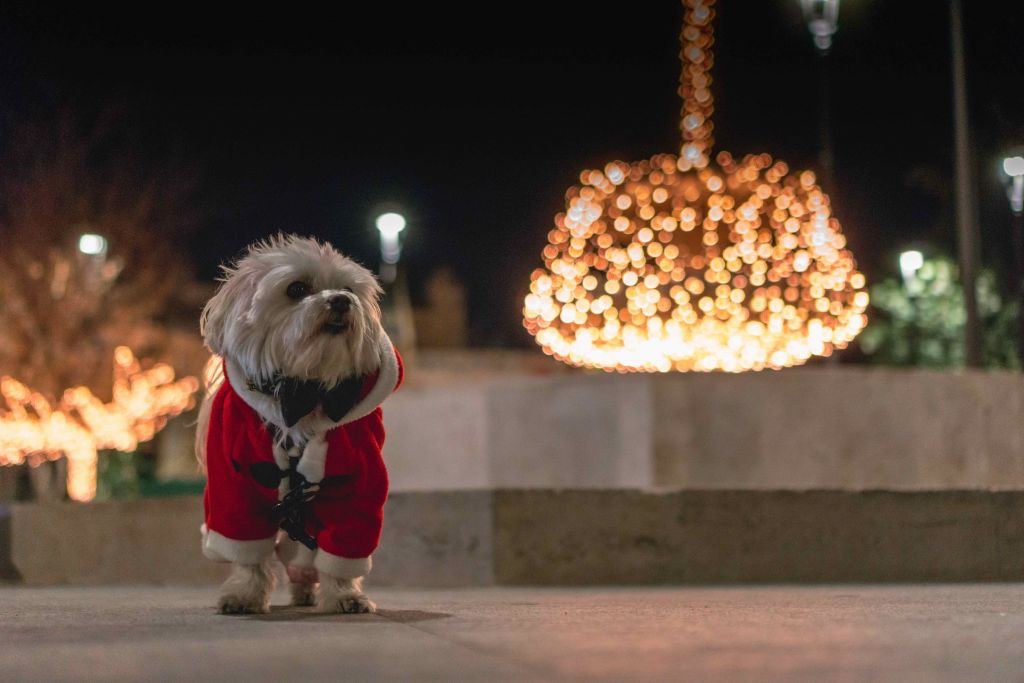 We love our pets. They're a part of our families, which means they'll be celebrating the holidays right beside us. But as much as we want to share all the joys and festivities with them, they are, of course, not actual humans with any real sense of some of the dangers lurking in the holidays. We may dress our pets up in holiday sweaters and give them a voice on their own Instagram accounts, but let's remember that they are dependent on their humans knowing the key pet safety tips to keep them not only loved, but also safe. 
The holidays are filled with foods, décor, and activities that aren't part of our pets' normal routines. So we should take a moment to think about how this might affect our furbabies. Most animals are inquisitive creatures – it's adorable when they root out hidden treasures or chew the tags off our newly purchased clothes. But when you factor in all the new scenarios that come with the holidays, combined with a curious pet, the holidays can quickly become a series of dangerous opportunities.
Keep your furry friends safe while being merry and bright this holiday season by following these simple pet safety tips.
Watch the food. Some of our favourite holiday treats can actually be life threatening to our pets. Chocolate is toxic to cats and dogs; a small amount will mess with their GI system (think: vomiting and diarrhea) while a pound or more of chocolate can be deadly. While your dog might be used to rich, marrow-filled beef bones, the more flexible bones of turkeys and chickens are prone to splintering, potentially causing abrasions  in the digestive system.
Prepare for the unknown.  You can never predict when an accident will happen, but they always seem to come when we're at our busiest and spendiest. A good pet insurance policy will not only take care of expenses related to accidents, dental work, and behavioural therapy, but will even board or kennel your pet should you ever be in the hospital yourself and unable to look after your pet.
Avoid dangerous décor. Some of the season's most festive and famous greenery can be toxic to pets if ingested. Poinsettias, pine, holly, and mistletoe are all considered to be mildly to severely toxic, so either keep these plants elevated and out of their reach or eliminate them all together. And a decorated (faux) tree? That's a giant cat toy waiting to be conquered, so avoid shiny, synthetic decorations like tinsel and ensure twinkly lights are protected with chew-proof plastic tubing.
Stock up on pet prescriptions. Always know where the nearest pharmacy is if you need to fill a pet prescription. Our pharmacists can take care of everything from antibiotics and pain killers to insulin medication, and are as committed to looking after your pet as they our human clients.  
De-stress with treats. Routines tend to go out the window around the holidays and this can be stressful to pets. Keep them calm by whatever means you know will reduce their anxiety, whether it's giving them a quiet corner with their favourite blanket, some one-on-one cuddles, or their favourite treats.
Never gift a pet. Even if you know someone extremely well, never give an animal as a gift. A pet is a long-term commitment with financial implications, and becoming a pet parent is a serious decision. If you've decided you want a pet for you or for your family, there are many rescue organizations that can help match you with your ideal animal. 
---
Shop our selection of pet care products for other resources to help you care for your pets over the holidays.