We started a bit earlier on our trek to CES today, and beat many thousands of people that come to the show at the Las Vegas Convention Center. Alan, Diane and myself did our best to cover more of this massive venue again today.
We found a few unique items today at the show we though would be interesting!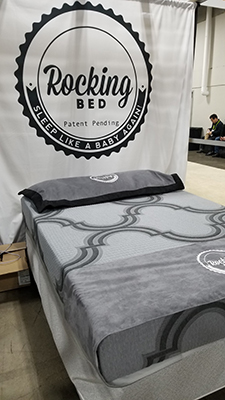 The "Rocking Bed". This bed uses a special frame and it makes a side to side motion while you fall asleep! For anyone that misses the ocean feeling, or anyone that just wants a way to fall asleep that has been proven effective, this is for you. Captain's hat optional…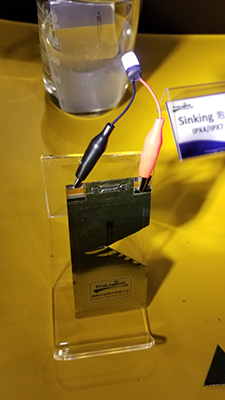 A solid state smartphone or device battery.
There is a potential problem with todays batteries in our devices. If they are bent or damaged, they can explode and or catch fire.
This manufacturer (Prologium) makes a battery for other product manufacturers that is bendable, and can be cut, drilled through or otherwise damaged and not only does it not catch fire or explode…it actually will keep right on working. We saw it with our own eyes. I think you will see many devices go this way in the near future.
Last, but definitely not least, Intel put on a very special show using 250 of it's famous "Shooting Star Mini Drones" in the sky tonight at 8 PM over The Bellagio Hotel and in combination with the famous fountains there. It was about 5 incredible minutes and an LED lighting ballet in the sky, with musical accompaniment of the song "Stargazing" . The area was packed, and the crowd was cheering wildly at the finale. As we slowly made out way out of the area, I heard someone say "you know…i think these will replace fireworks one day.." I think they were right.
Check out this link to judge for yourself