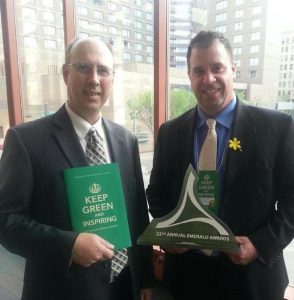 Canadian Retailer Receives Top 'Waste Wise' Prize in Alberta
London Drugs received top honours for their 'What's the Green Deal?' program and corporate recycling efforts at the 2013 Emerald Awards held Thursday night in Edmonton.
Taking home the 'waste wise' prize in the large business category, the company was one of 32 finalists out of a record number of nominations from across Alberta this year.
"London Drugs has stewarded environmental efforts for a number of years, and we have made strides through our waste diversion programs," said Maury McCausland, Administrator of Retail Operations for London Drugs. "It's truly an honour to be recognized for these efforts. It's not only a testament to our team of employees who all aspire to make a difference, but also our loyal customers who care to participate in the recycling programs we offer."
In the 1980s, London Drugs was one of Canada's first retailers to offer its customers the opportunity to recycle plastic shopping bags. Since then, recycling solutions and the list of items and materials that London Drugs recycles has grown substantially – now more than 74 per cent of the company's waste is recycled or repurposed, instead of going to landfill.
Since the 2008 launch of London Drugs' educational 'What's the Green Deal' program and the support from its staff and customers, London Drugs now tallies more than 42 million pounds of materials recycled including: Styrofoam, batteries, computers, televisions, cell phones, paper, plastic, cardboard, and metals.
"We offer customers in-store recycling that goes beyond what is mandated by regulations. We work with our buyers and suppliers to improve our product sustainability, and we communicate with our customers in-store and online with a dedicated website, blogs, videos and social media," adds McCausland. "We are proud of the achievements of our employees and customers in reducing waste, but we realize the journey to sustainability is one that never ends. That's why 'What's the Green Deal?' is a question we will continue to ask ourselves, even as we endeavor to answer it."
London Drugs' overall waste diversion rate rose from 67% in 2011 to 74% in 2012. And individual stores have advanced even further with a chain-wide goal for all London Drugs stores to achieve 95% waste diversion by 2015.
In Alberta, the Oliver Square West store in Edmonton posted an impressive 93% recycling rate. This success story can be read here.
The company also continues to look for ways to help green the communities they operate in. Most recently, London Drugs partnered with Green Calgary to reduce the 'waste hangover' of a popular Stampede breakfast in Calgary.
To see what products can be recycled through London Drugs, or to learn more about these eco-friendly services and products visit the What's The Green Deal? website at http://www.greendeal.ca