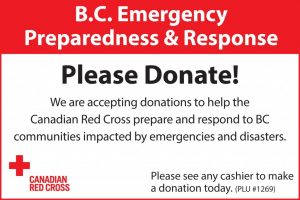 With increasing wildfire activity across Canada, many families are being evacuated from their homes. Fire ratings continue to remain high to extreme across British Columbia, and the dry conditions have left many communities susceptible to flash flooding. There are currently 68 active fires of note and/or fires larger than 10 hectares as of Thursday, July 30th.
The Canadian Red Cross supports people affected by emergencies and disasters with basic needs and recovery assistance. With the increase in both the number and severity of emergencies across Canada, the Canadian Red Cross needs financial support so its volunteers can meet the humanitarian needs of those impacted. Customers can help by donating to the Canadian Red Cross at London Drugs.
"For the Red Cross, it is a privilege to support courageous people re-building their lives after a disaster," said Canadian Red Cross B.C. Director, Kimberley Nemrava. "This work can only happen with the backing of British Columbians and fantastic partners like London Drugs and GlobalBC."
Starting on July 30, customers can contribute towards the Canadian Red Cross by donating at each checkout throughout all London Drugs locations in British Columbia. All donations to the Canadian Red Cross will go towards Red Cross B.C. emergency preparedness and response.
About the Canadian Red Cross
Following a disaster in Canada, the Red Cross works closely with local authorities to provide vital assistance for people's basic needs including hygiene kits, shelter, food, assistance linking to local resources, information, clothing and household items. Red Cross assistance does not duplicate assistance provided through insurance, government or other agencies.
All Red Cross assistance is provided at no cost to those impacted thanks in part to thousands of volunteers who give their time to train extensively and respond. Our services also rely on the generous financial support of individual and corporate donors.